How to bird watch: a first timer's guide
Our guide on how to bird watch covers the surprising benefits of bird watching, the best times to do it and what you'll need to get started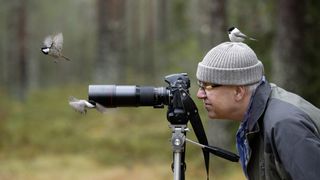 (Image credit: Johner Images)
If you're a nature lover, one of the best parts of spending time in the woods is hearing the birds call to each other, but have you ever stopped to observe them? For many millions of people, bird watching – the practice of observing birds in their natural environment, either for enjoyment or to study them – is the ultimate way to connect with nature. Our guide on how to bird watch covers the surprising benefits of bird watching, the best times to do it and what you'll need to get started.
Bird watching is a healthy activity you can easily incorporate into your existing adventures and as far as we're concerned, if you're getting out in your hiking boots anyway, you might as well grab your best binoculars too and give bird watching a go.
The benefits of bird watching
Bird watching, or birding, is like getting a free pass to nature's symphony. Depending on where you are, you might hear the common tuk of a robin, the drilling of a woodpecker, the chipping of a warbler or even the sweet serenade of a nightingale. Then there are the countless different markings to help you distinguish the blue tit from the goldfinch, never mind the vast array of sizes from tiny hummingbirds to imposing golden eagles. There are some 10,000 different species of birds across the globe and no matter where you are, you'll never get bored when you're up with the birds.
But bird watching isn't just about identification and record-keeping; rather, it's been found to have some pretty compelling benefits for your health. A 2013 study published in the Journal of Environmental Psychology found that just listening to the sounds of birds helps you to recover from stress and restore mental focus and a 2020 study of 26,000 people in Ecological Economics concluded that those who live in areas with richer bird biodiversity experience more life satisfaction and wellbeing. For these reasons, bird watching is even applied as a therapeutic activity by practitioners of ecotherapy as well as being a hobby for many.
According to such studies, you can experience these benefits from your living room with the windows open, but why not enhance them by getting your hiking boots on and heading out into nature so you also get the added advantages of green exercise? Bird watching is easy to get into, low cost and can easily be combined with things you already love, like hiking, fishing and camping.
How to bird watch
Bird watching is exactly what it sounds like, and doesn't require any special training or skills. All you have to do is get yourself to where the birds are, sit quietly so as not to startle them, and watch them in their natural habitat. You can bird watch anywhere, whether it's your own garden or a local park or out in the wilderness. You might choose to record what you see and learn more about birds, or you may do it simply for pleasure.
Before you get started, there are some important guidelines from the Royal Society for the Protection of Birds you should follow to make sure you're protecting the birds and other wildlife:
Don't disturb the birds or other wildlife (this includes feeding them).
Be an ambassador for bird watching by raising awareness and talking to others about it.
Respect the countryside and follow hiking etiquette if you're out in the wild.
If you spot a rare bird, keep records and share with other bird watchers.
Be prudent about sharing information widely regarding endangered birds or during mating season.
What is the best time for bird watching?
The best time for bird watching is early in the morning, and to a lesser degree in the late afternoon. As you'll probably know, the time around dawn is the time when the birds are most active, known as the dawn chorus. If you can get out any time from just before sunrise to about 11 am you'll have the best chance of spotting some beautiful birds, and the earlier the better if you're hoping to catch a glimpse of the elusive owl.
Also, you'll see more birds during the spring and summer months than you will in fall and winter when many species migrate.
What is needed for bird watching?
The good news is that unlike many other outdoor activities, bird watching doesn't require much at all. Nothing on the list below is required, in fact, but for each item we've explained how it might enhance your experience.
1. Binoculars
The most important thing we'd encourage you to invest in is a good pair of binoculars (here's why you should carry binoculars on every adventure). Though there may be lots you can enjoy with the naked eye, being able to magnify the wonders of the world of birds will give you a more detailed and intimate experience. If you're planning on hiking to bird watch, seek a lightweight pair and always try them before you buy them.
2. Bird watching guide
Can't tell your cuckoo from your sparrow hawks? You may want to invest in a good bird watching guide if you want to know what you're looking at – they're not required, but it would be a shame to see a rare California condor and not know what you're looking at, after all. You can also use it to study up on the area where you're going so you know what to look for when you get there.
3. Camera
For record keeping, you may want to snap photos of the birds you see either on a camera or using your phone. A good zoom is useful and the quieter the better to avoid startling the birds.
4. Journal
As we explain in our article on nature journaling, observing and recording nature on paper is an effective tool to draw your attention to what's happening around you and become immersed in nature. You might record which type of birds you saw, what they were doing or their size.
5. Bird call app
There are many bird call apps nowadays that can help you learn the different types of bird calls when you're at home to better recognize what you're seeing once you're outdoors.
6. Sun protection
Bird watching is best done in the warmer months and earlier hours of the day, and you might find yourself sitting quietly in one spot for quite a while, so it's essential to be prepared with sun protection if there isn't great shade. Wear a summer hat with a brim, long sleeves and sunscreen.
7. Water
For the same reasons as the previous point, fill up your water bottle before you go. The more comfortable you are, the longer you can sit, and the longer you can sit, the more likely you are to make some rare sightings.
8. Camping chair
Speaking of comfort, if you're able to, bring a lightweight, portable camping chair and post up off the cold ground.
All the latest inspiration, tips and guides to help you plan your next Advnture!
Julia Clarke is a staff writer for Advnture.com and the author of the book Restorative Yoga for Beginners. She loves to explore mountains on foot, bike, skis and belay and then recover on the the yoga mat. Julia graduated with a degree in journalism in 2004 and spent eight years working as a radio presenter in Kansas City, Vermont, Boston and New York City before discovering the joys of the Rocky Mountains. She then detoured west to Colorado and enjoyed 11 years teaching yoga in Vail before returning to her hometown of Glasgow, Scotland in 2020 to focus on family and writing.