What is cliff diving?
What is cliff diving, and is it as dangerous as it sounds? We reveal the surprising origins and unsurprising dangers of this thrill-seeker's adventure sport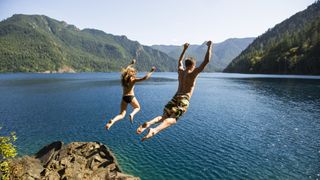 (Image credit: Jordan Siemens)
Looking to take your wild swimming to the next level? For adventures who like to make a splash, the allure of cliff diving is hard to resist. The combination of height, speed and water provide plenty of adrenaline for anyone who gets their kicks from daredevil activities. But what is cliff diving, anyway and how dangerous is it? Read on to learn more about the surprising origins and unsurprising dangers of this thrill-seeker's adventure sport.
What is cliff diving?
Much as it sounds, cliff diving or cliff jumping is the activity of leaping from the edge of a cliff into the water below. You don't necessarily dive in the Olympic sense, headfirst with a few backflips thrown in, but jump in feet first. Though it certainly seems like a product of our adrenaline-obsessed modern culture, cliff diving actually has surprisingly old origins. OK, it's not exactly ancient, but cliff diving does date back to Hawaii in the late 1700s where it's known as 'lele kawa'. The story goes that Maui's last king, King Kahekili, jumped from a 63ft cliff in Kaunolu and allegedly didn't even make a splash. He was subsequently known to have his warriors mimic this feat to demonstrate their loyalty to him.
Today, cliff diving is a popular side activity for lots of hikers and campers who like to recreate out in the backcountry near rivers, lakes and coastal areas and has become so popular that it is also a sport in its own right. There's both a cliff diving world series and an International Cliff Diving competition that see competitors diving from cliffs ranging from 85 - 92ft in height in locations across the globe. In case you're wondering, that's like diving from the top of a nine storey building or from two shipping containers stacked end to end, so it's about three times that of an Olympic diving board.
In addition to the coast of Hawaii, where cliff diving remains a popular activity among those who don't find enough excitement out of actually being in Hawaii, you can find people cliff diving in the Grand Canyon and Lake Powell and some of the most popular cliff diving destinations in the world include Acapulco in Mexico, Jamaica, Dubrovnik in Croatia and perhaps most surprisingly, Ponte Brolla in Switzerland, which is the home of the World High Diving Federation.
Is cliff diving dangerous?
Absolutely! Any time you are jumping off a cliff, of any height, you are at risk of severe bodily injury, or death. In fact, a hiker was recently killed cliff diving in Olympic National Park. Olympic divers hit the water at the speed of about 35mph from the 10 meter board, according to an article in Today, and from 90ft you'll be going quite a bit faster than that. Hitting anything at that speed can be catastrophic. Now, Olympic divers are among the best in the world, so it's likely that they're slicing into the water with perfect form, but even landing the water slightly off can result in broken bones, joint injuries, concussion and spinal compression. In fact, water starts to feel more like concrete when you're just belly flopping into a swimming pool from a six-foot diving board
Even if you're an amazing diver, there are still other hazards – obstacles in and around the water that you could hit, the water being shallower than you realize or extremely cold water eliciting cold water shock. For all of these reasons, cliff diving is considered quite a controversial activity and not exactly sanctioned by outdoors outfitters.
What do you need for cliff diving?
Apart from a strong constitution or a death wish, there's no gear or equipment that you really need for cliff diving, although a wetsuit could provide you with some protection from the initial impact of the water. It doesn't require the same level of skill as deep water soloing, though there is definitely some technique to it. Before doing any serious cliff diving, you should practice your form from a low height. For the pencil dive, you want to land feet first, with your toes pointed down, legs together and arms pinned to your sides.
We can't recommend it for obvious legal reasons, but if you are going to go, you might want water shoes to reach the cliff, but don't wear them for the dive itself as they will increase the surface area of your first point of contact and you want to land tiptoes first. You should never go cliff diving alone and always scope out the water before you dive in, making sure it's as deep as you think and there aren't any rocks or other obstacles. In coastal areas, you'll want to know how to read tide charts and check the surf reports.
All the latest inspiration, tips and guides to help you plan your next Advnture!
Julia Clarke is a staff writer for Advnture.com and the author of the book Restorative Yoga for Beginners. She loves to explore mountains on foot, bike, skis and belay and then recover on the the yoga mat. Julia graduated with a degree in journalism in 2004 and spent eight years working as a radio presenter in Kansas City, Vermont, Boston and New York City before discovering the joys of the Rocky Mountains. She then detoured west to Colorado and enjoyed 11 years teaching yoga in Vail before returning to her hometown of Glasgow, Scotland in 2020 to focus on family and writing.