Climbing California's 14ers: awesome ascents to the Golden State's high points
Our guide to climbing California's 14ers guarantees exhilarating adventure with routes ranging from spectacular scrambles to awe-inspiring alpine approaches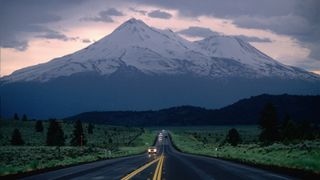 (Image credit: Ed Bannister)
Climbing California's 14ers offers an admirable goal for climbers of all abilities, with a fine array of outstanding ascents spanning easy scrambling to technical and vertical terrain.
With its 840 miles of glittering coastline, almost 8,000 named mountains and some of the world's most famous national parks, California truly has it all when it comes to outdoor adventure. Its 14ers are no exception, and while their hiking trails tend to be well-travelled by virtue of their incredible beauty, those with the equipment and expertise needed to tackle a more technical route will be rewarded with more solitary approaches that make a challenging but worthy opponent.
What is a 14er?
A 14er refers to a mountain that rises to 14,000 feet or higher in elevation, however not all summits above 14,000 feet qualify as 14ers. A general rule is that a summit must have at least 300 feet of elevation above the lowest contour line encircling it to qualify, but even this rule varies from state to state which is why you will see different numbers depending on your source.
Using the 300 foot rule, there are generally thought to be 96 14ers in the United States. The vast majority of them are in Colorado which clocks in with a whopping 53 14ers spread out over 12 different mountain ranges across the state, while Alaska comes in second with an impressive 29, including America's highest peak, Denali. California is home to 12 14ers while Washington state has just two.
California's 14ers
California is actually home to 15 summits above 14,000 feet, however only 12 are typically classified as 14ers. Of these, almost all are to be found clustered together in the Sierra Nevada range, which includes the California Cascades and Palisade range. Mount Shasta and White Mountain are the two exceptions.
The majority of these peaks are within easy driving distance from LA and Las Vegas, and could possibly be done in one long day, while some will require you to pack a one-person tent and a sleeping bag. All of these mountains offer a variety of approaches from hiking to scrambling and difficult technical climbing.
Generally speaking, the best time to tackle a 14er is between May and September. California's 14ers offer an excellent escape from the hot temperatures in summertime, but the weather at high altitude can be dangerous and unpredictable, with freezing temperatures common even in summer. You are almost always likely to encounter snow and ice up high and may need snow gear such as an ice axe and crampons for certain routes as well as your best approach shoes.
For this article, we've created an overview of climbing California's 14ers to whet your appetite for these inspiring climbs, with the 12 peaks listed from highest to lowest. Each mountain offers multiple routes with varying degrees of difficulty.
Quick guide to the Climbing Route Class system
Class 1: easy walking on a level trail
Class 2: hiking on a steep incline, may involve scrambling, possibly using your hands
Class 3: climbing a steep hillside using your hands, you may carry a rope but won't use it
Class 4: even steeper, more exposed climbing probably using a rope
Class 5: technical climbing on belay. Sub-categories range from 5.1-5.4 easy with lots of hand and footholds, to 5.11-5.14 very difficult vertical terrain with overhangs
1. Mount Whitney
Range: Sierra Nevada
Elevation: 14,505 feet
Class: 3 - 5.10+
Three hours north of LA at the southern end of the Sierra Nevada lies Mountain Whitney, the tallest mountain in the lower 48 states. It straddles the boundary of Sequoia National Park and Inyo National Forest and a permit is required to climb it, which means crowds are managed. There are multiple climbing routes on Whitney ranging from moderate snow scrambling to technical and most are about 1,000 feet tall on the east face. The premier moderate route is the ten-pitch classic East Buttress route rated a 5.7 which was a favorite of mountaineer Glen Dawson and provides a strenuous challenge.
2. Mount Williamson
Range: Sierra Nevada
Elevation: 14,379 feet
Class: 3 - 5.4
Six miles north of Whitney in the John Muir Wilderness of the Inyo National Forest stands California's second tallest peak, Mount Williamson. It overshadows everything around it and stuns climbers with its complex aretes, gullies, couloirs, buttresses and spires. First ascended in 1884, the climb up to the summit from the forest floor covers some 8,000 feet in only four miles, making for an imposing climb that is understandably less popular than Whitney. The three classic climbing routes range from the easy class 3 scrambling on the West Face to the daunting 5.4 rated "long twisting rib" of the North route.
3. White Mountain Peak
Range: White Mountains
Elevation: 14,252 feet
Class: 2
Though it's the third highest peak in the state, White Mountain strikes a lonely figure in climbing that many overlook in their eagerness to tackle the Sierra Nevada peaks. It looms large northeast of the city of Bishop on US-395 to the east of the Sierra Nevada range which tends to trap any incoming moisture coming from the Pacific, so it's notable for its exceptionally desert-like conditions. It's also especially exposed without shade or shelter, so it can be gruelling, but a Jeep road most of the way to the top makes it an easier summit than most. If driving to the top isn't your thing, try the more challenging 10-mile class 2 West Ridge route. At the summit, you'll be treated to sweeping views of the Sierra Nevada range as well as Owens Valley.
4. North Palisade
Range: Sierra Nevada
Elevation: 14,248 feet
Class: 3 - 5.6
The Palisades form a group of peaks in the central Sierra Nevada and North Palisade is the highest among them. Home to the Palisade Glacier, this mountain offers several highly prized rock climbing routes on its northeast side. Accessed from the town of Big Pine south of Mammoth Lakes, classic routes range from class 4 routes from the Southwest Chute which take about four hours to the breathtaking 5.6 rated U-Notch Couloir, a 900 foot 40 degree snow/ice couloir which rises above the Palisade Glacier.
5. Mount Shasta
Range: Cascade Range
Elevation: 14,179 feet
Class: 4 - 5
It's hard to know where to begin with Mount Shasta, a majestic conical stratovolcano that dominates the landscape surrounding it, cloaked in glaciers and clouds, truly home to fire and ice. Located about three and a half hours north of Sacramento in northern California, Mount Shasta is also a mecca for spiritual seekers and plays a key role in the folklore of several native tribes, including the Wintu, who trace their origins back to a sacred spring on the mountain. Shasta is thought of as a good place to get started with alpine climbing, offering routes from the most popular class 3 Avalanche Gulch first climbed by John Muir to the class 5 routes over Hotlum Glacier on the northeast side which will delight thrill seekers with its numerous crevasses and icefalls.
6. Mount Sill
Range: Sierra Nevada
Elevation: 14,159 feet
Class: 2 - 5.7
Mount Sill is the second highest peak in the Palisades Range and its craggy thumb-shaped peak can be seen all the way from Big Pine. It was named for the Oakland poet Edward Rowland Sill but is known as Guardian of the Valley by the local Paiute tribe. Sill is lauded for its incomparable views of the Palisades and again boasts multiple routes ranging in difficulty from class 2-3 scrambling on the southwest slope to the classic Swiss Arete route rated at 5.6 which takes about six pitches over great rock.
7. Mount Russell
Range: Sierra Nevada
Elevation: 14,094 feet
Class: 3 - 5.10
Just a mile north of Whitney stands Mount Russell, at the base of which lies Tulainyo Lake, one of the largest high alpine lakes of the southern Sierra Nevada. Mount Russell is considerably less trafficked than Whitney, and offers at least a dozen quieter climbing routes ranging from exposed but easy class 3 scrambling on the East Ridge to the exposed sheer face of Coyote Crossing, rated 5.10+. Its southern and eastern slopes fall within the Mount Whitney zone and therefore permits are required.
8. Split Mountain
Range: Sierra Nevada
Elevation: 14,064 feet
Class: 2 - 4
Named for its twin summits, Split Mountain displays a distinctive two-tone appearance formed by different eras of rock layered one on top of the other over millennia. Located south of North Palisade closer to Kings Canyon National Park, it is considered one of the easiest of California's 14ers to summit, especially if you take the class 2 North Slope route. St Jean Couloir offers a fun class 4 challenge up the east side from the glacier to the northern shoulder and is considered the crown jewel of routes here among climbers who have undertaken the gruelling drive to the trailhead.
9. Mount Langley
Range: Sierra Nevada
Elevation: 14,032 feet
Class: 2 - 5.10+
Mount Langley is the southernmost mountain of the Sierra Nevada Range 14ers and offers spectacular views of Whitney, the Great Western Divide and Owens Valley from its summit. It offers a couple of easy scrambles such as the Northeast Couloir, and a little more challenge on routes like the class 4 rated Winter Pass, while the impressive 15 pitch 5.10a grade complex climb up a rocky buttress known as Rest & Be Thankful is a prize for those who love crack climbing.
10. Mount Tyndall
Range: Sierra Nevada
Elevation: 14,025 feet
Class: 3 - 5.10
Located next to Williamson, Mount Tyndall is known for its exceptional alpine beauty. The fun class 2 Northwest Ridge route is the most popular ascent while there are several multi-pitch class 5 routes on the east face offering chimneys and lie-back cracks for a more interesting challenge.
11. Mount Muir
Range: Sierra Nevada
Elevation: 14,018 feet
Class: 3 - 5.7
Whether or not this one counts as a true 14er depends on who you ask – it may only have 298 feet of prominence, but since it seems to be a difference of two feet, we decided to include it. Named for, who else, the Scottish conservationist John Muir, this is another mountain just south of Whitney. The easiest approach is a hike that includes a class 3 section starting from the Mount Whitney trail, but again, that means you need a permit to access it. The east side is in the John Muir Wilderness so no permit is required and it provides a nice challenge in the form of a 1400 foot near-vertical buttress with routes ranging in difficulty from class 4 to 5.9.
12. Middle Palisade
Range: Sierra Nevada
Elevation: 14,018 feet
Class: 3 - 4
Further down in the Palisades, Middle Palisade offers a less-travelled and more secluded ascent to a sensational summit. Most routes on the northeast side require crossing the gigantic Middle Palisades Glacier. On the class 3 rated Northeast Face you can mostly skip the glacier and scramble up a chute on the east face for a relatively easy ascent, or for more of a challenge try the class 4 traverse from nearby Disappointment Peak.
All the latest inspiration, tips and guides to help you plan your next Advnture!
Julia Clarke is a staff writer for Advnture.com and the author of the book Restorative Yoga for Beginners. She loves to explore mountains on foot, bike, skis and belay and then recover on the the yoga mat. Julia graduated with a degree in journalism in 2004 and spent eight years working as a radio presenter in Kansas City, Vermont, Boston and New York City before discovering the joys of the Rocky Mountains. She then detoured west to Colorado and enjoyed 11 years teaching yoga in Vail before returning to her hometown of Glasgow, Scotland in 2020 to focus on family and writing.