Best one-person tents: for solo backpacking adventures and wild camping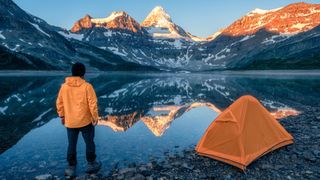 (Image credit: Getty)
The best one-person tents enable incredible, life-affirming adventures.
Even the glorious comforts delivered by the best tents can be ruined by a companion's annoying habits. Camping alone means no snoring, no nasty smells (other than your own), no squeaky air mattresses, or zips being opened and headlamps being turned on in the wee hours and no arguments about boots inside the tent. 
So, you've taken your pick from the best sleeping bags and you're ready to cook up a storm in the wilderness, having selected from the best camping stoves. But how to select the best one-person tent for the job?
Context is crucial when working out your ideal sleep-alone shelter. On longer multiday trips, when you have to carry all your own gear, weight and pack size is obviously the primary factor. Beyond that, it's down to the environment you'll be tackling: what kind of terrain and weather conditions are you camping in? Dry desert nights are very different to windy moors, snowy mountains or drippy jungles. 
Quality is, in the end, always king. If you don't pay the price at the point of purchase, you'll most likely pay the price out in nature. Money spent wisely on the best one-person tent pays dividends when it comes to sleep and recovery – not to mention the lifespan of your tent.
New additions to the best one-person tents you can buy today
Nemo Hornet
Versatile, ultra-light, easy to pitch and bombproof
RRP: $330 (US) / £285 (UK) | Minimum weight: 723g/1lb 9.5oz | Packed weight: 905g/2lb | Pack Size: 50 x 12cm/19.5 x 4.5in | Dimensions: 222 x 108 x 79cm / 87 x 43 x 31in | Max headroom: 98cm / 39in | Waterproofing (fly): 10D Sil/PeU Nylon Ripstop (1200mm HH) | Compatibility: 3-season all rounder
Semi-freestanding
Super simple clip-in pole and tension design
Tougher than it appears
Good ventilation
Can be breezy in cold winds
Limited vestibule room for backpack
Heavy pegs
Nemo has established itself as a reliable go-to brand for producing high-quality, lightweight tents for hiking and mountain missions, enough to have earned a handy reputation (and several awards) for design innovation. Its Hornet model comes as a one-person and a two-person, offering some upgrade flexibility. With only approximately 150g difference between models, you may still want to choose the two-person even for sleep-alone missions, delivering more space for gear. Or just so you can starfish. 
The Hornet offers a well-tuned balance of lightweight, intuitive design matched to a fairly roomy interior (for a one-person offering), especially regarding headroom. Volumising guyouts connect the inner tent to the rainfly, pulling the sidewalls of the inner tent outward to create even more interior space.
The ball-and-socket design makes clipping in the single Y-shape pole super easy for lightning-quick pop up, with an intuitive and non-fiddly assembly, even when you have the cold-hand fumbles. The tension of the Y-shape – two contact points at the head, one at the feet – brings the tent well taught with ultralight but tough pegs tensioning the floor to full capacity. Head room is good for such a small beast. 
Small details add pleasing touches, including a volumising peg-out design at the feet to increase the footwell space and prevent contact condensation on your sleeping bag; a mesh pocket above to turn your headlamp into a lantern; and No-See-Um mesh on the lower sides for privacy, matched to regular mesh looking up for stargazing (on nights when the fly isn't needed). 
Tagging itself as an ultralight, the designers could have tried harder with the tent pegs, which are sturdy but heavy comparable to others in the same market slot. Easy fix: chuck 'em out and buy lighter weight ones. Otherwise, this is a cracking tent for going fast and light in three seasons and most weather conditions. 
Big Agnes Tiger Wall UL1
Lightweight and airy with good interior capacity
RRP: $350 (US) / £350 (UK) | Trail weight: 1lb 14oz/850g | Packed weight: 2lb 2oz/964g | Pack size: 13 x 30cm / 5 x 12in | Dimensions: 43 x 14cm / 17 x 5.5in | Max headroom: 99cm/39in | Waterproofing (fly): silicone treated nylon rip-stop with 1200mm HH waterproof polyurethane coating | Compatibility: 3-season
Freestanding
Large entry door
Good ventilation
Vestibule porch for extra gear
Query against robustness in extreme conditions and over time
Add extra floor accessory for extra protection
An excellent solo shelter that hits the sweet spot by balancing size and weight perfectly. The Tiger Wall stands out for good head space from end to end, courtesy of the DAC Featherlite single pole set-up and dome design, which leads to straightforward set up. That said, floor space is not the roomiest, although structured foot-end corners do create more usable space between your feet and tent wall.
The oversized single door makes entry and exit super easy, and the dual-zipper door is smooth closing and allows for customisable ventilation. 
There are some good internal pockets for storage and organisation inside, however they are all above the head requiring reach-up: a few floor-level pockets would have been a good addition. The 'Low Vent' feature on the vestibule doors are designed for better airflow, while still providing vestibule coverage.
Referring to long-term user reviews, there seems to be a question mark hanging over the durability of the tent – its lightweight material structure potentially coming at a cost of robustness. There is a separate 'footprint' accessory that can be bought, adding longevity but also weight (113g/4oz).
Six Moon Lunar Solo
A dynamic floating canopy and floor design with single pole set up and steep walls for keeping out wind and rain
RRP: $230 + $76 extras (US) / £240 (UK) | Minimum weight: 740g/1lb 10.1oz not including pole (51g/1.8oz for 124cm/49in carbon fibre) and pegs (71g/2.5oz) | Pack Size: 28 x 11.5cm / 11 x 4.5in | Dimensions: 122 x 229cm / 48 x 90in | Max headroom: 99cm / 39in | Waterproofing (fly): 20D Silicone Coated Polyester 3,000mm HH Rating | Compatibility: 3-season
Robust
Great tent for wind and snow
Can be pitched with adjustable trekking poles
Good ventilation
Tricky set up initially
Parts (including pegs) sold separately
Garnering a bunch of 'Editor's Picks' and other gear awards, the Lunar Solo backpacking tent is a robust shelter that performs well in extreme conditions, given its distinctive low hexagonal shape and excellent waterproof rating. 
Short, steeply sloped sides handle snow or high winds with ease but still offer adequate room inside, including a storage vestibule area. Good peak ceiling height in the centre of the tent maximizes sitting room, although the steep wall-spill design means there's reduced room elsewhere in the tent. 
Given limited moving parts, set up is extremely quick once you work it out (the brand claims never more than two minutes no matter what the conditions are like). 
Unlike a traditional tent, the Lunar Solo's canopy floats off the ground, allowing for 360-degree  ventilation. The floor is not rigidly fixed, rather designed to float. The brand's reasoning is that "a floor under tension is more likely to rip or get holes poked in by sharp objects". The floating tent canopy means you can vary the height (by using a trekking pole) depending on the conditions. Higher delivers more ventilation, whilst you can lower it in stormy weather. The bathtub floor design assists here, but according to some longer-term users it could have been a bit higher, at the cost of added weight. 
Robustness in inclement weather is afforded via 3000mm rated 20D Silicone-coated poly for the fly and 40D on the floor. 
This is a great grassroots design, the catch is that everything seems to be 'sold separately': the support pole/s and stakes (you need 6), and even the seam-sealing service needs to be pre-ordered and paid for aside according to the brand website. And as the brand itself admits: "Unlike other tents with fixed points of setup, the floating canopy and floor design does take a little more patience to master. Still, the… weight savings make it well worth the effort."
MSR Carbon Reflex 1
An impressively lightweight shelter, but strictly 3-season
RRP: $523 (US) / £440 (UK) | Minimum weight: 660g/1lb 7.3oz , with pegs 790g/1lb 11.9oz | Pack Size: 43 x 13cm / 17 x 5.5in | Dimensions: 76 x 213cm/ 30 x 84in / 87 x 43 x 31in | Max headroom: 86cm/34in | Waterproofing (fly): 7D ripstop nylon DuraShield coated 1200mm HH silicone | Compatibility: 3-season
Super lightweight
Fast and light fly + floor pad option
Can be breezy
Reduced headroom
This updated double-wall, 3-season tent sits at the lightest end of the weight spectrum, but still offers good internal volume. Weight-saving fabrics and brilliant Easton carbon fibre poles have helped shave grams off previous iterations of this model. A zipper-less vestibule entry was worked into the design for the same reason – weight saving – although online commentary hasn't been favourable to this change, the Velcro proving too finicky and less secure for some.
A fairly roomy interior is comparable to most in this category and while you won't be swinging cats (nor should you be), it's comfortable enough for all bar giants. Headroom has been shaved a touch although we'll only ever be dealing in small degrees between models when it comes to the one-person lightweight brigade.
Internal mesh storage pockets allow good interior organisation and the vestibule is a reasonable size vestibule for storing pack and boots.
The 7Denier flysheet fabric is super light and offers 1200mm HH waterproofing but it's not as life-long tough as other brand models in category. Same deal for the 15D floor, which you can reinforce with a sold-separately footprint (and add weight). A mostly mesh inner gives good ventilation in warmer conditions but also means less heat retained if there is a breeze in cooler environments – it's a strictly 3-season offering. For added versatility on lighter trips, all the Carbon Reflex tents allow for a 'Fast and Light' set up option with the optional footprint.
All in all, this tent is up there with the best lightweight camping gear you can buy.
Big Sky Chinook 1Plus
A fabulous 4-season offering, excellent for stormy weather, but heavier than most other solo shelters
RRP: $550 (US) / £490 (UK) | Weight: 1.6kg / 3lb 8.4oz | Pack Size: 44 x 13cm/17 x 5.5in | Dimensions: 96 x 230 x 60cm/36 x 91 x 24in | Max headroom: 99cm/39in | Waterproofing (fly): SuperSil (silnylon coated on both sides) 1500mm HH | Compatibility: 4-season
Freestanding
Four season
Flexibility to squash in a mate in a pinch
Storm, wind and snowproof
Heavy
Tricky to set up
The dome-shaped Big Sky Chinook is a hardy 4-season shelter, able to withstand properly foul stormy conditions. When operated as a single-unit (fly-clipped-to-tent), it's great for setting up and packing down in bad weather. 
It's also fairly roomy – and able to accommodate two at a stretch. Here's the catch for those benefits, however: it's also double the weight of other one-person tents on test. But the space, warmth and a guarantee of staying dry may be worth paying the price of heft, especially if you can split the carrying between two. 
The strength ratio comes from a sturdy three-pole design, which can actually be downscaled to a two-pole set up if you want to find weight savings as solo traveller, but that also drops you into 3-season territory. In 3-pole mode, the fly is drum-tight when set up, which is great for shedding snow and repelling water, but harder in set-up mode due to how taught it is. 
A double-wall construction with two top vents does the job of preventing interior condensation while still holding on to body heat warmth in cold conditions. The steep wall design sheds snow well, so it's a good winter wonderland tent, and there are many tabs sewn into seams for additional guys. 
The pole clip design offers super-fast and easy setup and take-down. The interior buckling to the outer shell for one piece setup/take down ensures good for speed in foul weather. This is a large interior, with a high ceiling and decent doors on each side that allow easy entry and exit for either one or two people (no need to climb over each other). The durable 30D nylon silicone/PU-coated and seam taped fabric floor keeps the footprint dry and 1500mm rated fly sheet keeps things super dry.
The best one-person tents for fending off the elements
Hilleberg Soulo
A sturdy freestanding tent that can be pitched anywhere
RRP: $750 (US) / £790 (UK) | Weight: 2.4kg | Pack Size: 43 x 16.5cm/17 x 6.5in | Dimensions: 220 x 105cm / 86 x 41in | Max headroom: 95cm/37in | Waterproofing (fly): 30D High Tenacity Ripstop Nylon, HH 5000mm | Compatibility: 4-season all rounder
Freestanding
Can be pitched almost anywhere
Long and accommodating for tall campers
Heavy by comparison
Expensive
The Hilleberg Soulo is a hell of a one-person tent. If you're not into ultralight and would rather carry something a bit heavier for the comforting knowledge that your tent can take whatever you throw at it, then look no further. This four-season tent has a very sturdy three-pole dome construction, allowing it to be pitched almost anywhere freestanding. 
Hilleberg tents come with generously proportioned stuff bags, to make it easier to pack them up when conditions are cold, wet and windy in the wilds - and we love this as it saves time and discomfort. 'Soulo' means 'island' in the Sami language spoken by indigenous people in northern Scandinavia, and we can see why they've chosen that name: with this tent on board you are bringing your own little island with you - an oasis of home in whichever wilderness you pitch it.
Nordisk Svalbard 1 Sl
When the storm arrives, you'll be comforted by this tent's extreme weather credentials
RRP: £290 (UK) | Weight: 1.7kg/3lb 12oz | Pack Size: 45 x 15cm / 17.7 x 5.9in | Dimensions: 275 x 125cm/108 x 49in | Max headroom: 105cm / 41.3in | Waterproofing (fly): 40D ripstop nylon HH 3,000mm | Compatibility: 3-season adventures
Able to withstand a hurricane 
Small pack size
Can sit up inside
Small vestibule
Not freestanding
It is unusual for a tent to have been tested up against measured windspeeds by the manufacturer, but the Nordisk Svalbard 1 has been pitted against just that – and csme out standing. "It surpassed the magic 32.7m/s in our wind tunnel test," say Nordisk, which basically means it has the "ability to withstand a hurricane". This is, of course, if pegged correctly! 
This is a three-pole tunnel tent and the inner can be pitched alone, or with the rain fly over it. The webbing is colour coded, making for an easy set up. The pack sack has compression straps, allowing it to be compressed even smaller in your backpack.
Vaude Hogan SUL 1-2P
A spacious and sturdy tent to withstand the worst weather
RRP: £470 (UK) | Weight: 1.25kg/2lb 12oz | Pack Size: 40 x 12 cm/15.75 x 4.7in | Dimensions: 2.3msq | Max headroom: 95cm/37.4in | Waterproofing (fly): 20D Ripstop both-sides Silicone coated 3,000mm | Compatibility: 3-season trekking
Spacious
Easy to pitch
High wind stability
Eco friendly construction
Not 100% freestanding
The Vaude Hogan SUL 1-2P tent is a popular choice for bad-weather camping. If you are expecting to be throwing your tent up in the dark, amid horizontal rain, then this might be the tent for you. The Hogan has a very simple two pole 'tri-pod' construction that is incredibly simple to pitch and very sturdy against high winds. 
However, it relies on the tent corners being pegged out for maximum space so this is not a completely freestanding tent. You will not be able to use the tent to full capacity on hard or rocky ground. It can either be a spacious one-person tent or a cosy two-person tent, designed specifically for the lightweight market. It has adjustable ventilation and is completely PVC-free, manufactured with the environment in mind.
Exped Vela I Extreme
A versatile tent designed for year round use from snow to sunshine
RRP: $480 (US) / £450 (UK) | Weight: 1.6–1.9kg/3lb 8.4–4lb 3oz | Pack Size: 44 × 12 × 12cm/17.3 x 4.72 x 4.72in | Dimensions: 245 × 112cm/96.45 x 44in | Max headroom: 95cm/37.4in | Waterproofing (fly): 40D ripstop nylon, silicone coated 1,500mm | Compatibility: 4-season all rounder
Large vestibule
One side of rainfly can be rolled back in good weather
Only requires 2 pegs
Not freestanding
The Exped Vela I Extreme is a tent designed to cope in extreme weather conditions. You can pitch this in snow just as easily as on a balmy summer's night. Even more incredible is that it only requires one large pole, two tiny end poles and two pegs. That is, of course, without any guy ropes but it's still pretty impressive. 
It is a tunnel style tent, tensioned from either end, with the added bonus that you can roll back the outer layer for increased ventilation in hot weather. It has a generously proportioned and sheltered vestibule, perfect for keeping your pack dry. 
Like all Exped tents, it has nifty little stuff sacks attached to the guy lines - no need to get your cords in a tangle. The ground sheet is 70D, tougher than many lightweight tents. This is a versatile tent designed for year-round use. 
The best one-person tents with a bit of everything
MSR Hubba NX Solo
An excellent middle of the range tent that can cope with most things nature can throw at it
RRP: $380 (US) £385 (UK) | Weight: 1.29kg/2lb 13.5oz | Pack Size: 46 x 15cm/18 x 5.9in | Dimensions: 216 x 76cm/85 x 30in | Max headroom: 91cm/35.8in | Waterproofing (fly): 20D ripstop nylon 1200mm **Compatibility:** 3-season backpacking
Very wide vestibule
Spacious
Freestanding
Not so straightforward pole arrangement
Narrow interior
The Hubba NX Solo is MSR's best-selling freestanding solo tent - and there's a very good reason for that. This tent is an excellent all rounder, balancing lightweight credentials with durability and practicality. Its minimum weight is just over a kilogram, but there is a 'Fast and Light' option at 0.7kg. 
The tent is easy to set up, with colour coded poles and clips, and comes with a stuff sack with compression straps. The rain fly has kickstand vents to allow you to adjust ventilation depending on conditions. You can also roll up the vestibule rainfly for hot nights or stargazing.
Wild Country Coshee Micro V2
A great starter tent for an affordable first foray into solo camping
RRP: £130 (UK) | Weight: 1.4kg/ 3lb 1oz | Pack Size: 36 x 14cm/14.2 x 5.5in | Dimensions: 215 x 56cm/84.6 x 22in | Max headroom: 63cm/24.8in | Waterproofing (fly): Stormtex P4000FR | Compatibility: 2-season backpacking
Quick and easy to pitch
Low price
Small interior
Not freestanding
Very low profile
Designed and priced to be more accessible to mainstream campers and backpackers, the Wild Country Coshee Micro V2 is an affordable option for people just starting to explore one-person tents. This would be a great place to start if you're not sure exactly what you want in terms of features. 
It is a small tunnel-type tent, with only two poles. You can't sit up inside it – unless you're a very small person – and it's described as a 'deluxe bivvy' by the manufacturer. Porch space is limited, but the full-length door enables you to make the most of what there is. If you're happy to slide into a small abode at the end of a long day, this is well worth a look.
The best one-person tents for lightweight backpacking adventures
Terra Nova Laser Pulse Ultra 1
An extremely lightweight tent for when every gram matters
RRP: £999 (UK) | Weight: 0.49kg/1lb 1.28oz | Pack Size: 30 x 9cm/11.8 x 3.5in | Dimensions: 220 x 81cm/86.6x31.9in | Max headroom: 82cm/32.3in | Waterproofing (fly): ULTRA 10,000mm | Compatibility: 3-season lightweight adventures
Extremely lightweight
You can sit up inside the tent
Small pack size
Not freestanding
Very expensive
Terra Nova market the Laser Pulse Ultra 1 as the 'lightest tent in the world'. At only 450g minimum weight (490g when you pack it as intended) it's perfect for people who know their bag weight to the nearest 0.1g. Or for people who like bragging about ultralight gear at parties. 
The tent is aimed at the multiday mountain marathon runner - the type of person who wants to keep weight to the absolute minimum, but can suffer a little for the sake of a couple of nights on the hill. The shelter has a tunnel construction, with enough height to allow an adult to sit up inside the pitched tent. A groundsheet protector is available separately. And if you're worried about wear and tear, Terra Nova offers a guarantee 'to the original owner against defects in materials and workmanship for the lifetime of the product'.
Vango F10 Helium UL 1
A good entry-level tent designed with backpackers in mind
RRP: £250 (UK) | Weight: 1.2kg / 2lb 10.3oz | Pack Size: 40cm x 13cm/ 15.75 x 5.1in | Dimensions: 210cm / 82.7in long | Max headroom: 95cm / 37.4in | Waterproofing (fly): 15d Sentinel Exclusive nylon fabric, HH 3,000mm | Compatibility: 2- to 3-season backpacking
Simple and quick construction
Stuff sack with compression straps
Low price
Slightly fiddly to thread the main pole in the sleeve
Not freestanding
The F10 Helium UL 1 is described by Vango as a tent that 'won't hold you back'. They have designed this model with the fast-and-light backpacker or mountaineer in mind, balancing reliability with lightweight materials. The ground sheet is 70D with a 'bathtub' construction - that's an extra 10cm of groundsheet up the side wall before the taped seams, making it more water resistant. 
It has lots of internal pockets and a 'fast-pack' tent bag: a stuff sack with compression straps and an oversized opening. This is a nice touch, given how annoying it can be trying to squeeze tents back into tiny bags where every last millimetre of spare fabric has been removed.
Choosing the best one-person tent for you
There are hundreds of one-person tents available from an assortment of brands, all with very different designs, and it's easy to get overwhelmed. 
If you're tackling Scotland's Munros in winter, you'll want a tent that is 4-season rated and can withstand blizzards and everything else the Highlands can (and will) throw at it. You might be wanting to get a taste for peak-bagging, taking on multiple summits under the summer sun. In which case, you'll need something lightweight, as you won't be quite as worried about your tent's ability to repel the apolcalypse.
Make sure you consider the following before buying the best one-person tent for you:


1. Durability and robustness 
This comes in two parts. Firstly, how long will this tent last? Are you having a one-night stand, or will you be taking this tent camping for the next 20 years? Look for tents made of strong materials and with a high denier. Tied into this is how well your one-person tent will weather the elements. You want to make sure the tent is up to the conditions wherever you'll be camping. No one wants to wake up in the middle of the night with their tent flattened by a storm. Strong poles are a must.
2. Season rating
Just like the best sleeping bags, the best one-person tents have a season rating. It works very much the same way and will help you match up the right tent to the right weather conditions. A one- to two- season tent will have been designed for mild, warm and relatively dry conditions. It'll be geared more towards keeping you cool and might leak in rain. A three-season tent will be ideal in conditions that include rainy and stormy weather. These tents are a bit more robust. Finally, a four-season tent is built for full-on winter conditions, designed to keep you warm in the snow and ice. 
If you're venturing out for a winter camp, our how to choose a sleeping bag guide will also be of interest.
3. Dimensions
One-person tents tend to be minimalist. If you're on the tall side, you want to make sure it's long enough for you to lie down in. You don't want to find out, at 11 o'clock on a stormy night, that your head is sticking out in the rain. It's also worth giving the other dimensions a thought too: is it high enough to sit up in, or more of a glorified bivvy? Is there enough space for you and your kit, or is a bit of a squeeze? These questions are more relevant for multi-day expeditions, when you really appreciate that extra space.
If you want to go uber-minimalist, you might consider a bivvy. Our one-person tent vs bivvy bag feature delves into the pros and cons of either option.
4. Packability
Ultralight backpackers will typically want the best one-person tent that is as small and light as possible – within reason. The average is around the 1.5kg mark for a one-person tent, although it can go down to as little as 500g. The size the tent packs down to is also important. You can pack the world's lightest tent, but if it takes up your entire backpack that's not much good. 
5. Construction
Each tent will have different construction features. Decide which ones are important to you and see how many you can get! For example, is it freestanding? If so, this is very useful on rocky ground that won't take pegs, but not so necessary if you're camping on grass. Can it be pitched inner and outer together for a hasty camp in the rain? Or can the outer be easily removed for hot summer nights? Consider too, little features like porch size, washing lines and pockets. It's infuriating if you've got the best camping tech but it has to stay buried in your backpack because there's nowhere in the tent's interior to keep it for quick, convenient access.
All the latest inspiration, tips and guides to help you plan your next Advnture!
Thank you for signing up to Advnture. You will receive a verification email shortly.
There was a problem. Please refresh the page and try again.