Best one-person tents: for solo backpacking adventures and wild camping
Take your pick from the best one-person tents on offer – let us help you choose your perfect camping companion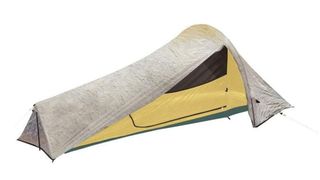 (Image credit: Terra Nova)
Choosing the best one-person tents can be a tricky business, amid a wealth of options. Of course, what actually constitutes the best one-person tent completely depends on what that one person intends to use it for. 
If you're just looking for a wild weekend fling at a festival, then it doesn't really matter which one you pick. (Rumour has it you're better off taking something cheap and nasty because it's going to get broken anyway.)
But, we hear that you're an adventurous soul. Your idea of a week-long party is taking to the mountains with everything you need in a backpack. Or pitching a tent on the side of a snowy peak during your summit push. Great. Let us help you pick your perfect shelter for a night out in the wild.
Weight is, of course, a major consideration, since you're going to be carrying the whole thing by yourself. For that reason we particularly love the Terra Nova Laser Pulse Ultra 1. The Hilleberg Soulo and MSR Hubba NX Solo are excellent all-rounders, while Vango's F10 Helium UL 1 and Wild Country's Coshee Micro V2 are very competitively priced. However, all the tents featured below are included on merit. 
The list includes both freestanding and non-freestanding one-person shelters, as opposed to tarp-and-pole constructions. A truly freestanding tent is one that doesn't rely on stakes (pegs) to be erected – although of course you would always stake your tent down once it's up. Some people prefer freestanding tents because they're often easier to put up (without paying careful attention to peg placement), but they're often slightly heavier, and lightweight non-freestanding tents can be extremely robust as long as you pitch them properly.
The best one-person tents you can buy today
Hilleberg Soulo
A sturdy freestanding tent that can be pitched anywhere
RRP: $750 (US) / £790 (UK) | Weight: 2.4kg | Pack Size: 43 x 16.5cm/17 x 6.5in | Dimensions: 220 x 105cm / 86 x 41in | Max headroom: 95cm/37in | Waterproofing (fly): 30D High Tenacity Ripstop Nylon, HH 5000mm | Compatibility: 4-season all rounder
Freestanding
Can be pitched almost anywhere
Long and accommodating for tall campers
Heavy by comparison
Expensive
The Hilleberg Soulo is a hell of a one-person tent. If you're not into ultralight and would rather carry something a bit heavier for the comforting knowledge that your tent can take whatever you throw at it, then look no further. This four-season tent has a very sturdy three-pole dome construction, allowing it to be pitched almost anywhere freestanding. Hilleberg tents come with generously proportioned stuff bags, to make it easier to pack them up when conditions are cold, wet and windy in the wilds - and we love this (saves time and discomfort). 'Soulo' means 'island' in the Sami language spoken by indigenous people in northern Scandinavia, and we can see why they've chosen that name: with this tent on board you are bringing your own little island with you - an oasis of home in whichever wilderness you pitch it.
Nordisk Svalbard 1 Sl
When the storm arrives, you'll be comforted by this tent's extreme weather credentials
RRP: £290 (UK) | Weight: 1.7kg/3lb 12oz | Pack Size: 45 x 15cm / 17.7 x 5.9in | Dimensions: 275 x 125cm/108 x 49in | Max headroom: 105cm / 41.3in | Waterproofing (fly): 40D ripstop nylon HH 3,000mm | Compatibility: 3-season adventures
Able to withstand a hurricane 
Small pack size
Can sit up inside
Small vestibule
Not freestanding
It is unusual for a tent to have been tested up against measured windspeeds by the manufacturer, but the Nordisk Svalbard 1 has been pitted against just that – and come out standing. "It surpassed the magic 32.7m/s in our wind tunnel test," say Nordisk, which basically means it has the "ability to withstand a hurricane" (if pegged correctly!). This is a three-pole tunnel tent and the inner can be pitched alone, or with the rain fly over it. The webbing is colour coded, making for an easy set up. The pack sack has compression straps, allowing it to be compressed even smaller in your backpack.
MSR Hubba NX Solo
An excellent middle of the range tent that can cope with most things nature can throw at it
RRP: $380 (US) £385 (UK) | Weight: 1.29kg/2lb 13.5oz | Pack Size: 46 x 15cm/18 x 5.9in | Dimensions: 216 x 76cm/85 x 30in | Max headroom: 91cm/35.8in | Waterproofing (fly): 20D ripstop nylon 1200mm **Compatibility:** 3-season backpacking
Very wide vestibule
Spacious
Freestanding
Not so straightforward pole arrangement
Narrow interior
The Hubba NX Solo is MSR's best-selling freestanding solo tent - and there's a very good reason for that. This tent is an excellent all rounder, balancing lightweight credentials with durability and practicality. Its minimum weight is just over a kilogram, but there is a 'Fast and Light' option at 0.7kg. The tent is easy to set up, with colour coded poles and clips, and comes with a stuff sack with compression straps. The rain fly has kickstand vents to allow you to adjust ventilation depending on conditions. You can also roll up the vestibule rainfly for hot nights or stargazing.
Vaude Hogan SUL 1-2P
A spacious and sturdy tent to withstand the worst weather
RRP: £470 (UK) | Weight: 1.25kg/2lb 12oz | Pack Size: 40 x 12 cm/15.75 x 4.7in | Dimensions: 2.3msq | Max headroom: 95cm/37.4in | Waterproofing (fly): 20D Ripstop both-sides Silicone coated 3,000mm | Compatibility: 3-season trekking
Spacious
Easy to pitch
High wind stability
Eco friendly construction
Not 100% freestanding
The Vaude Hogan SUL 1-2P tent is a popular choice for bad-weather camping. If you are expecting to be throwing your tent up in the dark, amid horizontal rain, then this might be the tent for you. The Hogan has a very simple two pole 'tri-pod' construction that is incredibly simple to pitch and very sturdy against high winds. However, it relies on the tent corners being pegged out for maximum space so this is not a completely freestanding tent. You will not be able to use the tent to full capacity on hard or rocky ground. This is a spacious one-person tent or a cosy two-person tent, designed specifically for the lightweight market. It has adjustable ventilation and is completely PVC-free, manufactured with the environment in mind.
Exped Vela I Extreme
A versatile tent designed for year round use from snow to sunshine
RRP: $480 (US) / £450 (UK) | Weight: 1.6–1.9kg/3lb 8.4–4lb 3oz | Pack Size: 44 × 12 × 12cm/17.3 x 4.72 x 4.72in | Dimensions: 245 × 112cm/96.45 x 44in | Max headroom: 95cm/37.4in | Waterproofing (fly): 40D ripstop nylon, silicone coated 1,500mm | Compatibility: 4-season all rounder
Large vestibule
One side of rainfly can be rolled back in good weather
Only requires 2 pegs
Not freestanding
The Exped Vela I Extreme is a tent designed to cope in extreme weather conditions. You can pitch this in snow just as easily as on a balmy summer's night. Even more incredible is that it only requires one large pole, two tiny end poles and two pegs. (That is, of course, without any guy ropes but it's still pretty impressive.) It is a tunnel style tent, tensioned from either end, with the added bonus that you can roll back the outer layer for more venting in hot weather. It has a generously proportioned and sheltered vestibule, perfect for keeping your pack dry. Like all Exped tents, it has nifty little stuff sacks attached to the guy lines - no need to get your cords in a tangle. The ground sheet is 70D, tougher than many lightweight tents. This is a versatile tent designed for year-round use. 
Terra Nova Laser Pulse Ultra 1
An extremely lightweight tent for when every gram matters
RRP: £999 (UK) | Weight: 0.49kg/1lb 1.28oz | Pack Size: 30 x 9cm/11.8 x 3.5in | Dimensions: 220 x 81cm/86.6x31.9in | Max headroom: 82cm/32.3in | Waterproofing (fly): ULTRA 10,000mm | Compatibility: 3-season lightweight adventures
Extremely lightweight
You can sit up inside the tent
Small pack size
Not freestanding
Very expensive
Terra Nova market the Laser Pulse Ultra 1 as the 'lightest tent in the world'. At only 450g minimum weight (490g when you pack it as intended) it's perfect for people who know their bag weight to the nearest 0.1g. Or for people who like bragging about ultralight gear at parties. The tent is aimed at the multiday mountain marathon runner - the type of person who wants to keep weight to the absolute minimum, but can suffer a little for the sake of a couple of nights on the hill. The shelter has a tunnel construction, with enough height to allow an adult to sit up inside the pitched tent. A groundsheet protector is available separately. And if you're worried about wear and tear, Terra Nova offers a guarantee 'to the original owner against defects in materials and workmanship for the lifetime of the product'.
Wild Country Coshee Micro V2
A great starter tent for an affordable first foray into solo camping
RRP: £130 (UK) | Weight: 1.4kg/ 3lb 1oz | Pack Size: 36 x 14cm/14.2 x 5.5in | Dimensions: 215 x 56cm/84.6 x 22in | Max headroom: 63cm/24.8in | Waterproofing (fly): Stormtex P4000FR | Compatibility: 2-season backpacking
Quick and easy to pitch
Low price
Small interior
Not freestanding
Very low profile
While you're recovering from vertigo induced by the top end of Terra Nova's price offering, let's take a look at their other label: Wild Country. Designed and priced to be more accessible to mainstream campers and backpackers, the Wild Country Coshee Micro V2 is an affordable option for people just starting to explore one-person tents. This would be a great place to start if you're not sure exactly what you want in terms of features. It is a small tunnel-type tent, with only two poles. You can't sit up inside it – unless you're a very small person – and it's described as a 'deluxe bivvy' by the manufacturer. Porch space is limited, but the full-length door enables you to make the most of what there is. If you're happy to slide into a small abode at the end of a long day, this is well worth a look.
Vango F10 Helium UL 1
A good entry-level tent designed with backpackers in mind
RRP: £250 (UK) | Weight: 1.2kg / 2lb 10.3oz | Pack Size: 40cm x 13cm/ 15.75 x 5.1in | Dimensions: 210cm / 82.7in long | Max headroom: 95cm / 37.4in | Waterproofing (fly): 15d Sentinel Exclusive nylon fabric, HH 3,000mm | Compatibility: 2- to 3-season backpacking
Simple and quick construction
Stuff sack with compression straps
Low price
Slightly fiddly to thread the main pole in the sleeve
Not freestanding
The F10 Helium UL 1 is described by Vango as a tent that 'won't hold you back'. They have designed this model with the fast-and-light backpacker or mountaineer in mind, balancing reliability with lightweight materials. The ground sheet is 70D with a 'bathtub' construction - that's an extra 10 cm of groundsheet up the side wall before the taped seams, making it more water resistant. It has lots of internal pockets and a 'fast-pack' tent bag: a stuff sack with an oversized opening and compression straps. This is a nice touch, given how annoying it can be trying to squeeze tents back into tiny bags where every last millimetre of spare fabric has been removed.
Choosing the best one-person tent for you
There are hundreds of one-person tents available from an assortment of brands, all with very different designs, and it's easy to get overwhelmed. Make sure you consider the following before buying.
1. Durability and robustness 
This comes in two parts. Firstly, how long will this tent last? Are you having a one-night stand, or will you be taking this tent camping for the next 20 years? Look for tents made of strong materials and with a high denier. Tied into this is how well your one-person tent will weather the elements. You want to make sure the tent is up to the conditions wherever you'll be camping. No one wants to wake up in the middle of the night with their tent flattened by a storm. Strong poles are a must.
2. Season rating
Just like sleeping bags, the best one-person tents have a season rating. It works very much the same way and will help you match up the right tent to the right weather conditions. A one- to two- season tent will have been designed for mild, warm and relatively dry conditions. It'll be geared more towards keeping you cool and might leak in rain. A three-season tent will be ideal in conditions that include rainy and stormy weather. These tents are a bit more robust. Finally, a four-season tent is built for full-on winter conditions, designed to keep you warm in the snow and ice. 
3. Dimensions
One-person tents tend to be minimalist. If you're on the tall side, you want to make sure it's long enough for you to lie down in. You don't want to find out, at 11 o'clock on a stormy night, that your head is sticking out in the rain. It's also worth giving the other dimensions a thought too: is it high enough to sit up in, or more of a glorified bivvy? Is there enough space for you and your kit, or is a bit of a squeeze? These questions are more relevant for multi-day expeditions, when you really appreciate that extra space.
4. Packability
Ultralight backpackers will typically want a tent that is as small and light as possible, within reason. The average is around the 1.5kg mark for a one-person tent, although it can go down to as little as 500g. The size the tent packs down to is also important. You can pack the world's lightest tent, but if it takes up your entire rucksack that's not much good. 
5. Construction
Each tent will have different construction features. Decide which ones are important to you and see how many you can get! For example, is it freestanding? If so, this is very useful on rocky ground that won't take pegs, but not so necessary if you're camping on grass. Can it be pitched inner and outer together for a hasty camp in the rain? Or can the outer be easily removed for hot summer nights? Consider too, little features like porch size, washing lines and pockets.
All the latest inspiration, tips and guides to help you plan your next Advnture!
Thank you for signing up to Advnture. You will receive a verification email shortly.
There was a problem. Please refresh the page and try again.