What is overtraining syndrome?
What is overtraining syndrome? We examine the signs and symptoms of overtraining syndrome, and discuss how to take a more balanced approach to your preparation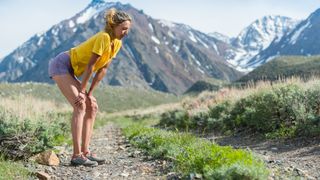 (Image credit: Getty)
Have you been putting in extra miles in your trail running shoes in preparation for a big race or spending every evening at the climbing wall training for a rock climbing trip and noticed that despite all the hours you're putting in, your performance seems to be declining? It could just be a normal, temporary plateau in your progress, but if you're really pushing yourself, you could also be in danger of suffering from overtraining syndrome. So what is overtraining syndrome, exactly, and how can you avoid it? In this article, we take a look at the signs and symptoms of overtraining syndrome, and discuss how to take a more balanced approach to your training.
What is overtraining syndrome?
In order to get faster, run further or climb better, you have to train harder, whether that means increasing your distance, adding more weight or attempting more difficult problems. Adding load is how you get fitter, but at a certain point it can hinder, rather than help, your progress.
For Scottish climber Rebekah Drummond, who described her younger self as a "chronic over trainer" recently during a talk she gave at the Fort William Mountain Festival, overtraining while she was a student looked like suffering frequent injuries which then set back her training, and an inability to gain muscle despite being on the wall most days.
"I'd cycle to the climbing wall in the morning, cycle to uni, cycle back to the climbing wall in the evening, cycle home, do that five days a week and then eat salad for my lunch and a cereal bar for breakfast and then I'd always have an injured finger and never put on any muscle," recalls Drummond.
Overtraining syndrome, perhaps more commonly referred to casually in the athletic world as burnout, is the term given to your body's response to excessive exercise without adequate rest, which can result in various neurological, endocrinological and immunological symptoms. According to an article in Sports Health, overtraining syndrome is preceded by overreaching, which is when increased training leads to diminished performance returns requiring a period of recovery. In other words, you add two miles to your usually 10 mile running route to begin your training for an ultra. You usually feel fine after your run, but the next day you're totally fried. You've overreached.
According to the paper, overreaching affects around two thirds of elite male and female runners at least once in their career. However, after a period of rest, the athletes will see their performance improve. So as long as you take a few days off, you'll probably be able to comfortably run that 13-miler soon without any issues.
The problem really arises when you get up the next day and run through your fatigue anyway, and don't give your muscles and nervous system time to recover. If you continue to chug through and keep overreaching without adequate rest, your symptoms will become more severe, recovery takes longer, and – worst case scenario – it could even end your athletic career.
What are the symptoms of overtraining syndrome?
According to the book Preventive and Therapeutic Treatment of Injuries in Selected Sports, the symptoms of overtraining syndrome are quite varied and often systemic:
Changes in appetite
Disturbed sleep disturbances
General fatigue
Inability to concentrate
Irritability
Lack of motivation
Nausea
Diarrhea
Frequent colds or flu-like symptoms
Increased resting heart rate
Musculoskeletal problems like strains and injuries
Naturally any one of these on its own may not indicate that you're overtraining, but if you know you've been overdoing it, you aren't resting and are suffering from some of these symptoms, it may be time to change how you train.
How long does overtraining syndrome last?
Overreaching can take from days to weeks to recover from, while once it progresses to overtraining syndrome, it will likely take you months to recover. For this reason, it's important to stop training and seek out help from a medical provider as soon as possible. They'll use your history and tests to rule out other conditions before giving you a diagnosis and creating a treatment plan, however you should be prepared that the main treatment for overtraining syndrome is total rest and not simply lightening your training load.
How do you know if you're overtraining?
This is where things get a bit tricky. As Drummond points out, how much is too much is a really subjective experience, and may have a lot to do with your history, and what else you have going on in your life.
"It depends on your training background, and how much you've done prior. Obviously if you've not done any fingerboarding before and then you went and started fingerboarding three times a week, that could be overtraining, whereas I feel like I could probably fingerboard three times a week and I'd be fine," explains Drummond, adding that a professional athlete is much likely to be able to handle a heavier training load than someone like her, who in addition to rock climbing is training to become a midwife and has two young children at home, with a third on the way.
"I think it's less to do with overtraining than under resting. A lot of people can rest enough that they can train lots, but when you've got a job and kids, even when you're not climbing, you're not resting, and I think that's half the battle."
Fortunately for Drummond, she's found that having kids and studying has actually improved her climbing – she recently successfully climbed the E7 6B rated Skye Wall in Scotland – because she no longer has the time to overtrain.
"I definitely climb way better after having the kids than I ever did before. That's because I'm more efficient with my time. When I go out, I actually try the routes I want to do. I don't have time to overtrain anymore so I've been way less injured. I eat considerably more so I actually gain muscle and that's made a huge difference – I actually can do burly moves now."
How can you avoid overtraining?
Avoiding overtraining in the first place is obviously preferable to experiencing it and then losing months to recovery. You can avoid overtraining by scheduling in regular rest days and making them a part of your training routine, even if you're still going hard on training days. For Drummond, she says if she had the time right now, she'd train every other day rather than daily as a matter of course.
If you already know that you're not giving yourself enough rest and you're increasing your training load, start with our article on why rest days are important. Next, check out our article on how to recover after a long run – which really applies to any sport – for ideas on how to spend your rest days such as getting sports massage and doing foam rolling in order to maximize that time off the trail or the crag.
Finally, don't worry that reducing your training hours will have a negative impact on your performance. The chances are, you'll see your performance improve once you're getting adequate rest. Even if you cut way down on your training, like Drummond, you'll maintain a stronger base for when you're ready – or have the time – to return.
"Now I'll maybe fingerboard once a week and climb once a week and I probably won't get better doing that, but it means when I do have energy again I'm not starting from zero," she concludes.
All the latest inspiration, tips and guides to help you plan your next Advnture!
Julia Clarke is a staff writer for Advnture.com and the author of the book Restorative Yoga for Beginners. She loves to explore mountains on foot, bike, skis and belay and then recover on the the yoga mat. Julia graduated with a degree in journalism in 2004 and spent eight years working as a radio presenter in Kansas City, Vermont, Boston and New York City before discovering the joys of the Rocky Mountains. She then detoured west to Colorado and enjoyed 11 years teaching yoga in Vail before returning to her hometown of Glasgow, Scotland in 2020 to focus on family and writing.