Beth Pascall breaks Bob Graham Round record amid flurry of FKTs
Team Salomon ultrarunner sets new and phenomenally fast female FKT on infamous Lake District trail challenge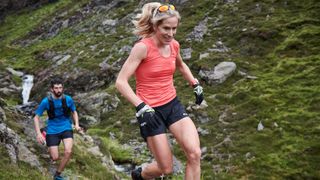 (Image credit: Sam Benard)
A 32-year-old ultrarunner from Derbyshire, Beth Pascall, has set a blistering new women's FKT (fastest known time) on one of the toughest trail challenges in the United Kingdom: the Bob Graham Round.
Named after a legendary fell runner and guest house owner from the Lake District, the Bob Graham Round is a circuitous 65-mile (106km) route that starts and finishes from the steps of the Moot Hall in Keswick. After leaving the streets of the town, runners must take on 42 fells and ascend around 27,000ft (8,200m).
For most runners, the challenge is to complete the round in under 24 hours. But Pascall had a tighter timescale to work to, when she began running on Friday 24 July – she was aiming to beat a record set by 2016 by Jasmin Paris, which stood at 15 hours 24 minutes.
Pascall, who works as a paediatrician when she isn't running trails, had been expecting to be competing in long-distance running races in California this summer, but the Covid-19 pandemic put paid to that. Instead she spent much of the long lockdown period training for the Bob Graham Round, and it paid off when she registered an incredible time of 14 hours 34 minutes, taking 50 minutes off Paris's record.
Not bad, for someone who says she only took up running seriously six years ago. This isn't Pascall's first FKT, though – she also set a joint record on the Cape Wrath Trail in Scotland, running the 230-mile in four days, nine hours and 43 minutes with Damian Hall in December (yep, December, in Scotland) in 2018.
During her record-setting run, Pascall wore an intriguing Salomon prototype shoe, which combines an S/lab Ultra upper with a S/lab Speed outsole – not available for purchase yet, but watch this space.
The holder of the men's Bob Graham Round record is another Salomon athlete, professional trail- and skyrunner Kílian Jornet, who two years ago did the round 102 minutes faster than Pascall, setting a FKT of 12 hours 52 minutes. Prior to that, the record set by Billy Bland in 1982 (13 hours 53 minutes) had stood for an incredible 36 years.
The last fortnight has seen a frenzied flurry of FKT and record attempts on some of the UK's toughest trails and challenges, as ultrarunners emerged from enforced lockdown lethargy with plenty of plans and a huge amount of pent-up energy.
Damian Hall set a new record on the 268-mile (429km) Pennine Way (61 hours 34 minutes), Carla Molinaro established a new women's world record for running Land's End to John O' Groats (12 days, 30 minutes and 14 seconds), Sabrina Verjee became the first woman to run the 318-mile (512km) Wainwrights Round and Kim Collison broke a 23-year-old record on the Lakes 24-hour challenge by reaching the summit of 78 peaks that stand over 2000 feet in the time period, running 90 miles (145km) and besting Mark Hartell's 1997 record by one peak.
In the US too, old FKTs are falling and new records are being set, as elite runners such as Kyle Curtin (who recently set a new FKT for an unsupported run around California's 171-mile Tahoe Rim Trail – completing the route in 41 hours and 9 minutes) eye solo challenges in the absence of organised races.
In June and July this year, the website that has documented record-breaking runs on 2,328 routes around the planet, fastestknowntime.com – set up by Colorado trail runner Buzz Burrell – logged 450 worldwide records, a huge increase on previous years.
All the latest inspiration, tips and guides to help you plan your next Advnture!
Author of Caving, Canyoning, Coasteering…, a recently released book about all kinds of outdoor adventures around Britain, Pat has spent 20 years pursuing stories involving boots, bikes, boats, beers and bruises. En route he's canoed Canada's Yukon River, climbed Mont Blanc and Kilimanjaro, skied and mountain biked through the Norwegian Alps, run an ultra across the roof of Mauritius, and set short-lived records for trail-running Australia's highest peaks and New Zealand's Great Walks. He's authored walking guides to Devon and Dorset, and once wrote a whole book about Toilets for Lonely Planet. Follow Pat's escapades on Strava here and instagram here.