Feeling indestructible? Meet the Grand Slam of Ultrarunning
The Grand Slam of ultrarunning requires you to run 400 miles and climb nearly 70,000ft over some of the most grueling (but beautiful) trails in the US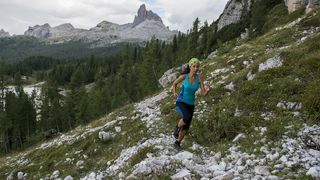 (Image credit: Getty)
You may have heard of the Triple Crown of Hiking – that's hiking the Appalachian Trail, Continental Divide Trail and Pacific Crest Trail for a grand total of nearly 8,000 miles – but have you heard of the Grand Slam of Ultrarunning? This prestigious achievement involves running 400 miles of gnarly long distance trails in some of the country's most beautiful states. That said, if you try to undertake this challenge, you're unlikely to have much opportunity to appreciate your natural surroundings, because it's as brutal as it sounds.
What is the Grand Slam of Ultrarunning?
The Grand Slam of Ultrarunning requires running four of the five oldest 100-mile races in the US. Originally, the title went to those who completed the Old Dominion 100 Mile Endurance Run in Virginia, the Western States 100 in California, the Leadville Trail 100 in Colorado and the Wasatch Front 100 Mile Endurance Run in Utah. In 1989, the Vermont 100 Mile Endurance Run was added, giving participants the opportunity to choose between it and the Old Dominion. Over the years, the rules have changed as to which races must be run, but at current time of writing, the only required race is the Wasatch Front 100, and you can choose any three of the remaining four.
Ultrarunner Tom Green was the first person to complete the Grand Slam, in 1986 before Vermont was added to the lineup. That means that over his 400 miles of running, he encountered some 67,000 cumulative feet of elevation gain and he managed to complete his hellish mission in 96 hours, 26 minutes, and 28 seconds. Let's hope he had a really good pair of trail running shoes.
Since Green broke the seal, there have been over 300 finishers, with dozens participating each year, and the fastest time on record belongs to Bend-based British ultrarunner Ian Sharman who shaved almost 30 hours of Green's time with a finishing time of 69 hours, 49 minutes and 38 seconds. We don't really know what to say to that, other than to tip our running caps in mad respect.
Read on to learn more about the five races involved in this unfathomable fast-paced adventure.
Old Dominion 100 Mile Endurance Run, Virginia
The Old Dominion has endured since 1979 and delivers a low-key, no-frills event that is focused on old-fashioned running over rough terrain. With no sponsors and run by volunteers, this race is all about getting down to business on northern Virginia's pavement, gravel roads, single track, ATV trails, logging roads, streams, not to mention a little mud. Begin at Shenandoah's County Fairgrounds in Woodstock and get back there within 24 hours if you want a buckle. The race takes place in early June, when it's always swampy in Virginia, and involves some 14,000 feet of elevation gain and traverses some routes used by George Washington.
The Western States 100, California
Claiming to be the original 100-mile endurance run, the Western States 100 was conceived of in 1974 and traverses the gorgeous landscape of the Sierra Nevada Mountains that once attracted gold prospectors to the area. These days, the hardiest runners ditch the mining picks and don their best lightweight running gear to make the journey from Palisades Tahoe ski resort in Olympic Valley to Auburn, California. The trail climbs more than 18,000 feet and weaves through mountain passes, rugged canyons, one memorable river crossing and historic mining trails. Complete it in under 24 hours for a silver buckle, or under 30 for the bronze. Entrance to the Western States 100 is held by lottery.
Leadville 100, Colorado
Easily the best-known of Colorado's hundred milers, the first Leadville 100 took place in 1983. Also known as the Race Across The Sky, this legendary trail run takes you across extremely rugged and very high terrain around the mining town of Leadville which finds you at elevations between 9,200 to 12,600 feet, climbing and descending 15,600 feet in total. The air will be thin but the views of the Collegiate Peaks are spectacular, especially when the event is held in August and most of the snow has melted. You have to finish in under 30 hours for a buckle, which is the shortest cutoff time on this list, and if you think you can hang, you can register for the Leadville 100 via lottery.
Wasatch Front 100 Mile Endurance Run, Utah
The Wasatch Front 100 is also known as "100 miles of heaven and hell," which tells you everything you need to know, really. Utah's first 100-mile race was established in 1980 and it's so hard that in its second year, no one managed to finish it. The trail begins at East Mountain Wilderness Park near the eastern shore of Salt Lake and ends down in Soldier Hollow, Utah, taking you through the breathtaking Wasatch Mountains. There is a cumulative gain of approximately 24,000 feet, making this the race with the most climbing of the Grand Slam, and remember, this one is required. The Wasatch Front 100 takes place the weekend after Labor Day and a lottery is required to enter. If you manage to finish in under 24 hours, you're a cheetah, under 30 hours you're a cougar and under 36 you're a badger.
Vermont 100 Mile Endurance Run, Vermont
The last race to be added to the Grand Slam and is one of only two hundred milers in New England. It gives Grand Slam hopefuls the chance to run in the cooler northeast and the course was an equestrian ride for many years until the first foot race in 1989. These days, the course is in lovely West Windsor, in central Vermont, and is a major fundraiser for Vermont Adaptive Ski & Sports. The course involves the gorgeous rolling Green Mountains, but don't be lured into thinking this one's a doozy – there's still 17,000 feet of climbing involved and a 30-hour cutoff. The Vermont 100 takes place in July and aspiring participants can enter by registering their interest.
All the latest inspiration, tips and guides to help you plan your next Advnture!
Julia Clarke is a staff writer for Advnture.com and the author of the book Restorative Yoga for Beginners. She loves to explore mountains on foot, bike, skis and belay and then recover on the the yoga mat. Julia graduated with a degree in journalism in 2004 and spent eight years working as a radio presenter in Kansas City, Vermont, Boston and New York City before discovering the joys of the Rocky Mountains. She then detoured west to Colorado and enjoyed 11 years teaching yoga in Vail before returning to her hometown of Glasgow, Scotland in 2020 to focus on family and writing.