The Triple Crown of hiking: long distance walking's highest honor
What is the Triple Crown of hiking? We explain the designation for completing America's three longest trails, and how many pairs of shoes it takes to do it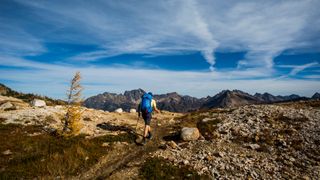 (Image credit: Getty)
We've already established that hiking isn't a sport but that doesn't mean that the people who do it can't be world class athletes. With astonishing new long-distance hiking records being set nearly every day by folks wielding not much more than hiking boots, grit and determination, it seems only fair that there be some recognition for their accomplishments. As it turns out, there is at least one designation for those who take on some of America's longest and gnarliest trails – the Triple Crown of Hiking. In this article, we take a look at exactly what it takes to become a Triple Crowner.
How do you get the Triple Crown in hiking?
The Triple Crown of hiking – which borrows its name from the Thoroughbred racing world – is a feat recognized by the American Long Distance Hiking Association-West for those who have completed America's three most famous long trails. In order to achieve the Triple Crown of hiking, you must complete the Appalachian Trail, which runs some 2,200 miles from Georgia to Maine, the Pacific Crest Trail, which stretches for 2,650 miles from Mexico to Canada and the Continental Divide Trail which follows the spine of the Rocky Mountains for approximately 3,000 miles.
There is no time limit in which you have to complete the hikes to be considered a Triple Crowner, you just have to walk every one of those almost 8,000 miles, and according to two recent Triple Crowners, you'll go through about 12 pairs of shoes total in the process. You could thru-hike the trails in epic backpacking excursions, or attack them in small, bite sized pieces over the years.
The Triple Crown of hiking is based on an honors system, and it doesn't recognize any other distinguishing factors such as fastest hike or age of hiker. However it does honor the new Triple Crowners each year with a plaque noting their achievement during a gathering held in the fall.
Which Triple Crown trail is easiest?
This is certainly a subjective area, after all how easy or difficult a hike is can be influenced by weather conditions, wildlife presence and availability of water as much as terrain, and it's difficult to describe any long-distance hike as truly easy.
Some say that the Appalachian Trail is the least demanding of the three given its shortest distance. It's also the best established path with lots of services along the way where you can pick up supplies. That said, you still manage to gain 515,000ft of elevation over the course of the hike, which for the average AT hiker means over 100,000 feet per month, and of course, you have to contend with east coast weather conditions which means high humidity, frequent rain and bugs.
The Pacific Crest Trail is significantly longer than the AT, but demands only about 315,000ft of elevation gain. However, the overall elevation of the trail is higher – generally between 5,000 and 7,000ft above sea level – which adds a different challenge for many hikers. Hikers on the PCT can expect drier conditions and less mosquitoes, which makes for a more comfortable hike, but they may also encounter wildfires and smoke which can result in inconvenient diversions as well as unhealthy hiking conditions.
So, if you're trying to decide which trail to get started with, you need to weigh up climbing, humidity and bugs against sunshine, elevation and smoke.
What is the hardest trail in the Triple Crown of hiking?
This one is much easier to answer. The Continental Divide Trail is the most difficult hike of the Triple Crown. Not only is it longer by a large margin, but thru-hikers can expect to gain a staggering 917,000ft of elevation over the course of the trail. At times you'll be hiking above 14,000ft which is truly considered high altitude hiking and the trail is by far the most remote and rugged, meaning re-supply points are few and far between along this trail.
The good news? Mosquitos are scarce at high elevation. But bugs aside, the CDT is not for the faint of heart – save this one for last!
How many hikers have completed the Triple Crown?
The number of hikers completing the Triple Crown is on the rise, reaching into the hundreds these days. When the award was first conceived in 1994, there were only five people on the list, and the yearly totals weren't much greater than that until 2011 when a swell of 35 people registered. In 2020, during the height of the pandemic, there were 41 new Triple Crowners.
Has anyone done the Triple Crown in one year?
Completing the Triple Crown in a single year sounds impossible – and it probably should be – but it's been done, more than once. A Calendar Year Triple Crown is the unofficial designation for anyone who completes all three trails between January 1 and December 31. The first CYTC hiker was Brian Robinson in 2001.
Most hikers who manage this do so by jumping around on the three trails to make the most of the best weather conditions throughout the year, however in 2005 Matt Hazely became the first to hike each trail in its entirety before progressing to the next one on his list.
All the latest inspiration, tips and guides to help you plan your next Advnture!
Julia Clarke is a staff writer for Advnture.com and the author of the book Restorative Yoga for Beginners. She loves to explore mountains on foot, bike, skis and belay and then recover on the the yoga mat. Julia graduated with a degree in journalism in 2004 and spent eight years working as a radio presenter in Kansas City, Vermont, Boston and New York City before discovering the joys of the Rocky Mountains. She then detoured west to Colorado and enjoyed 11 years teaching yoga in Vail before returning to her hometown of Glasgow, Scotland in 2020 to focus on family and writing.