Hikes in Colorado near Denver: leave the city behind with these unforgettable rocky mountain hikes
Our favorite hikes in Colorado near Denver cover natural sandstone amphitheaters, lava-formed mesas and high alpine glaciers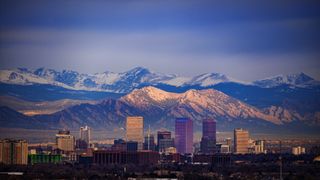 (Image credit: Brad McGinley Photography)
The only real problem with finding great hikes in Colorado near Denver is that there are so many to choose from. This city might offer the height of urban sophistication, but you're also never far from a memorable outdoor adventure here.
If you've only ever experienced Colorado's state capital through a John Denver song, you'd be forgiven for imagining it to be perched atop some mountain wilderness. In fact, despite its impressive elevation, the so-called Mile High City sits on the eastern plains of Colorado known as the Front Range. The Rocky Mountains that form the iconic backdrop to its distinctive city skyline actually begin to rise up out of the plains about 15 miles to the west of downtown, but if you're willing to hop in the car for a short ride, you'll find plenty of unforgettable hikes at your fingertips.
Here we've compiled our list of the best hikes in Colorado near Denver where you can escape the bustling metropolis for a few hours, and though you will have to leave city limits to reach them, you won't have to travel more than 55 miles, meaning you can be back in town enjoying Denver's good grub and swinging nightlife scene by happy hour.
Almost all Colorado trails are extremely well marked, but you'll want a good pair of hiking boots for all terrain here along with a proper hydration pack as high altitude conditions means dry air and dehydration is a real concern. We've ordered these hikes from closest to furthest to help you with your planning. Meanwhile, we also have a guide to the best hikes in Boulder, Colorado, which is nearby.
Red Rocks Trading Post Trail
Distance from Denver: 16.3 miles
Hike Distance: 1.4 miles
No visit to Denver is complete without a trip to Red Rocks Amphitheater. This world-famous music venue in Red Rocks Park is a naturally-occurring, acoustically perfect amphitheatre. This trail offers closeups of the infamous red monoliths that give the park its name as well as a chance to explore the amphitheater and maybe stand on a stage that's seen the likes of The Beatles, Johnny Cash and Hendrix – if you time your visit right, you could even stay for a show afterwards.
Park at the south lot and pick up the well-marked trail just south of the Colorado Music Hall of Fame museum. This short hike takes you round ten of the incredible red sandstone rock formations, some of which are even taller than Niagara Falls, as well as the 9,500 seat amphitheater, which is an impressive sight in itself. If there isn't a band setting up, you can explore the venue and even stand on stage and imagine the millions of adoring fans that have assembled here over the last century.
North Table Mountain
Distance from Denver: 17 miles
Hike distance: 3.2 miles
Just 25 minutes drive west of Denver in the foothills of the Rocky Mountains lies the aptly named town of Golden. This charming former gold rush town offers the very best of Colorado; it is home to Coors brewery, the largest single site brewery in the world, Buffalo Bill's Grave, and a plethora of outdoor adventures from white water kayaking to hiking.
North Table Mountain is a mesa that, along with its sister mesa South Table Mountain, was formed by lava 60 million years ago. The mesa is home to miles of trails as well as wildlife like prairie dogs, golden eagles and red-tailed hawks. Spring and early summer are the best times of year to enjoy this hike due to an abundance of wildflowers.
Start at the North Table Mountain Park West Trailhead off Highway 93, just north of Golden. Begin on the North Table Loop Trail with a moderately steep climb up to the top of the Mesa where it levels off and you can enjoy panoramic views of the Front Range and the Rocky Mountains. At the first intersection, take a left onto the Tilting Mesa trail for about a mile before taking a left onto the Mesa Top Trail and following it until you get back to the North Table Loop trail again. Take one more left here along the side of North Table Mountain to get back to the trailhead.
Lookout Mountain Trail
Distance from Denver: 20 miles
Hike distance: 2.6 miles
At 7,377 feet above sea level, Lookout Mountain is one of the first things you notice when you start driving west from Denver. It was home to the Ute Indians for whom it provided clear views in all directions and today is easily one of Denver's most popular hiking spots due to its scenic views and proximity to downtown. At the summit, you can visit the gravesite of Buffalo Bill, a key figure of the American west. The best time to enjoy this short but rewarding route is at sunset.
Take Highway 6 West out of town for about 10 miles then take the exit for Lookout Mountain Road. Take a right onto Paradise Road from Highway 40, and another right onto South Lookout Mountain Road. After about three miles the Windy Saddle parking lot will be on your left. Almost immediately after you begin your hike, you will come to an intersection - take a left to stay on the Lookout Mountain Trail and follow it through evergreen forests broken up by stunning valley vistas until you reach the Lookout Mountain Nature Center where you can stop and explore before returning the same way you came, or continuing on any of the many other trails here.
The Meadowlark/Plymouth Creek loop at Deer Creek Canyon
Distance from Denver: 22 miles
Hike distance: 2.7 miles
Deer Creek Canyon is in Littleton, south of the city and within metropolitan Denver limits. Its grassy terrain is home to wildlife like elk, bears and cougars and it boasts several trails for a quick getaway from the city and suburbs. Here you can experience more of the high alpine desert environment than the evergreen forests that many other nearby trails represent.
From Littleton, head south on Highway 85 to Interstate 470 west and take exit 12 towards Deer Creek Canyon. The Meadowlark/Plymouth Creek loop is highly recommended because it is a hikers-only trail, meaning you won't have to share it with mountain bikers. This trail takes you across a meadow and up into the foothills via multiple switchbacks with marvelous views until you meet the Plymouth Creek Trail. Here you can turn left and head downhill back towards the trailhead with views of the red rock striped canyons below.
Eldorado Canyon Trail
Distance from Denver: 28 miles
Hike distance: 6.5 miles
A short drive northwest of Denver is Eldorado Canyon State Park, a veritable mecca for climbers who are enticed by its more than 500 technical climbing routes, but there's ample opportunity to explore the towering sandstone cliffs on foot.
Take Interstate 25 north to Highway 36 west and exit onto Highway 170 south which becomes a dirt road in the town of Eldorado Springs – follow the dirt road and the park is located at the end on the left. Eldorado Canyon Trail starts from the visitor center parking lot and offers a more accessible route than many other Colorado hikes, with downs as well as ups and a picturesque waterfall on the way. Follow it through gorgeous views of the canyon and the Rocky Mountains until it intersects with the Walker Ranch Loop Trail where you can turn back.
Alderfer and the Three Sisters Park
Distance from Denver: 30 miles
Hike distance: 6.7 miles
Just a half hour from Denver's big city bustle, the town of Evergreen offers big mountain adventure. At 7,000 feet above sea level, you're well and truly in the Rockies here and can expect lush green forests, alpine meadows and pristine lakes. The town lies on former hunting ground for the Ute and Arapahoe tribes which was settled by homesteaders around 1860 and it is home to Alderfer/Three Sisters Park which boasts mesmerizing vistas, stunning rock formations, ponderosa pine and the most trails per acre of any foothills park.
Take Highway 73 south from just south of Evergreen to Buffalo Park Road and park at the East Trailhead. The Sisters Trail starts from here and while it may be the most difficult trail in the park, it is also the most enjoyable, taking you via some unusual rock formations on the way to Evergreen Mountain Summit where you can enjoy views of the quaint town spread out below you. Begin on the Evergreen Mountain Trail East and then connect to the Summit Trail after about two miles. On the return, take Evergreen Mountain Trail West.
St. Mary's Glacier
Distance from Denver: 43 miles
Hike Distance: 2.4 miles
Just a short drive from historic Idaho Springs west of Denver, this hike delivers truly spectacular views of an alpine lake and glacier without having to cover much terrain at all. The glacier is really a semi-permanent snowfield located in the James Peak Wilderness, but the views are breathtaking for even the most seasoned Colorado hiker.
To get to the trailhead, take exit 238 from Interstate 70 west and follow Fall River Road to the parking lot. Follow the signposted St. Mary's Trail and arrive at St. Mary's Lake after about half a mile. This stunning high alpine lake is an ideal spot to rest and enjoy lunch with fantastic views. Continue along the trail to the glacier, where the obvious route disappears. Turn back whenever you are ready.
Mount Bierstadt
Distance from Denver: 55 miles
Hike distance: 7 miles
For many visitors to Colorado, bagging one of the state's 53 highly coveted 14ers (peaks higher than 14,000 feet) is top of the list. Mount Bierstadt is one of the easier ascents in this coveted category offering high alpine beauty and views of the Rocky Mountains and Front Range. Named after Albert Bierstadt, an American landscape painter who made the first recorded summit of the mountain in 1863, this mountain stands at 14,065 feet above sea level.
The drive to this trail is an excursion in itself. From Interstate 70 Westbound, exit at historic Georgetown, a picturesque former silver mining camp, and follow the signs for Guanella Pass with 12 uninterrupted miles of scenic highway. The parking lot and trail are well signposted. The first mile or so of the hike is an easy walk until you reach Scott Gomer Creek, after which you'll begin to feel the climb as you ascend through willows, high alpine tundra and cobalt lakes. The climb gets steeper as you switch back up the steep rocky final push to the summit where you can enjoy dramatic views of the Sawtooth leading to Mount Spaulding.
All the latest inspiration, tips and guides to help you plan your next Advnture!
Julia Clarke is a staff writer for Advnture.com and the author of the book Restorative Yoga for Beginners. She loves to explore mountains on foot, bike, skis and belay and then recover on the the yoga mat. Julia graduated with a degree in journalism in 2004 and spent eight years working as a radio presenter in Kansas City, Vermont, Boston and New York City before discovering the joys of the Rocky Mountains. She then detoured west to Colorado and enjoyed 11 years teaching yoga in Vail before returning to her hometown of Glasgow, Scotland in 2020 to focus on family and writing.