Best hydration packs: roomy, light and comfy for tackling your next trail adventure
By Casey Blaine, Brian Metzler
The best hydration packs combine volume, value, durability and functionality with a comfortable fit – here is a roundup of the best systems available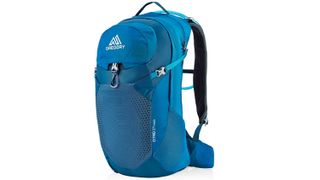 (Image credit: Gregory)
Having access to the best hydration pack on the go is critical to any adventure. A comfortable, appropriately sized pack with a bladder that you can fill, access and then forget about (because it's sitting so comfortably on your back) is crucial. There are a huge variety of hydration systems available, so we've put a hand-selected hitlist of the best to the test, with a variety of hiking, trekking and trail-running uses in mind. 
We especially loved the Gregory Citro 24 H20 daypack for its storage organization and hydration system, but we appreciated key aspects of other packs. We also found that packs made specifically for trail running could be used for fast-and-light hiking adventures, while some of the larger hiking packs could even be used for minimalist overnight bivouac outings. 
Understanding your specific storage needs and personal preferences for carrying hydration are key to determining which pack you should consider. 
The 10 best hydration packs you can buy today
A lean, efficient pack for the minimalist who likes to move light and fast
RRP: $150 (US)/ £124 (UK) | Weight (empty): 198g / 7oz | Hydration Capacity: 1L/34 fl oz via two 500ml/17 fl oz bottles (included), with room to accommodate a bladder (not included) | Gear capacity: 11L | Colours: Silver/Blue haze
Body-mapped ventilation
Extremely light
Room for a reservoir 
Bottles bounce some
Durability of mesh suspect
This breathable unisex vest is so comfortable and airy, you hardly know you're wearing it. The super-light, meshy material at the shoulders and back keep things cool as well. Though the smallest bag on the list, at just 11L capacity, this smart design offers surprisingly ample space for fuel and gear storage, with two bigger pockets in back to stow a jacket or bulkier gear, and six smaller pockets up front for easy access. There's even an attachment for trekking poles and a safety whistle, for adventurers heading into the wild. 
We noted some bounce when moving fast on a trail run, but the adjustable chest straps – while not at all easy to move up and down – helped mitigate that movement, offering a secure, nuanced fit to accommodate a variety of shapes and sizes. The vest comes with two soft bottles that sit comfortably in deep pockets up front, but there's room in back for a bladder if you prefer. A smart piece of kit that's well-suited to running and shorter days out on the trail. 
Ultimate Direction Adventure Vest 5.0/Adventure Vesta 5.0
A supple, do-everything pack with a great fit and loads of sneaky storage
RRP: $180 (US)/ £135 (UK) | Weight (empty): 247g / 8.7oz | Hydration Capacity: One 500ml/17 fl oz soft bottle included; room to accommodate a bladder (not included) | Gear capacity: 16.5 L | Colours: Night sky
Copious amount of storage
Snug, comfortable fit
Rain fly included
Only one soft bottle included
High price tag
Fit matters a lot when it comes to packs, and with gendered versions, as well as S-M-L sizing within those versions, this vest offers a snug, exceptionally dialed fit. With cinching straps in back and easy-sliding chest straps up front, you'll get the exact fit you want, regardless of chest size, what you're wearing or how much or little you've packed. 
This vest offers copious storage (16.5 L) much of which is divvied up into smaller pockets. If you dig organization – for your gels, phone, keys, sunscreen, burrito – yep, there's a pocket for that. For such a spacious bag so well-suited to long days out, we were surprised to find room up front for just one soft bottle (included). And note: sliding said bottle all the way down into the pocket takes a good bit of stuffing. However, there's space for a 2L bladder in the back (not included). A deep, zippered well holds bigger items, and there's an open pocket that stretches nicely for stuffing as well as crisscrossed elastic for securing a stray jacket or other additional items. 
A super-handy rain fly is tucked surreptitiously in back to keep stuff dry if the weather turns wet. With its really thoughtful design and high-quality materials, this vest is unsurprisingly found on the pricey end of similar vests. But it may well be worth it, given the variety of uses you will get from this light, lithe vest with the capacity of a much larger pack yet none of the weight. Well-suited to running, fast-packing, long day hikes, hut-to-hut trips, bike packing.
Nathan TrailMix 7L
Nimble and wonderfully wearable
RRP: $100 (US)/ £85 (UK) | Weight (empty): 312g / 11oz | Hydration Capacity: 2L hydration bladder (included) | Gear capacity: 7L | Colours: Sangria / Magenta Purple / Sky Blue
Nimble and agile
Gender-specific fit
Hydration tube is extremely long and fiddly
Not much storage space
This nimble, super-comfortable vest is a gem at the (economical) price.  While space is limited as compared to others on this list, there's sufficient storage for a day adventure's requirements, such as raincoat or windbreaker, snacks and other essentials. We particularly liked the simple, convenient way that storage is arranged, with two deep, zippered pockets in back plus three easy-to-access stretchy pockets up front for an easy-grab of your phone, gels or sunscreen. If you're more a stuffer than an organizer, then having fewer, bigger pockets works better than loads of little ones. 
Hydration is well-served by a 2L bladder that sits in back, and a drinking tube secured up front with a sternum clip. There was some fussing with the tube to find best placement for it so the hose didn't rub against a shoulder or arm, yet the nozzle didn't flop down against the abdomen. An option would be to cut the tube once you know best length, but I found a way to secure it as is underneath the sternum straps and it worked just fine. If you're not a bladder fan, you can sink an 18 oz bottle (not included) into a pocket up front.  A gender-specific design helps dial in fit, but that said, our male and female tester both tested the male version, and found it could be quite easily adjusted to suit them both. However, if you're a woman who is either large-chested or more petite in stature, consider seeking out the woman's version for a more nuanced fit. Hikers and trail runners will appreciate the elastic holders for stowing poles.  Well-suited to trail running, day hiking, scrambling. 
Camelbak Octane 18 Hydration Pack
Spacious and tough enough for burly adventures, yet surprisingly light and lithe
RRP: $125 (US)/ £100 (UK) | Weight (empty): 398g / 14oz | Hydration Capacity: 2L/70 oz (reservoir included) | Gear capacity: 16L | Colours: Black / Bluefish
Easy-to-refill reservoir
Versatile (could even be a commuter pack)
Internal frame support
Copious amounts of storage
Lack of durability
Not ideal for smaller women
This roomy pack will comfortably and securely tote all the gear, hydration, and snacks you need for several hours out. Though quite pliable and lightweight, it has some elements of a traditional backpack, offering some structure in back. While not a full-on internal frame, the lightly padded frame sheet makes packing, retrieving and refilling a bladder much easier than with flimsier packs, where considerable stuffing can be required.
The light weight combined with the structure and padding may also make this an option for backcountry snow sport, depending on gear, and its easy-to-wear design even led one tester to use the padded reservoir space for a laptop, making this an excellent commuter pack. Materials are tough and durable, and mostly non-abrasive, though wearing a t-shirt is going to work better than a tank top, where we noticed some chafing on exposed skin during a particularly long, hot walk. 
While the model is unisex, easy-sliding sternum straps and another set of adjustable straps at the hips dial in the fit. That said, if you're petite or have a shorter torso, consider trying this one on before buying to ensure you can get the fit you want. Well-suited for day hiking, hut-to-hut trips, backcountry snowsports, commuting.
Osprey Skimmer 28 (Women's)
A solid, functional, classic hiking pack
RRP: $130 (US)/ £90 (UK) | Weight (empty): 758g / 1lb 10.7oz | Hydration Capacity: 2.5L reservoir (included) | Gear capacity: 28L | Colours: Sapphire blue / Plum red
Easy to fill reservoir 
Designed for women's body shape
copious storage space
Hydration sleeve narrow
No easy access pockets
Pack feels heavy when full
A classic design never goes out of style. This spacious, no-nonsense pack – while heavier than some we tested - is a good option for adventurers seeking a happy medium between chunky external-frame packs and completely structureless ones. A padded frame sheet combined with a wide-mouth top makes this bag super-easy to pack and retrieve gear. Also, when zippered up, the top of the pack lies flat and seamless, which we found helped keep contents dry in (light) rain, without the need to stop and add a fly.
The model is women-specific, with narrower cuts to the shoulder and hip straps to better suit a female shape, and we found this helped mitigate movement/friction as well as allowed us to better balance and manage heavy loads. A slender compartment in the back keeps your hydration system separate from the rest of your gear, and is fairly easy to access, though the sleeve is quite narrow so consider sliding the filled bladder in first, before filling the rest of the pack. The reservoir itself is made of a super-thin and light material, and has a neat sliding closer at the top that is much easier to open for refilling than other bladder designs we've tried. 
Storage is ample with a variety of roomy pockets for gear, food and other essentials, but not as accessible as we'd have liked – other than the zippered pockets at the hip, you pretty much have to take off the pack in order to access your stuff. Trekking poles and an ice axe can be stowed in loops up front and easily retrieved as needed.  It's well-suited for hiking, trekking, backpacking, hut-to-hut adventures and even backcountry snow sports. (A similar men's version of this pack is the Osprey Skarab 30).
Osprey Skarab 22
A smallish but roomy day-hiking pack
RRP: $100 (US)/ £75 (UK) | Weight (empty): 662g / 1lb 7.4oz | Hydration Capacity: 2.5L (reservoir included) | Gear capacity: 22L | Colours: Mystic red / Deep blue / Black
Highly adjustable
Excellent back panel and comfortable shoulder straps
Well-balanced load management
No front or waistbelt pockets
Dual-entry side pockets lose contents
The Skarab 22 fuses modern style and materials with a classic rucksack design featuring an easy-access, wide-mouth, bucket-style storage area, a zippered slash pocket on top and two stretchy, open-air side pockets. It's ideal for carrying just-what-you-need gear for multi-hour hiking adventures, whether that's extra clothes, camera equipment or a picnic lunch. The adjustable strap system is high effective in adapting to different hiker shapes, sizes and personal preferences.
The dedicated hydration reservoir compartment keeps 2.5L of liquid securely stored, while elastic tube management loops on the pack's front straps make drinking easily accessible on either side. The dual-entry side pockets are enhanced with a stretchy fabric that allow bigger items (such as a waterproof jacket) to be packed down and snugly stored. However, because the side pockets have a side entry opening, it's harder to store smaller items (such as a mobile phone or a pair of gloves) because there is the chance something could slip out. 
The scratch-free upper pocket is ideal for more delicate and important items such as a mobile phone, point-and-shoot camera, a wallet or keys. One of the best aspects is the open mesh foam AirScape back panel that not only keeps sweat to a minimum, but it also provides insulation for the hydration reservoir. We appreciated the trekking pole attachment loops on the back of the pack, but we would have loved easy-access waistbelt pockets that could allow retreival of key items (sun block, snacks or a mobile phone) without having to take off the pack. It's built for hiking and trekking adventures, but not particularly suited for fast-packing based on the overall weight and pocket location.
Nathan VaporKrar 12L
An exceptionally light and effective trail runner pack
RRP: $200 (US)/ £160 (UK) | Weight (empty): 425g / 15oz | Hydration Capacity: 1.6L insulated hydration reservoir (included) | Gear capacity: 12L | Colours: Astral Aura/Deep Ultramarine/Hibiscus
Snug, connective fit
Reflective highlights for safety
Dries/evaporates moisture quickly
Steep price tag
Some stitching lacks durability
This is the ultimate pack for long-distance trail runners who log multi-hour runs or compete in ultra-distance races. It's made very lightweight, well-ventilated materials and a design that fits like a snug shirt and helps comfortably cinch the pack close to the body with an effective tri-closure chest strap system. It keeps everything snug and compact without bouncing, no matter if the hydration reservoir is mostly full or mostly empty. (The bladder is insulated, which is a nice touch, because it's rated to keep water cool 38 percent longer than non-insulated reservoirs.) 
In addition to carrying the fold-top hydration reservoir, there's room for a waterproof shell, running tights, gloves and a hat in the rear pouch and stash pocket. There's four pouch pockets on the front straps for carrying additional soft bottles (not included), energy snacks, a lube stick, sunblock or a mobile phone, as well as two small, narrow zippered pockets. Most sections of the pack are perforated for enhanced ventilation which helps reduce the chance for sweat soak-through. The hydration reservoir is easy to refill without removing it from the pack, a feature that comes in especially handy at race aid stations. 
This pack is covered with reflective highlights for safety, is machine washable and also comes in a women's model (VaporHowe 12L Race Vest) with female-specific fit features. Both are ideal for long trail racing and training endeavors, especially in hot weather conditions.
Inov-8 Race Ultra Pro 5 Vest
A lightweight trail race vest with a minimalist design
RRP: $150 (US)/ £130 (UK) | Weight (empty): 370g / 13oz | Hydration Capacity: 1L, via 2 x 500ml/17 fl oz soft flasks (included) | Gear capacity: 5L | Colours: Black and green
Body hugging fit
Ideal for racing
Extremely light
Limited storage space
No reservoir hook
Pricey considering minimalist design
For trail racers who prefer to carry their liquid in soft flasks instead of a hydration reservoir, the Race Ultra Pro 5 Vest is a very good option. It carries its two 500ml soft flasks in an angled position lower on the chest, but the liquid is easily accessible from the flasks long drinking tubes. It's a bit of a bare-bones, minimalistic pack, but there's also a surprising amount of storage in four elastic mesh pouches and three zippered pockets. 
But the best part of this pack is that, no matter how full, it rides close to the body and doesn't bounce. (There are also dedicated cinch cord straps for stowing collapsible trekking poles.) All of those smart, intricate storage and design elements allow the wearer to run uninhibitedly without worry about the pack or its contents. There is room for a hydration reservoir and tube management ports, but, unfortunately, no hook or clip to hold the reservoir in place. The Race Ultra Pro 5 Vest is ideal for ultra-distance races, but it could be used for training runs, too.
Salomon ADV Skin 8 Set W
A light and fast trail race hydration vest specifically for women
RRP: $155 (US)/ £115 (UK) | Weight (empty): 331g / 11.7oz | Hydration Capacity: Two 500ml/17 fl oz soft flasks (included); room for 1.5L hydration reservoir (not included) | Gear capacity: 8L | Colours: Poseidon and night sky / Cayenne and porcelain rose
Designed specially for women
Feels light, even when full
Comfortable and compact
Limited storage
Drinking tubes can be cumbersome
Ask any woman trail runner and she'll tell you that it's just not possible to wear a men's version of a hydration vest during a race or on a long run. The Advance Skin 8 Set W was designed to have a unique shape and style that eliminates pressure on the breasts when cinched down, optimizing comfort, load management and capacity. It is created specifically to adapt to a woman's curved chest, narrow shoulders and shorter torso length. The two 500ml integrated soft flasks are positioned below the chest, and also have a unique triangular shape and straws for effective hydration access. 
It's a featherweight pack and hydration management system that keeps everything compact and close to the body, even when stuffed with extra gear. Additional features include a built-in whistle, pole-stashing options and room for a 1.5L hydration reservoir (not included). It's ideal for races, training runs and multi-hour fast-packing adventures alike.
A pocket-rich hiking day pack with an exceptional hydration system and storage management
RRP: $140 (US)/ £115 (UK) | Weight (empty): 916g / 2lb | Hydration Capacity: 3L hydration reservoir (included) | Gear capacity: 24L | Colours: Reflex blue / Vivid red / Ozone black
Easy to fill hydration system
Wide range of pockets
Ventilated suspension system
Pack can feel heavy with 3L of water 
No easy-access front pockets
This smartly designed day pack can carry all of the gear you need on your multi-hour adventures, but it distributes the weight of your cargo evenly and keeps sweat at bay with a ventilated suspension system, moisture-wicking mesh and minimalist alloy frame that promotes air flow. We loved this pack for on our wear-testing excursions in Colorado, especially because the ever-changing weather conditions forced us to continually remove or add layers of clothing. 
The Citro 24 H20 is easy to get on and off and a breeze to wear on long days. The well-organized storage system includes a large main compartment and zippered interior security pocket with a key clip, one large external pouch, two large mesh side pockets, two zippered waist-belt pockets and a zipper slash pocket on top with dedicated sunglasses compartment. No matter how big or obtuse of a load you're carrying, it can be snugged down with series of clipped straps and cinch cords — which includes a dedicated trekking pole storage loops. 
But as much as we think this is a great pack, the best part of this outfit is the 3D hydration bladder and the dedicated hydration sleeve and hanger that provdes for simple, one-handed, snap-and-go fillings and attachment/removal. It's by far the best hydration reservoir system we tested. The Citro 24 H20 is ideal for traditional hiking endeavors, but it's also optimal for peak-bagging adventures, minimalist bivoac outings and hut-to-hut trekking excursions.
Choosing the best hydration pack for you
A highly specialist piece of gear, hydration packs are not cheap and there are many variations out there. It's worth considering carefully how you will use your pack most often, and taking into account the following factors.
Fluid capacity 
The first thing you have to understand when you're buying a hydration pack is what your main use will be. That will determine how much water you need to carry at one time, what kind of hydration vessel you'll want and proably give cues to how you'll refill. For example, if you're trail running and have the chance to refill your fluids at a race aid staiton, you'll probably want small-ish soft flask bottles. But if you're hiking for long periods of time and don't have access to any place to refill, you're going to want a 2L or 3L reservoir. Remember, water is the heaviest single thing you'll be carrying, so the goal is to carry as little of it as possible if you'll have the chance to fill up during your journey (but don't leave yourself short).
Size, storage and features
Even if you know what type of use you need a pack for, you'll still need to fine-tune your interests to get the right pack.  If you're looking for a trail-running pack, do you plan to use it for a race or for remote multi-hour training or adventure runs? If you're intersted in buying a hiking or trekking pack, will you mostly embark on single-day adventures, or will you use it for hut-to-hut trekking or other sorts of overnight adventures? How much gear, clothes and food are you going to need to carry? Once you determine your expected use, you can start to fine-tune your search based on specific features. Easily accessible pockets in the harness are a very handy features, for storing snacks, sunglasses, mobile phone etc. Mesh pockets are good for stashing lightweight wet-weather gear without adding weight to a pack.
Comfort 
The comfort of a hydration pack can be based on a few things – size, shape, load management and specific fit features – but keep in mind that the specific size and shape of packs, as well as the type of shoulder straps, chest and waist straps, all vary greatly between pack manufacturers. While it's easy and convenient to buy packs online, it's helpful to try on packs to get a real understanding of how it fits the specific size and shape of your body. Keep in mind that minor adjustments are often necessary to dial-in the fit to match the specific size and shape of your body.
Materials 
Hydration packs are made from a variety of synthetic materials but the specific materials are based on what the pack's intended use will be. Typically trail-running packs are made with extremely lightweight synthentic textitles, cords and zippers and minimalist fabrication techniques. At the other end of the spectrum, hiking and trekking packs are typically made from thicker, stronger and more durable materials to provide structure, long-wearing comfort and long-lasting use.
Durability 
This should always be a key factor in the products you purchase, but keep in mind that durable materials are often heavier than more delicate lightweight fabrics that aren't so durable. The durability/weight trade-off is usually balanced by the pace at which you plan to move on the trails. If you're trail running or fast-packing, you're bound to find packs that are much lighter but much less durable. (We even had some significant wear and tear issues in our wear-testing efforts.) If you're planning to move slower on the trails and/or need a larger pack — easy day hiking, trekking or overnight backpacking — you're bound to find packs that are made from heavier and more durable, rip-stop materials. 
Waterproofing 
Surprisingly, not a lot of hydration packs – or backpacks in general – are made to be waterproof in nature. Typically, the solution for rain protection comes in the way of a stowable waterproof rain cover. That's been a great feature of large backpacks for years, but it's only recently found its way in recent years to day packs, fast-packing packs and a few hydration packs. Often ultrarunners will wear a waterproof jacket over their hydration pack to keep rain at bay. And first and foremost, no matter what kind of adventures you get up to, you should definitely have a lightweight, waterproof breathahle shell jacket.
All the latest inspiration, tips and guides to help you plan your next Advnture!
Thank you for signing up to Advnture. You will receive a verification email shortly.
There was a problem. Please refresh the page and try again.