The best hydration packs 2023: on-the-go refuelling for your runs
Contributions from
last updated
The best hydration packs offer a convenient and lightweight storage solutions for your water, gels, snacks and emergency items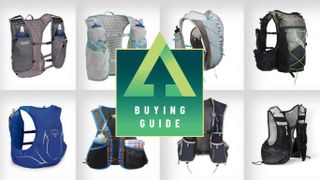 (Image credit: Future)
The best hydration packs allow you to, above all else, stay hydrated on the trails during the hot summer months. As well as conveniently storing and giving you access to your liquid supplies, they're also designed to store all your snacks, gels, spare clothing and emergency items.
Of course, the very best hydration packs do all this while being beautifully balanced and feeling like they're barely there. The last thing you want on a long run is a pack that bounces around and rubs against your skin. Fortunately, running vest design has come a long way over the last fifteen years and the packs featured here fit wonderfully.
Just as with the best hiking backpacks, there's a wide range of capacities to choose from. Our selection ranges from 5 liters right the way up to 12 liters and the featured models often have different capacity options too.
So, whether you're after a minimal vest for your water requirements and not much more, or a glorified daypack for long wilderness runs, you'll find what you're looking for in our roundup of the best hydration packs.
Our favorite packs are Osprey's Duro 6 (Dyna for women) and Camelbak's Ultra Pro Vest, both of which are supremely comfortable on the trails.
High performance hydration packs
The Duro 6 is perfectly sized to hold everything you need for a long, adventurous run without weighing you down. It's multiple storage solutions, customisable fit and trail-ready hydration flasks make it a great option. Fabric wise, Osprey get a tick in the sustainability stakes thanks to the fact that the Duro is made entirely from recycled materials. There are no less than twelve compartments, with two main zippered compartments, a zippered slash pocket for your phone and nine stretchy open pockets for food, drink and other bits and bobs.
Of course, all this mesh and the pack's lightweight qualities means everything will get wet in a deluge, so you may want to consider packing a couple of dry bags for your valuables if serious rain is on the cards. The chest straps are fully customisable, allowing you to tighten things to your desired fit and you can even move the attachment points up and down. There's also a trekking pole / ice axe attachment system on either side, with elasticated cinches that are quick and easy to manipulate and elasticated straps that hold the shafts off to the side.
While the Duro is marketed as unisex, for women there's also the option of the female-specific Dyna pack.
Read our full Osprey Duro 6 hydration pack review
We found this running pack to be the perfect size and fit for whole day runs in the hills and mountains using lightweight kit. The Camelbak Ultra Pro comes in male and female specific fits to guarantee the best comfort. The 3D micro-mesh ventilated back and shoulder straps make it one of the most cool vest to wear in hotter conditions. We think that the combination of four pockets up front is very pleasing: two bottle pockets with elasticated tops to keep the included two 500ml soft bottles secure; one zippered smartphone pocket and one very stretchy elasticated pocket that will take a lightweight running jacket or gloves and a hat.
At each side are two stretch-elastic pockets, one that goes all the way through the base of the rear compartment to meet the other side – we found it easy to thread a waterproof jacket through while on the move. The main compartment has two bungees for trekking poles to run diagonally across the back, and the only real downside of this otherwise perfect pack is that the main compartment could be made of a stretchy fabric to jam in some more kit and food.
Read our full Camelbak Ultra Pro Vest review
A really fantastic, versatile, hard-wearing yet lightweight larger-capacity running pack with all the right features in the right places, that will also fold down to secure a smaller load for shorter runs too. It's very reasonably priced and a pack that we highly recommend.
It's available in three sizes – small, medium and large – making it a good fit for a wide range of body shapes both male and female despite the unisex (read men's) fit. At 311g, including the two provided 350ml FlexiFlask soft bottles, this is a really light pack for such a large capacity.
There are plenty of useful and easily-accessed pockets up front including one with a zip which is always a must for important items like phones, keys and cards. We found the elasticated chest clip at the top and lower clip strap very easy to use and tighten, and even when fully loaded the pack stayed nicely sat on our back thanks to the bungee compression system around the base of the pack.
The waterproofed base is a really nice touch for extra protection when popping it down on wet ground. The roll-top closure means you can compress the size of the pack to carry less kit without things bouncing around inside.
Read our full OMM MtnFire 15 running vest review
Hydration packs with compression
This hydration vest has a truly innovative and unique fit that some runners might find sets this pack above all others: the Comfort Cinch allows you to pull the waist area of the pack in from behind, using two dangling threads that concertina a criss-cross of string attaching the waist band to the base of the main compartment. No other race vest we've tested has this feature and for some it will make the fit absolutely perfect, while others will not have noticed anything lacking fit-wise in the packs without this functionality. If you have problems with the fit of your current pack, this is the one to consider.
Even without this feature it's a fantastically designed pack with plenty of pockets up front, zipped side pockets, stretchy main compartment and bungee criss-crossing the back for extra stuff-storage that you can access on the move. It also comes with two robust 500ml bottles so you don't have to purchase them separately. Equally it is compatible with a 2L reservoir (not supplied). The adjustable chest straps hook on to a lightweight webbing making these operable with one hand, and there's room for poles on the shoulder straps too, easily stowable and accessible up front.
Read our full Ultimate Direction Race Vest/Vesta 5.0 review
Versatile hydration packs
A fantastic, durable and comfy dual-capacity running pack for short and long runs, with two soft-bottle storage and two pole attachment options. The inov-8 Ultrapac Pro 2in1 is a fantastic update to the Inov-8 Race Ultra Pro 2in1. It's a wonderfully versatile pack for all runners – now you don't have to invest in one small 5L vest plus a larger 12L vest for carrying more kit (for, say, when winter comes). One pack does both.
The most significant update is how easy it is to fix the 7L extension compartment to the 5L vest – it used to be fiddly with cold hands or running gloves on, but now it's a very easy, thanks to a new long slider plus a popper to further secure the two together.
As with the previous pack you can carry the two included 500ml soft bottles in either the higher front pockets or lower front pockets (a location particularly comfy for larger-chested ladies). There are also two different attachments for carrying poles, either down the sides of the shoulder straps or across the back in wide elastic loops.
It's a little heavier than average, though the material feels robust and strong. While the fit is good, we feel they should also make a size XS to cater for smaller, slimmer runners.
Read our full inov-8 Ultrapac Pro 2in1 review
Lightweight hydration packs
Harrier is a relatively new UK brand that focuses on trail running gear. Its unisex hydration pack is sold in four sizes with the aim of offering a size to neatly fit a range of people. There are many features including width adjustable elastic chest straps, which can also be adjusted up and down the front of the pack. The main compartment area is split into two, which we found offered us good organisation options. A bungee cord on the back can be cinched and secured around additional items, such as a waterproof jacket. There are other pockets such as stretchy mesh zipped side pockets and front stuff pockets with silicon grippers.
There are different hydration options, including front pockets for two 500ml or 300ml soft flasks and a 1.5-liter or 2-liter bladder in a separate back compartment (none of which are included). The fabric of this hydration pack is treated with DWR (durable water repellent) for water resistance, although it's not waterproof. There are also three options for stowing poles when not in use: at the front vertical, back horizontal and side horizontal. On top of all this, there are other details including a zipped, water-resistant phone pocket, a secure key clip inner pocket, grippy zippers and gel pockets.
Read our full Harrier Kinder 10L Race Vest review
An extremely innovative piece of kit that will appeal to lightweight enthusiasts, this vest is just an incredible 125g/4.4oz on the scales – almost half the weight of most of the other running packs / race vests on the market. Fans of versatility will also enjoy the option to add another 5L capacity using Compressor Pod extension (£28). This loops on via a strong, orange string which we found could be a little fiddly with cold hands, but its a fantastic idea to be able to leave this somewhere part way round a long run or with a race crew for a speedy top up of fuel or kit mid-way.
The four pockets up front are quite small so they're a best fit for 350ml soft flasks (sold separately £13 each no straw, £18 each with straw extension), or we were able to fit a 2L hydration bladder in the main rear compartment (£26). The stretchy fabric takes a fair amount of lightweight kit and snacks for fuel and the fit is good for all due to the elasticated adjusters at each side, however this does mean we lacked two side pockets.
Read our full OMM TrailFire Vest review
This breathable unisex hydration pack is so comfortable and airy, we hardly knew we were wearing it. The super-light, meshy material at the shoulders and back keep things cool as well. We found this smart design offers surprisingly ample space for fuel and gear storage, with two bigger pockets in back to stow a jacket or bulkier gear, and six smaller pockets up front for easy access. There's even an attachment for trekking poles and a safety whistle, for adventurers heading into the wild.
We noted some bounce when moving fast on a trail run, but the adjustable chest straps – while not at all easy to move up and down – helped mitigate that movement, offering a secure, nuanced fit to accommodate a variety of shapes and sizes. The vest comes with two soft bottles that sit comfortably in deep pockets up front, but there's room in back for a bladder if you prefer. A smart piece of kit that's well-suited to running and shorter days out on the trail.
Read our full Camelbak Zephyr Vest review
Hydration packs for night running
This is a really well-designed, good value 5L vest with a lot of good features, especially for night running (besides its compasses, Silva is best known for their high quality headtorches/headlamps). To help you run further in the dark for longer Silva have a battery pocket high up in the back compartment and you can thread the cable through either of the shoulder straps (the same hole as for the hydration bladder tube if needed).
This means we were able to use a super bright headtorch (like the Silva Trail Runner Free) with a heavier battery (so a longer, brighter burn time) without wearing it on our heads. There's also a clip to hook on a light to the back of the pack for even more visibility, plus reflective details to keep you safe on road sections and city commutes. Two soft bottles are included but they are a little smaller than the rest here at 240ml each rather than the usual 500ml, and the openings are narrow, which we found made it harder to refill them or pour electrolyte or energy powders into them. One great feature is the stretchy dual access rear pocket at the base of the main compartment, which you can access with either hand on the move and shove a jacket inside quickly and securely.
Read our full Silva Strive Light 5 review
Hydration packs for storage capacity
Just as the name suggests, the Swift 10 is a hydration pack that lets you move fast while carrying all the essentials plus enough water for a long run. Two roomy storage compartments let us carry our dry clothing along with two liters of water, while mesh internal pockets prevented our keys from jangling around and kept everything organized. An adjustable chest and waist belt secure this running backpack snug to the body, while the Airmesh back kept us cool and dry. Best of all, we found this pack didn't bounce around when we were moving fast.
Two additional zipped pockets in the hip belt keep essential gear easy to reach and are just big enough to squeeze your smart phone in, if it's not too giant. Reflective details help to keep you safe if you're out on the roads after dark. At just one size, this may not fit all bodies and the hip belt might not tighten enough for petite runners, but for an easy-to-use storage and hydration solution, you'll struggle to find anything at a better price.
Read our full Vango Swift 10 hydration pack review
The Gecko VP 5+ immediately presents as a good-looking and highly functional vest pack for female and male runners. The body-hugging vest pack is made with a so-called 'Raptor Flex' four-way stretch fabric and has an air-mesh harness. The chest fixings comprise two narrow 'minimalist' stretch straps with multiple attachment points and a lower 'Active Strap' with Velcro for quick closure and release. There are open-top mesh pockets on the chest straps for two 500ml soft flasks and an internal pocket in the rear for a hydration bladder.
Storage is generous: there is space for at least five liters of volume in the pack divided into a range of compartments. A main zipped rear pocket is supplemented by a large open-top stretch pocket. In addition, there are two smaller zipped pockets at the front and various stretch mesh pockets across the rest of the pack designed for easy access while running. Other details include an integrated bungee for external storage and/or compression, a key clip, a removable whistle and pole attachment points.
Read our full Montane Gecko VP 5+ review
This 9L volume hydration pack boasts numerous compartments and pockets, with a main compartment, (zipped at the top), as well as a velcro-topped stretchy outer pocket, which would be useful for quickly stashing clothing that you might need to access in a hurry. There are also mesh pockets for four soft drinking flasks – two 500ml and two 250ml – at the front of the shoulder straps.
We had the options of further adding a hydration bladder (not included) to the inside of the pack, and running a drinking tube out through a purpose-designed slot at the top of a shoulder. An internal zipped pocket is waterproof and can fit a large smart phone. There are two trekking pole attachment points, one for speed and one at the rear, the latter of which requires you to take off the pack. Other features include a small whistle and a reflective logo.
Read our full Dynafit Alpine 9 review
Hydration packs for a precise fit
For trail racers who prefer to carry their liquid in soft flasks instead of a hydration reservoir, the Race Ultra Pro 5 Vest is a very good option. It carries its two 500ml soft flasks in an angled position lower on the chest, but the liquid is easily accessible from the flasks long drinking tubes. We found it to be a bit of a bare-bones, minimalistic pack, but there's also a surprising amount of storage in four elastic mesh pouches and three zippered pockets.
But the best part of this pack is that, no matter how full, it rides close to the body and we found it didn't bounce. There are also dedicated cinch cord straps for stowing collapsible trekking poles. All of those smart, intricate storage and design elements allowed us to run uninhibitedly without worrying about the pack or its contents. There is room for a hydration reservoir and tube management ports, but, unfortunately, no hook or clip to hold the reservoir in place. The Race Ultra Pro 5 Vest is ideal for ultra-distance races, but it could be used for training runs, too.
Read our full inov-8 Race Ultra Pro 5 Vest review
Budget hydration pack
This well-thought-through hydration pack has space for two liters of water in total – one liter is carried in the internal bladder (which is included) and two 500ml flasks (purchased separately) can be carried at the front of the bag. As well as the two front mesh pockets designed for the soft flasks, there are four more mesh pockets that we found useful for gels, bars and a collapsible beaker. These are also located at the front of the pack for ease of access without taking off the pack. There's a main zipped compartment and inside that a zipped secure pocket for valuables (smartphone, keys, survival blanket and so on).
On the outside is a larger mesh pocket, which offered us a place for a waterproof jacket or hat and gloves. The fit is quite neat. I am a UK10 and the S/XS feels just about right, although maybe a little tight on my shoulders (there is a size guide on the website). There are three front straps that can be moved to six pairs of different height placement points. The chest strap clips are large. Other details include a 110dB safety whistle, which is incorporated into a front pocket, and two elastic straps on each side to attach three-section foldable trail running poles. Overall, this well-priced pack has everything you need to train and complete your first ultra.
Read our full Evadict 10L trail running bag review
Hydration pack for women
Ask any woman trail runner and she'll tell you that it's just not possible to wear a men's version of a hydration vest during a race or on a long run. The Advance Skin 8 Set W was designed to have a unique shape and style that eliminates pressure on the breasts when cinched down, optimizing comfort, load management and capacity. It's created specifically to adapt to a woman's curved chest, narrow shoulders and shorter torso length. We found it was very effective at achieving this brief. The two 500ml integrated soft flasks are positioned below the chest, and also have a unique triangular shape and straws for effective hydration access.
It's a featherweight pack and hydration management system that keeps everything compact and close to the body, even when stuffed with extra gear. Additional features include a built-in whistle, pole-stashing options and room for a 1.5L hydration reservoir (not included). It's ideal for races, training runs and multi-hour fast-packing adventures alike.
Read our full Salomon ADV Skin 8 Set W review
How we test the best hydration packs
These hydration packs were tested on a wide range of trail and road running training outings and during events, including ultra running races, in a mix of weather conditions. For more information, see How Advnture tests products.
How to choose a hydration pack
The different distances and conditions you tend to run in will, to a large extent, help determine the best hydration pack for you. However, before you make your choice, consider the following factor and features.
Weight
It's always best to err on the lighter side, but remember that lightweight fabrics tend not to be as durable and they might not have all the pockets and features you need. For a 5–10L vest anything from 200–300g is nice and light.
Fit and sizing
Most of the best running packs have a size guide where you can measure your chest to make sure you get the right fit. For most brands I would err on the smaller size if you are between sizes as it's very annoying to have a pack that's slightly too big moving around with each step; this can lead to run-ruining chafing in some cases.
Unisex fit
Let's not beat around the bush, unisex basically means men's fit doesn't it? So having specific male and female fit running packs is always a big tick, with the women's often having a shorter back length, smaller arm holes and differently shaped shoulder straps or lower bottle placements to account for boobs up front. However, unlike clothing, you can get away with more with a stretchy pack design, so don't be put off in the same way by the unisex running vests; if they come in a wide range of sizes with ample chest strap adjustment we have found most do a good job of fitting a wide range of body shapes both male and female.
Rain
It's worth sharing a tip here – rather than wearing your running pack over the top of your waterproof and faffing with getting it on and off in mixed weather, it's worth buying a waterproof one size larger so you can wear it on top of your running pack. You might look like the Hunchback of Notre Dame but not only will your kit be even drier but you will save loads of time in getting it on and off. Take it off and loop it through a shoulder strap under your arm if you think you'll need to put it back on soon. Every little helps…
Mesh
Most of the best hydration packs will have a mesh back to the inside of the pack and some mesh venting on the shoulder straps too which helps release some excess heat, great for excessive sweaters and/or hot weather running.
Pockets
Look for a lot of useful pockets up front, but make sure you can use them all when they're full of kit or water bottles and, also important, get your hand out of it easily once you've grabbed the running gel you shoved it in there for. Stuff the pack with the maximum items you think you'll ever want to carry and run around the house testing access to all the pockets before you commit. Even if they say weatherproof, no backpack pockets are completely waterproof so pop your phone in a dry bag for rainy runs.
Zips & zip pulls
Look for good quality zips with dangly grippers so you can grab them easily when running and with gloves on. One zip pocket at least is a must on a running vest so you have somewhere completely secure for your keys/phone/credit card/interesting item you found on the beach and must take back for your kid/dog/garden.
Main compartment
If you have flexible shoulders it is possible to shove gear in and out of the rear main compartment if it has an open top secured by velcro or a clip, or even a zip across if you're really dexterous. Zips that run top to base at the rear will require that you take the pack off to access the contents so we tend not to recommend this style as much.
Extensions
A couple of the vests in this test have extension options with clip-on extra bags which are a great idea if you regularly run with either very little kit or a lot. If you usually just carry a small-medium amount then a regular 5L pack will suffice.
Bottles
Look for a wide-mouthed bottle for ease of refilling or pouring electrolyte or energy powder inside, and a grippy exterior for ease of opening and closing. Scrimping on bottles price-wise is not recommended as a lower quality bottle could leave you with premature leakage. If you buy from a recommended brand at least you can send them back if they leak before you think they should. Most vests can also be used with hydration bladders too, check for a clip at the top of the main rear compartment to hook them on so they don't crumple down.
Reflective details
This depends on how much road running you do, but we think it's always useful to have reflective logos and details on running packs especially if you do a lot of commuting in the winter or night running. A lot of packs also have whistles as an additional safety feature which is handy for mandatory race kit lists; one integrated into the top chest strap clip is surely the best option for easy access in an emergency.
Running poles
Most of the best running packs have attachments for running poles in the form of adjustable bungee loops in a variety of places which is down to personal preference, comfort and ease of access while on the move. You can choose from across the chest (can be uncomfortable on the clavicles), one down each shoulder strap (can get in the way of your arms), diagonally across the back (less ideal when the vest curves outward full of kit), in a separate quiver-style bag diagonally across the back (more weight, and there's a knack to getting them in and out), either side of the back (hard to stow and access on the move) and horizontally across the base of the back (can slap you on the bum if not properly designed…you may not find this amusing at mile 50…). Buy a few and try running around the house with your pack full and poles attached to check how you want to stow yours.
All the latest inspiration, tips and guides to help you plan your next Advnture!
Alex is a freelance adventure writer and mountain leader with an insatiable passion for the mountains. A Cumbrian born and bred, his native English Lake District has a special place in his heart, though he is at least equally happy in North Wales, the Scottish Highlands or the European Alps. Through his hiking, mountaineering, climbing and trail running adventures, Alex aims to inspire others to get outdoors. He is currently President of the London Mountaineering Club, training to become a winter mountain leader, looking to finally finish bagging all the Wainwright fells of the Lake District and hoping to scale more Alpine 4000ers when circumstances allow. Find out more at www.alexfoxfield.com