20 fun, fascinating, and frickin' cool hiking facts to geek out on
Whether you're a newbie hiker or an old hand, our list of 20 hiking facts will have something to surprise, inspire, and get up the stoke levels for your next hiking trip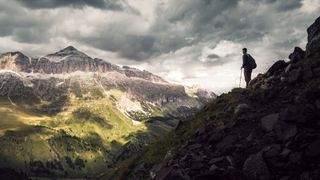 (Image credit: Getty)
20 hiking facts
1. Hiking is the fourth most popular outdoor activity in the US behind running, fishing, and biking (aka fast hiking, stationary hiking, and lazy hiking*).
2. The Swiss have something of a national fetish for hiking and are blessed with the highest density of hiking trails per square kilometer in the world – that's 1.9km of hiking trail per square 1 kilometer of land nationwide. In the Canton of Appenzell Ausserrhoden, this figure rises to a frankly awesome/crazy/logistically mind-boggling 3.4km per square kilometer.
3. There are, believe it or not, an incredible 24 different types of hiking trails.
4. The oldest hiking trail in Europe, and possibly the world, is the Via Francigena, a 1,243-mile pilgrimage path that runs from Canterbury all the way to Rome, Italy. Don't forget to pack your sandwiches and turn the central heating off if you plan on taking this one on!
5. The oldest continuously used and maintained recreation trail in America is New Hampshire's Crawford Path, which was originally established in 1819. This 8.5-mie trail traverses a mountainous ridgeline that converges with the Appalachian Trail before continuing to the summit of Mount Washington, the highest peak east of the Mississippi.
6. The Appalachian Trail receives about 2 million visitors annually.
7. "Hiking" is worth 14 points in a game of Scrabble (weren't expecting that one, were you?!)
8. During WWII, all hiking signposts in Switzerland were taken down to avoid revealing valuable route information to potential invaders.
9. According to Technavio, the hiking gear and equipment market is valued at $12.24 billion.
10. According to Statista, nearly 50 million people in the US went hiking in 2019.
11. The United States of America's national parks have over 18,000 miles of hiking trails.
12. Hiking isn't called "hiking" the world over – not even in all English-speaking countries. What we call "hiking" in the US is known as "bushwalking" in Australia, "tramping" in New Zealand, and in the UK goes by the name of either "rambling", "fellwalking", "hillwalking", or just plain ol' "walking". For more on hiking's many names and nuances, see What is hiking?
13. The longest hiking trail in the world is the aptly named Great Trail (formerly the "Trans Canada Trail"), which measures a whopping 14,912 miles (or 24,000km) from end to end.
14. The average hiking speed is roughly 2.5 miles per hour.
15. The first "hike" recorded in history was undertaken by the Roman Emperor Hadrian in 125 AD when he hiked to Sicily's Mount Etna. We wonder how he got on in his sandals and toga…
16. The poet Petrarch is frequently cited as one of the earliest recreational hikers, mainly due to his account of hiking to the summit of Mont Ventoux in Provence, France, on April 26, 1336 with his brother and servants, at a time when most humans were too busy dying in plagues and wars or to do much recreating.
17. Hiking is a great way to burn calories: a woman weighing 150 lbs will burn 350 of them in just an hour on a relatively flat trail, and even more if she's carrying a backpack. For comparison, women are estimated to burn, on average, a mere 69 calories during sex.
18. Hiking has a number of health benefits, both as regards physical health and mental health. It can alleviate stress, anxiety and depression (see our post on the benefits of green exercise), help build and maintain bone density, improve the quality of your sleep, and reduce the risk of cardiovascular illness.
19. According to the American Hiking Society, day hiking is projected to see the greatest rate of growth in adults out of any outdoor recreational activity by 2060.
20. Hiking is renowned for its uncanny and almost inexplicable ability to make even the grungiest and most unappealing foodstuffs – plasticky granola bars, soggy sandwiches, week-old fruit, etc. – taste frickin' marvelous. While no scientific or nutritional research has ever explained exactly why this is so, the empirical evidence is resounding.
*We love our two-wheeled friends really, don't worry!
All the latest inspiration, tips and guides to help you plan your next Advnture!
Former Advnture editor Kieran is a climber, mountaineer, and author who divides his time between the Italian Alps, the US, and his native Scotland.
He has climbed a handful of 6000ers in the Himalayas, 4000ers in the Alps, 14ers in the US, and loves nothing more than a good long-distance wander in the wilderness. He climbs when he should be writing, writes when he should be sleeping, has fun always.
Kieran is the author of 'Climbing the Walls', an exploration of the mental health benefits of climbing, mountaineering, and the great outdoors.