What is hiking? We consider the nuances, the attraction and the history of the hike
What is hiking? It's one of the world's most popular outdoor activities but how did the pursuit of hiking first arise and does it differ from trekking, backpacking and mountaineering?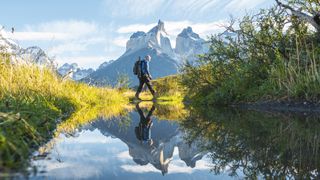 (Image credit: Getty)
What is hiking, exactly? Thanks to the fact we don't live in an Orwellian society, we have lots of words to describe the action of walking. In fact, we've a surprising wealth of verbs, each with their own nuances. Hike is one such verb, along with walk, stroll, amble, ramble, trek, march, pace, bound, saunter - the list goes on.
You might find the idea of sauntering along the trails quite amusing. However, the Scottish-American "father of the national parks" John Muir famously disliked the term hike. He said that "people ought to saunter in the mountains, not hike." However, despite his best efforts, today we set out onto the trails wearing our best hiking boots, not our best sauntering boots.
What is hiking and where does it take place?
'Hike' has become the most commonly used term to describe the process of going for an invigorating walk in the countryside. A hike is usually a bit of an adventure, taking up a good portion of the day and requiring you to carry your provisions in a backpack. It's more than a simple, short amble, where you might just nip out for a quick stroll along country lanes.
It often involves rough terrain and perhaps a good deal of ascent and descent, with the promise of the kind of spectacular views and astonishing natural sights we don't associate with our towns and cities. In theory, you can hike just about anywhere but the term is most commonly associated with the coast, in hilly regions and – especially – the mountains.
Hiking often takes place in national parks and other regions that have been specifically managed, usually for both the benefit of people visiting but also for the conservation of their nature and wildlife. Different countries have different laws regarding access to the countryside. National parks usually contain vast areas of access land, which is land that the public can explore freely.
What is hiking? The origins...
There was a time when the mountains were not seen as places of great beauty to be sought out but as terrible places to be feared and avoided. In the UK, the Romanticism movement of the late 18th century changed all of that, as poets and writers began to escape increasingly industrialised cities to explore beautiful landscapes like those found in the English Lake District and the Scottish Highlands.
Similar trends were growing all over Europe, with travellers starting to explore places like the Alps for leisure. Mont Blanc, the highest mountain in Western Europe, was first ascended in 1786, and the next hundred years would see all of the major alpine peaks fall to intrepid explorers, their tales of heroism and illustrations of incredible landscapes leading to a huge swell in public interest for these glaciated giants.
Meanwhile, in the early 19th century, the influence of European Romanticism reached the US through the Transcendentalist movement. The desire to conserve and preserve wilderness areas, while simultaneously allowing people the freedom to enjoy them, eventually led to the formation of national parks across the globe. On 1st March 1872, Yellowstone National Park became the world's first and the rest is history.
When does a hike become a trek?
You'll have heard of many of the world's great treks, such as the Inca Trail and Everest Basecamp. There are two key attributes that make something a trek. The first is distance. You may set out on a normal hike with just a day pack and return to your base after a number of hours on the trail. A trek is always a longer journey, completed over a number of days, if not weeks or months. The second key attribute is the level of challenge. A trek is often very arduous – which is why you might want a pair of the best trekking poles – and requires a certain amount of self-sufficiency. You'll often be hauling everything you need to survive on your back. In fact, backpacking is another word we might use for a trek.
This still sounds like hiking though, right? So, isn't trekking therefore just hiking in its most extreme form? In essence, yes. Think of hiking as a continuum, with an easy countryside day walk at one end and trekking on the other. After all, long-distance hiking or thru-hiking (What is thru-hiking?) – a multi-day expedition that follows a trail in one direction – can also be thought of as trekking.
When does hiking become mountaineering?
Mountain summits are often the objective for day hikers and for those embarking on trekking expeditions. Some of the world's most famous mountains are cited as being 'trekking' peaks, such as Tanzania's Kilimanjaro, Nepal's Mera Peak or Malaysia's Kinabalu. So, if you've scaled these giants, can you call yourself a mountaineer? It depends on how you tackled them.
The crucial difference between hiking and mountaineering is the equipment that the terrain and the conditions demand. If you've had to employ any (not necessarily all) of the following ­– an ice axe, crampons, rope and harness or helmet – the chances are that you've strayed into mountaineering territory. So, as it's nigh on impossible to summit Mera Peak without an ice axe and crampons, it's definitely a mountaineering objective. Whereas most common routes on Kinabalu and Kilimanjaro only require the gear you would take on a strenuous hike and are therefore not mountaineering objectives.
All the latest inspiration, tips and guides to help you plan your next Advnture!
Alex is a freelance adventure writer and mountain leader with an insatiable passion for the mountains. A Cumbrian born and bred, his native English Lake District has a special place in his heart, though he is at least equally happy in North Wales, the Scottish Highlands or the European Alps. Through his hiking, mountaineering, climbing and trail running adventures, Alex aims to inspire others to get outdoors. He is currently President of the London Mountaineering Club, training to become a winter mountain leader, looking to finally finish bagging all the Wainwright fells of the Lake District and hoping to scale more Alpine 4000ers when circumstances allow. Find out more at www.alexfoxfield.com