Types of hiking trails: from loops and lollipops to feeders and fire roads
Don't know your lollipops from your spurs? Our list of the (surprisingly numerous) types of hiking trails has you covered!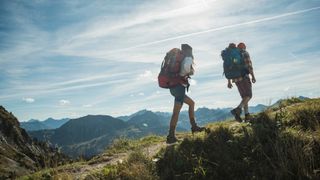 (Image credit: Getty)
Few hikers are aware that there are as many types of hiking trails out there as there are types of roads. While knowing the difference between them won't make hiking them any easier, it will help you learn how to plan a hike properly, simplify navigation (for more on this see how to use a compass and how to read a map), save you trotting down a trail you shouldn't be on, and give you plenty of new lingo to impress you hiking homies with.
24 types of hiking trails
Access trail: A trail that connects a hiking trail to a village, town, road, parking area, or separate trail system.
Backcountry trail: A primitive, usually unmaintained trail in terrain devoid of roads and residences.
Bridlepath (UK): a trail used by horseriders.
Connecting (aka "connector") trail: A trail that connects a hiking trail with subsidiary trails
Day trail: A short trail that can be completed within a day.
Directional use trail: A trail on which hikers are supposed to hike in one direction, i.e. a one-way system.
Extended trail: Trails over 100 miles long.
Feeder trail: A trail designed that links any main hiking trail to services and facilities like campgrounds, visitor centers, or villages.
Fire road: Dirt tracks designed to provide rangers and firefighters with access to the backcountry.
Goat path: As the name suggests, a narrow, unmarked trail created by wildlife (not necessarily, however, by goats)
Hiker-biker trail: A paved trail intended for use by both hikers and cyclists.
Hiking trail: a generic, all-encompassing trail that includes everything from ½-mile feeder trails to multi-day thru-hiking trails of all difficulty levels.
Interpretive trail: Shorter trails designed to provide hikers the chance to study flora, fauna, geological features, or historical remains.
Lollipop trail: A trail with a loop at the end of an out-and-back start/finish.
Long-distance trail: As the name suggests, a trail of sufficient length (usually over 50 miles) that is generally tackled as a multi-day hike. Also known as a backpacking trail.
Loop trail: Also known as a "circuit trail" or a "ring trail," loop trails begin and end at the same point and do not necessitate hiking the same stretch of trail twice.
Multi-use trail: A trail intended for varying activities – hiking, horse riding, mountain biking, etc.
Out-and-back trail: A trail upon which you travel out to an endpoint and then back to the start/trailhead along the same trail.
Point-to-point trail: A trail that starts and ends in different locations, usually requiring a vehicle to return to the starting point after reaching the trail's destination.
Recreation trail: A generic term for any trail that is used for any recreational purpose, whether that be hiking, equestrianism, mountain biking, snowshoeing, cross-country skiing, or riding of motorized recreational vehicles.
Side trail: A trail that diverges from the main trail to a dead end, usually a viewpoint or feature.
Single-track trail: A narrow trail that is only wide enough for one user.
Single-use trail: A trail designed for one activity only (i.e. hiking, mountain biking, horse riding, etc.)
Social trail: an unmarked and undesignated trail that is developed by use as opposed to as a result of planning.
Thru-hiking trail: A long-distance trail that takes weeks, possibly even months to complete. See what is thru-hiking?
Former Advnture editor Kieran is a climber, mountaineer, and author who divides his time between the Italian Alps, the US, and his native Scotland.
He has climbed a handful of 6000ers in the Himalayas, 4000ers in the Alps, 14ers in the US, and loves nothing more than a good long-distance wander in the wilderness. He climbs when he should be writing, writes when he should be sleeping, has fun always.
Kieran is the author of 'Climbing the Walls (opens in new tab)', an exploration of the mental health benefits of climbing, mountaineering, and the great outdoors.
All the latest inspiration, tips and guides to help you plan your next Advnture!
Thank you for signing up to Advnture. You will receive a verification email shortly.
There was a problem. Please refresh the page and try again.