Is hiking good for weight loss? Why hitting the trails can be good for your waistline
By Julia Clarke published
Is hiking good for weight loss? We explain why pulling on your hiking boots and gaining a sense of adventure can help you lose some pounds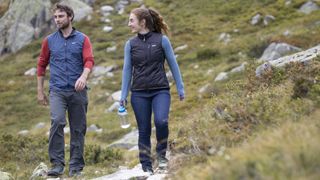 (Image credit: Alpkit)
There's no doubt that hiking is great for you. Getting away from your screens and into nature carries with it myriad benefits, from lowered stress levels to stronger lungs and legs. But is hiking good for weight loss? It's no secret that many of us seek out physical activity at least in part to shed a few pounds, and many inquiring minds want to know if hiking will help to achieve this goal.
Weight loss after all is a very valid reason for wanting to get outdoors. The benefits of maintaining a healthy weight include improved heart health, lowered risk of diabetes, improved joint health and better energy levels. In this article, we explain why pulling on your hiking boots and gaining a sense of adventure could help you lose some pounds.
Is hiking good for weight loss?
The short, general answer to this question is yes, hiking is good for weight loss. Hiking is a low impact, low intensity activity that you generally do for a longer period of time than, say, a half hour high intensity spin session at the gym. These lower intensity activities like hiking, trail running, yoga and swimming are associated with fat burning because your body requires oxygen to metabolize fat (turning it into energy) and it gets more oxygen when you're not gasping for air. When you go for a hike, your body will use calories that have been stored as carbs and fat for energy and that is what helps you lose weight.
High intensity activities take you to a point where you can barely get a breath in, which metabolizes glucose stores in the body and focuses more immediately on building lean muscle. Both are great for you and the best training plans incorporate both low and high intensity exercise.
The caveat, of course, is that in order to lose weight, you have to be burning more calories than you consume, so you would need to take care not to dramatically increase your food intake when you take up hiking, but still eat enough to maintain your energy. If you're already hiking and not losing weight, you may want to consult a qualified nutritionist to make some healthy modifications to your diet to support your goals.
Is hiking better than walking?
In terms of weight loss, hiking is definitely better than walking for weight loss. As we explain in our article hiking vs walking, hiking generally takes place on uneven terrain which requires more energy to navigate, and if you can keep your speed up on the uphill, you'll definitely burn more calories than even brisk walking on the flat. Then on the downhill, if you can slow your pace a little and use your leg strength rather than relying on momentum, you'll increase the calories burned.
Is hiking better than running?
As we explain in our article on hiking vs running, you'll burn more calories in an hour of running than an hour of hiking according to the University of Rochester Medical Center. However, you're more likely to hike for a couple of hours or more, which is likely longer than you would run, so you might actually burn more calories in a day of hiking than a single running session. For example, a 175lb person running a 10-minute mile for an hour would burn around 840 calories, but that same person would burn 1008 calories in two hours of hiking.
Further, hiking is going to be easier on your heart and joints like your ankles, knees and hips so there's a physical argument for sticking with the slower pace.
How many miles a week should I hike to lose weight?
The truth is, there are too many variables to really answer this question accurately. The answer lies in how much you weigh, how much weight you want to lose, how many calories you consume, what types of foods you eat, how fast you're hiking and what kind of terrain you're on.
Generally speaking though, assuming you're not eating more calories than you need, if you start hiking regularly, you'll see some pounds disappear. Most experts agree that losing weight at a rate of 1-2 lbs per week is generally safe, so if you are seeing that, you're probably hiking the right amount to achieve weight loss.
Hiking is generally a time consuming activity and therefore daily hiking might not be realistic, or even desirable, but if you can get out in the hills even once or twice a week in addition to other activities, you'll no doubt be happier and lighter in the long run.
Remember, at a certain point your body will adapt and your weight loss will plateau, which is fine once you've reached your goal. If you still have weight to lose, you'll want to gradually find steeper and longer trails until you're a healthy weight.
If weight loss is your goal, consider the following for your hikes:
Carry a backpack
Known as "rucking," carrying a heavy backpack while you're hiking can help you burn more calories. That doesn't mean you have to load your pack up with bricks – in fact, you'll want to take care if you have an existing back injury. But carrying water and warm clothing in your pack will add a few pounds and help your shed a few in the process.
Use hiking poles
Hiking poles are known for assisting with balance and supporting your knees on the downhill, but another benefit of using poles is that they make you use more of your body to hike, meaning you get a full body workout.
Seek steeper terrain
The steeper the hill, the harder you're going to have to work to climb it, which is why you want to pick more challenging hikes to burn more calories. If you're new to hiking, don't start with a near-vertical climb though – remember, you need to be taking oxygen in to burn fat. However if you're on hikes where you're breathing normally and can comfortably hold a conversation the entire time, it may be a little too easy to get you where you want to be weight-wise.
Pick up the pace
In addition to finding tougher terrain, you'll want to keep the pace up to burn more calories. If you find a trail that is so steep that you're dawdling, it won't burn as many calories as if you can find a more moderate one and go faster. Try to maintain your pace on the steeper sections and trust that when things level out or you're on a downward slope, you'll be able to catch your breath again.
Julia Clarke is a staff writer for Adventure.com. She is an author, mountain enthusiast and yoga teacher who loves heading uphill on foot, ski, bike and belay. She recently returned to her hometown of Glasgow, Scotland after 20 years living in the USA, 11 of which were spent in the rocky mountains of Vail, Colorado where she owned a boutique yoga studio and explored the west's famous peaks and rivers. She is a champion for enjoying the outdoors sustainably as well as maintaining balance through rest and meditation, which she explores in her book Restorative Yoga for Beginners, a beginner's path to healing with deep relaxation. She enjoys writing about the outdoors, yoga, wellness and travel. In her previous lives, she has also been a radio presenter, music promoter, university teacher and winemaker.
All the latest inspiration, tips and guides to help you plan your next Advnture!
Thank you for signing up to Advnture. You will receive a verification email shortly.
There was a problem. Please refresh the page and try again.