Hiking vs walking: is there a difference?
By Julia Clarke
We look at the nuances of hiking vs walking to determine whether there's a difference between the two and what gear you need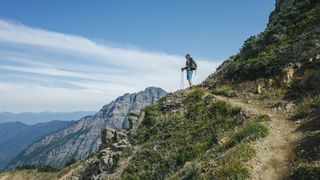 (Image credit: Mint Images)
While in the US and Canada, hiking is the common term for walking in the hills, other countries like the UK use the terms hiking and walking interchangeably, leaving some of us to ask, is there a difference between hiking vs walking?
Is hiking basically walking?
Well, yes and no. It seems clear that when you're hiking, you're walking on your two feet, but the two different terms exist for a reason, though the line is admittedly blurry. Hiking is indeed walking, but with some added nuanced qualities that make it more challenging, and require different gear. Let's take a look at some of the defining characteristics of hiking vs walking.
Terrain
The primary distinction between hiking and walking is where you do it. Hiking always takes place in nature, be it on a mountain, a forested footpath or coastal trail. These environments might be well-maintained National Parks or remote wilderness areas, and as a result, hiking generally connotes some level of adventure, whether that's exploring Colorado's highest peaks or strolling among giant trees in Redwood National Park.
Walking on the other hand is usually done in a more developed or urban environment, such as along a sidewalk and may simply be what you do to get from your house to the post office.
Purpose
Believe it or not, the why is almost as important as the where when it comes to hiking vs walking. Hiking is generally done for pleasure and exercise, and may be to reach a particular destination such as a mountain summit or a waterfall.
Meanwhile, walking of course can also be done for pleasure, exercise or to reach a destination, but it also involves more mundane agendas like dashing to the shops, getting to work or the after school pickup.
Exertion Level
Next, you've got the question of how you do it. Because hiking generally involves going up and down hills, it's often a more physically vigorous activity than walking, which tends to occur along mostly flat terrain. On a hike, you might encounter any level of grade from a gentle incline to scrambling and hiking requires a certain degree of stamina. Some hikes, for example those that take place at high altitude, even require a degree of training beforehand.
A walk can be anything from a leisurely saunter to a brisk march, where you might indeed break a sweat, but when you're walking, you're unlikely to encounter steep grades for any significant length of time, even in hilly San Francisco.
Distance
Whether or not distance is a defining characteristic of hiking really depends on who you ask. In fact, there is no official minimum distance that makes a hike a hike, but a hike is defined as a long walk. Though that's pretty subjective, many agree that a hike is usually more than two miles and can be as long as 40 miles, at which point it might unofficially be considered a trek – as we explain in our hiking vs trekking comparison. Meanwhile, a walk can take place over any distance.
Hiking vs walking

| | Hiking | Walking |
| --- | --- | --- |
| Terrain | Always takes place in nature, whether that's a mountain, forest or coastal path | Generally takes place in an urban environment, such as on a sidewalk |
| Purpose | Is done for pleasure or exercise, or to reach a specific location like a summit or waterfall | Can be for pleasure or exercise, or just to get to the shops, school or work |
| Exertion | Involves some physical challenge, often uphill | Less exertion, usually on flat surfaces |
| Distance | Has to be a long distance, unofficially once it's over two miles it's a hike | Can be any distance |
Gear
Now that we've established that hiking takes you out into the countryside, often up hills and over longer distances, we can probably all agree that some specific gear is needed. As we discuss in our article on how to start hiking, there isn't a whole lot of specialized equipment required, however you will need proper footwear to pretect your feet and ankles on uneven terrain, such as hiking boots or hiking shoes, and you'll probably want a backpack to carry some water, extra layers and navigational devices like a compass. Depending on where and when you're going, you might want a waterproof jacket or hiking poles.
Walking on the other hand? No special gear needed and you could even do it barefoot if you really wanted to.
Julia Clarke is a staff writer for Adventure.com. She is an author, mountain enthusiast and yoga teacher who loves heading uphill on foot, ski, bike and belay. She recently returned to her hometown of Glasgow, Scotland after 20 years living in the USA, 11 of which were spent in the rocky mountains of Vail, Colorado where she owned a boutique yoga studio and explored the west's famous peaks and rivers. She is a champion for enjoying the outdoors sustainably as well as maintaining balance through rest and meditation, which she explores in her book Restorative Yoga for Beginners, a beginner's path to healing with deep relaxation. She enjoys writing about the outdoors, yoga, wellness and travel. In her previous lives, she has also been a radio presenter, music promoter, university teacher and winemaker.
All the latest inspiration, tips and guides to help you plan your next Advnture!
Thank you for signing up to Advnture. You will receive a verification email shortly.
There was a problem. Please refresh the page and try again.