Hiking near Glasgow: 6 brilliant hikes close to Scotland's biggest city
By Julia Clarke
Our guide to hiking near Glasgow will transport you from the bustle of the city and into lush green highlands, loch views and even a wee dram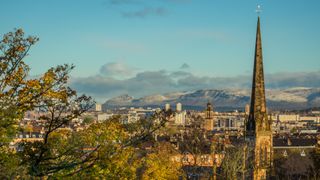 (Image credit: yvonnestewarthenderson)
Situated in the Scottish lowlands and home to impressive architecture and an enviable arts and music scene, Glasgow is not necessarily the first place that comes to mind when you think of hiking. But in addition to being a thriving cultural hub, one of the best things about Scotland's largest city is how accessible it is to a lot of brilliant hiking. Our guide to hiking near Glasgow won't take you farther than 20 miles from the city, but it will still transport you away from the bustle of the city and into the lush green highlands where you can get loch views and even a wee dram on the way home.
Scotland's trails are beautiful, and rugged. They're not always clearly marked so we've added detailed descriptions, but they've come a long way in this regard. They also tend to be boggy, so waterproof shoes or hiking boots are highly recommended, and a waterproof jacket is always an essential part of your Scottish hiking kit.
Whether you live in Glasgow and are looking to get out more or are just visiting, our guide to hiking near Glasgow outlines some really spectacular day hikes just a short car ride away. You can head off after breakfast, have lunch on a hilltop and be back in the glitz and glamour of the big city by dinner.
Cochno Hill Circuit in the Kilpatricks
Hike distance: 5.2 miles
Distance from Glasgow: 6.7 miles
This wee hill is in the Kilpatricks, a range of hills stretching from Dumbarton to Strathblane, and is a short 20 minute drive from town without traffic.
Take Maryhill Road west and stay on it until it turns into Duntocher Road, then take a right on Cochno Road and drive another mile or so until you reach Auchnacraig car park.
Follow the signs for Jaw Reservoir which will lead you up a lush, grassy hill past a lovely waterfall to Jaw Reservoir. From here, follow the trail left keeping the reservoir on your right and begin to ascend Cochno Hill. There are various different detours, but if you keep to the right of Cochno Hill, you'll start to descend down towards a second reservoir, which is Greenside Reservoir. Take the steep descent and you'll meet up with a gravel road which takes you downhill with the city lights in the distance for over a mile with a stream on your right until you reach Cochno Road, then take a left back to the car park.
Cort-Ma-Law Circuit in the Campsies
Hike distance: 5.5 miles
Distance from Glasgow: 6.7 miles
From most points in Glasgow you can see the Campsies which are a range of beautiful rolling hills. If you're keen to get up in them, you're not alone as they make a popular walking for city dwellers due to their proximity to town. From Lennoxtown 6 miles north of Glasgow, turn right on the B822/Crow Road and follow it up the hill until you come to a large car park on your left.
Cross the road and head up the steep hill, keeping right at the fork to stay closer to the southern edge. After a while, it will level out a bit and you can keep going over a couple of stiles until you reach the marked summit of Cort-Ma-Law.
From here, turn left and head straight across the hilltops until you reach the cairn marking the summit of Leckett Hill, then it's another left and you'll soon start heading downhill towards Crow Road. You'll start to see some incredible mountain views in the distance. When you reach the road and another parking area, head left down Crow Road taking care for cars until you get back to the Campsie Glen Waterfall car park.
West Highland Way from Milngavie
Hike distance: As long as you want
Distance from Glasgow: 7 miles
The West Highland Way stretches for 96 miles all the way to Fort William in the Highlands and would take you far from Glasgow if you attempted the whole trail, but you can easily do the first section in a day.
Drive or take the train or bus to Milngavie, just north of Glasgow and head into the main, pedestrian-only street of this small town. From here is a giant sign indicating the beginning of the West Highland Way. The initial walk takes you alongside a stream in Mugdock Country Park before opening up as you near the Campsies. This is a mostly flat walk and you can go as far as you like and return to Milngave for a bite to eat. If you make it all the way to Drymen, you can get the bus back to Glasgow from here.
The Whangie
Hike distance: 2.75 miles
Distance from Glasgow: 12 miles
The Whangie is an unusual-looking rock feature in the Kilpatrick Hills, and boasts wonderful views towards Loch Lomond, the Highlands and the Campsies.
Take the A809 north through Bearsden and keep going until you reach the Queen's View & the Whangie Car Park on the left.
Cross the stile and begin the steep climb which quickly offers fantastic views of Loch Lomond. Soon it levels out a bit. Stay straight at the fork in the trail and walk through the rock formations which are popular with rock climbers. Squeeze through the narrow cleft (a little scrambling is required) then you can keep following the path around to the left to ascend up onto a broad, flat moor which boasts lovely 360-degree views.
Dumgoyne & Earl's Seat
Hike distance: 6.75 miles
Distance from Glasgow: 14 miles
From many high points in Glasgow, you can see the distinctive hill of Dumgoyne which is technically at the beginning of the Highlands. This volcanic plug makes a short but very steep hike on its own, or you can pair it with Earl's Seat to the north for a longer hike.
Take the X10 bus to Glengoyne Distillery or drive taking the A81 north until you reach the distillery. There is parking on the left side of the road.
From the parking area, the distillery and Dumgoyne will be across the road and Earl's Seat is off to the left of Dumgoyne. Cross the stile to the right of the distillery and head straight up Dumgoyne. After taking a rest at the top to enjoy the views, head down the steep side to the left and keep going on a gentler uphill ramble to Earl's Seat. Loch Lomond is off in the distance.
The official top of Earl's Seat is marked by a trig point but you can stop anywhere along the way to enjoy stunning views. On the way back, you can take a right just before the climb up Dumgoyne begins and head down to the car park without summiting it again. If you're not driving, you can stop in at the distillery for a tour and a dram.
Conic Hill
Hike distance: 2.5 miles
Distance from Glasgow: 20 miles
Much as the name suggests, Conic Hill is a sharp little summit rising above Balmaha on the banks of Loch Lomond. This short hike is on the Highland Boundary Fault and offers absolutely fantastic views over Loch Lomond and its islands.
From Glasgow, take the A809 north to Balmaha and park in the huge car park. Start on the well marked trail taking an immediate right then a left at the junction. The walk begins in a pleasant woodland before opening up as you climb the hill. Stop often for remarkable loch views and return the way you came.
Julia Clarke is a staff writer for Adventure.com. She is an author, mountain enthusiast and yoga teacher who loves heading uphill on foot, ski, bike and belay. She recently returned to her hometown of Glasgow, Scotland after 20 years living in the USA, 11 of which were spent in the rocky mountains of Vail, Colorado where she owned a boutique yoga studio and explored the west's famous peaks and rivers. She is a champion for enjoying the outdoors sustainably as well as maintaining balance through rest and meditation, which she explores in her book Restorative Yoga for Beginners, a beginner's path to healing with deep relaxation. She enjoys writing about the outdoors, yoga, wellness and travel. In her previous lives, she has also been a radio presenter, music promoter, university teacher and winemaker.
All the latest inspiration, tips and guides to help you plan your next Advnture!
Thank you for signing up to Advnture. You will receive a verification email shortly.
There was a problem. Please refresh the page and try again.