I made DIY protein bars out of chickpeas, and I'm not going back to buying them
Store-bought protein bars are super handy, but now I'm a converted hummus-sapien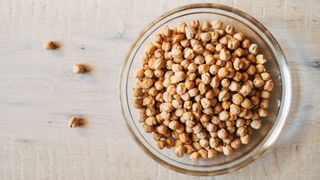 (Image credit: Getty)
Protein bars are a really handy way to get the nutrition you need to recover after a run or hike if you can't have a proper meal straight away, but they have one big downside: lots of plastic packaging. That's why I decided to try experimenting with making my own, using a pretty unusual ingredient.
There are plenty of protein bar recipes around that use whey powder, but I wanted to see if I could make something using what I already had in my store cupboard. Although a giant tub of whey has less packaging gram-for-gram than a box of plastic-wrapped bars, it was still something I wanted to avoid.
In the end, I came across a few recipes that used something that I'd never considered, but actually made a lot of sense: chickpeas. With 19g protein per 100g, they're a pretty decent source, and they have the bonus of being vegan (the humble pea is far less demanding of water and resources than a cow).
The end result might have tasted like hummus or falafel, but I wasn't too worried. If the worst came to the worst, I figured I could just stick them in a pita bread.
I browsed through a few options, and eventually settled on one by Whole Living Lauren which was straightforward and didn't call for anything too unusual. The only ingredient I didn't have hanging around was dates, so I compromised by making some raisin paste (or sultana paste, since that's what I had to hand). It's pretty much what it sounds like: you soak raisins in hot water for three minutes, then pulverize them to goo. One teaspoon of goo is roughly equivalent to a date.
The other ingredients are maple syrup (though I expect honey would work equally well), almond flour, natural peanut butter (my local zero waste shop has a machine that grinds the peanuts and extrudes the butter directly into your container like peanutty Play-Doh), baking powder, chia seeds, vanilla extract, almond milk, a little sea salt and, of course, the chickpeas. This time I used a can, but next time I'll plan ahead and use dried ones soaked overnight.
I crunched the numbers, and the entire batch of bars contains roughly 1,600 calories, 65g fat, and 45g protein. Split that into eight bars, and you get about 200 calories, 8g fat, and 5.2g protein. That's a lot less than I was getting in the Lean Protein Bars that I used to enjoy, but there's also no plastic and they're way, way cheaper. Worth a shot.
Give peas a chance
The method is super simple – essentially you just toss it all in a food processor. The result was a paste that looked like hummus, which shouldn't have come as too much of a surprise, but thankfully didn't taste like it. My mix came out a little too wet (there might have been too much water in my sultana paste), so I ended up adding some extra almond flour to thicken it. Once it's all blended, just pour it into a pan and bake.
The mix will be soft when you first take it out of the oven, so you can easily split it into bars before it cools. I found that they remained fairly soft, likely due to the absence of egg or gluten to bind them, so I had to be quite careful when carrying them. Wrapping one in a small waxed cotton wrap and tucking it into my bag turned out to be a pretty safe method.
Provided you like peanut butter, the taste is very pleasant, and the texture (although soft) is nicer than many regular protein bars I've tried, which are often somewhere between chewy and gritty. You wouldn't guess the chickpeas were there if you didn't know, and the mix is just sweet enough. Certainly not sickly.
I'm not sure how long the bars would last at room temperature due to the lack of preservatives, so I waited for them to cool, then froze them so I can remove one before a workout, and it's thawed by the time I want it. This likely makes them even softer, but doesn't affect the taste.
Next time I make a batch (and I will), I'll make just a few tweaks. In my experience the mix didn't rise at all in the oven, which was fine as I have no objection to dense bars, but I might leave out the baking powder next time since it didn't seem to add anything. I might also bake them at a lower temperature for longer to get the insides cooked more. Overall though, I'd call the experiment a success. Thanks, Lauren!
All the latest inspiration, tips and guides to help you plan your next Advnture!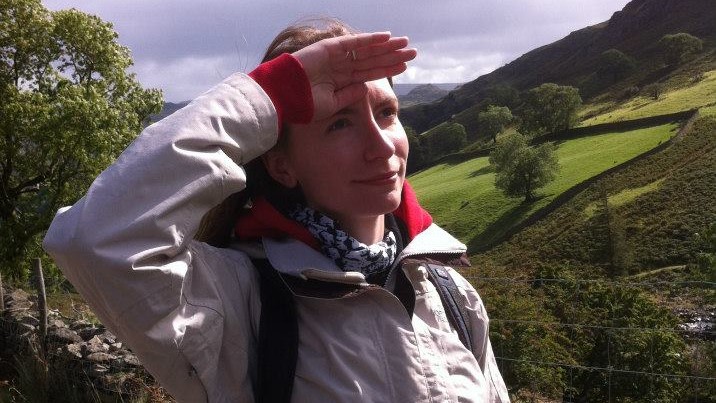 Cat is the editor of Advnture, She's been a journalist for 13 years, and was fitness and wellbeing editor on TechRadar before joining the Advnture team in 2022. She's a UK Athletics qualified run leader, and in her spare time enjoys nothing more than lacing up her shoes and hitting the roads and trails (the muddier, the better).