Is women's outdoor gear up to scratch?
Female-specific kit has come a long way since the days of the 'shrink it and pink it' approach – but does it stand up to scrutiny when compared with outdoor gear for men?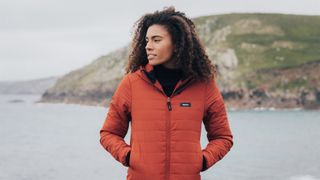 (Image credit: Finisterre)
Ever heard of the expression 'shrink it and pink it'? It's the disparaging term used to describe how a lot of women's outdoor clothing used to be designed. No need for innovation or a complete redesign reckoned the lazy adventure brands of yore – just take a jacket for men, make it a few sizes smaller and dye it a female-appropriate shade of pink.
A few decades on, and things have changed for the better. Outdoor gear is no longer exclusively aimed at pro mountaineers or walkers with beards and a thermos of tea, with nothing in between – now, adventure-ready kit is cool. Leather hiking boots and North Face coats once strictly designed for the trail are now sported as much in Hoxton as they are on Helvellyn, leading to far more style-conscious, versatile clothing options becoming available. This has coincided with a big rise in the number of intrepid women going out exploring – and expecting high-performing gear to do it in.
For years in my early 20s, I bought men's kit instead of women's in a bid to avoid having to wear the three scant options on offer for women: pink, purple or turquoise. Men's kit still comes in better colors – mossy greens, cool khakis, brick reds. I also find men's mid-layers and waterproofs easier to layer up, as some brands still don't seem to factor breasts and curved hips into their designs for girls. And because outdoor brands make men's kit in higher numbers, you'll still often find more men's items in the seasonal sales, or at bargain prices second-hand on Ebay.
Brands that do it well
These days, I review outdoor kit in all conditions, and get my hands on the latest offerings for women each season. After testing out gear year-in, year-out, some brands really stand out for their dedication to great female clothing. I rate Patagonia's outdoor women's range, with technical jackets that can see off rain and snow (and look and perform identically to their male counterparts) as well as more casual pieces suitable for chilling out around a campfire, such as their cult-favourite Synchilla fleece, which comes in retro colours and prints to suit both sexes. Finisterre do beautiful, eco-friendly and long-lasting pieces for women in earthy, nature-inspired tones. Fjällräven have a keen eye for women's fit, with separate 'curvy' versions of their hardwearing walking trousers available for women who aren't stick insects.
In my opinion, women's hiking boots have caught up with the boys, with a wide range of sizes and narrow and wide fits available – and crucially, all the weatherproofing and toughness of men's boots. There are also some excellent backpacks designed to fit the female body on offer – Osprey and Deuter's offerings stand out on test. Sleeping bags and camping mats are now also designed with the female physique in mind, with different shapes and warmer technologies used because – apparently – we sleep colder than men.
If you're in the market for good female kit, I recommend trying items on in person if possible, as you may find that one specific brand makes kit that fits your body best. Look for longer-length jackets that sit nicely over your hips – I also find high-waist trousers are often more comfortable. Some brands also offer petite and curvy versions of their female gear.
There's some way to go in women's outdoor kit, which often still occupies a fraction of the shop floor compared to men's ranges. I'd like to see more plus sizes available for women, more gender-neutral colorways and a commitment to making sure male and female gear has identical specs when it comes to performance. But now I do own an outdoor wardrobe of women's' kit that looks great and works in the elements - and I'll never be stuck with nothing on the shelf to suit me but a salmon-pink plastic mac again.
All the latest inspiration, tips and guides to help you plan your next Advnture!
An award-winning travel and outdoors journalist, presenter and blogger, Sian regularly writes for The Independent, Evening Standard, BBC Countryfile, Coast, Outdoor Enthusiast and Sunday Times Travel. Life as a hiking, camping, wild-swimming adventure-writer has taken her around the world, exploring Bolivian jungles, kayaking in Greenland, diving with turtles in Australia, climbing mountains in Africa and, in Thailand, learning the hard way that peeing on a jellyfish sting doesn't help. Her blog, thegirloutdoors.co.uk, champions accessible adventures.