What is the most dangerous mountain to climb?
What is the most dangerous mountain to climb? We set out to uncover what makes a mountain so risky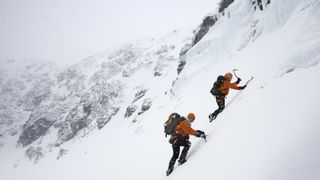 (Image credit: Jose Azel)
What is the most dangerous mountain to climb? Is it the world's highest peak, Mount Everest, which claims lives almost every season? Could it be the medium-sized Matterhorn in the Alps? Or even little old Mount Washington in New Hampshire? We set out to try to answer this question and to uncover what makes a mountain so dangerous.
It should go without saying that climbing and mountaineering are inherently dangerous activities and require a great deal of safety training and gear. One of the sad facts of climbing is that injuries and fatalities seem to take up as much news space as the success stories, but it is certain that far more people reach the world's summit than perish trying.
In setting out to answer this question, we relied on statistics surrounding fatalities, since these are better recorded than injuries and incidents which often go unreported. It's safe to say that of all the possibilities when it comes to climbing, death is the worst one and therefore a good indicator of danger.
However, we've made a point to compare not just total death toll but also death rate, since some peaks have very few climbers attempting them and a high death rate, suggesting they may be more dangerous than those which attract thousands each year. We'll let you look at the numbers and decide which you think makes the deadliest mountain.
Finally, our goal in approaching this common question is not to reinforce morbid fascination with climbing deaths; rather, want to provide you some perspective as to the relative dangers of climbing, and another reason to celebrate the many outstanding climbing success stories of our time.
What makes a mountain dangerous?
There are lots of factors that can make a mountain dangerous for climbing. As we discuss in our article on avalanche safety, any slope that is 30 degrees or steeper is subject to powerful snow slides. Then there's the question of wildlife – animals such as mountain lions, bears and moose that live at higher altitude certainly can pose some risk to humans.
And of course there's the issue of the weather. Rain and snow storms, high winds and lightning all make for even more treacherous conditions up high. Mountain tops experience colder temperatures than land at sea level and their mass can actually influence weather patterns, forcing air to move over the barrier it creates and causing meteorological instability. Case in point: Mount Washington. Many people will be surprised to learn that this small 6,822ft peak in New Hampshire has claimed more lives than any other US mountain, largely due to its wild weather patterns.
Then there are so-called internal factors that can make a mountain dangerous for climbing. You might experience altitude sickness at elevations above 8,000ft, which can mean dizziness, shortness of breath, nausea, headaches, or in the worst case scenario high altitude pulmonary edema and cerebral edema. Learn more in our article on training for hiking at high altitude.
Getting lost is another factor that increases the dangers of climbing. The more remote the terrain, the less there is in terms of helpful navigational features. Getting lost on a mountain can mean spending the night on a rock face exposed to the elements, or risking a dangerous fall if you end up off-route.
Finally there's the very real possibility of suffering from hypothermia, since mountains usually mean very high altitude and that almost always means sub-zero temperatures and the need for extreme weather gear and survival skills.
How deadly is Mount Everest?
Most people assume that Mount Everest, standing at 29,032ft in the Himalayas, is the deadliest mountain in the world and any deaths on Everest certainly do generate headlines. After all, it has claimed over 300 climbers and its perilous conditions have been chronicled by the likes of Jon Krakauer in his book Into Thin Air and in documentaries like Sherpa that spotlights the deadly 2014 avalanche that killed 16. Everest claimed the life of famous mountaineering pioneer George Mallory and turns back about a third of all those who attempt it each year. It becomes increasingly crowded with images of long lines of climbers waiting to reach the summit frequently circulating the internet.
However, according to a study by the University of Washington, though the number of climbers attempting Everest rose by more than 50% between 2006 and 2019 compared to the previous 15 years, the death rate remained the same at about 1%. So in a typical current year, of the average 800 climbers who attempt Everest, eight are statistically likely to die doing so. Further, it found that the summit success rate has actually doubled from the first 15-year period studied to the next, meaning we're actually getting better at safely summiting the world's highest peak.
As it turns out, Mount Everest is not dearly as deadly as some other mountains in the vast Himalayan range.
Is K2 deadlier than Everest?
The next tallest mountain after Everest is K2, standing at 28,251ft in Pakistan. This remote mountain features a long approach and is known for treacherous weather and deathly avalanches. According to Business Insider, from 1906 to 2008 only 264 people managed to reach the top, far fewer than summit Everest in a single year.
This treacherous mountain has some grim statistics, especially when it comes to women climbers, having claimed the lives of such mountaineers as Alison Hargreaves. Hargreaves was the first woman to summit Everest without support or supplemental oxygen but perished along with six other climbers on K2 in1995.
Compared to Everest's average 1% death rate, the percentage of climbers who die attempting to climb K2 is reported by NASA to be around 25%. So K2 is statistically much more dangerous than Everest, but is it the most dangerous mountain to climb?
What is the deadliest mountain to climb?
There are two other Himalayan peaks worth looking at when trying to determine the most dangerous mountain to climb. Nanga Parbat, the world's ninth tallest mountain in Pakistan, where mountaineer Tom Ballard lost his life, is reported to have a death rate of about 25%, or one in four, which is staggeringly higher than Everest. Meanwhile, Nepal's Annapurna, the world's tenth highest peak, frequently tops the death toll rate with a fatality rate of more than 30%. In other words, for every three people that attempt Annapurna, only two survive. It's also worth noting that both of these mountains have far fewer successful summits – under 300 total compared to over 4,000 on Everest – owing to how challenging they are.
So in terms of death rate, even with only 63 total deaths, Annapurna currently holds the title of the world's most deadly mountain. Annapurna's highly technical route and geology of unstable rocks are pointed to as primary factors making it considerably more dangerous than other surrounding peaks. Its avalanche-prone terrain features ice walls and crevasses and it is the victim of unpredictable weather and climate.
Which mountain has killed the most climbers?
At over 300, Everest seems to be a strong contender for highest death toll, but believe it or not, the answer to this question doesn't seem to lie in the Himalayas at all. It is estimated that over 500 alpinists have died on The Matterhorn, a relatively small mountain at only 14,685ft in the Swiss Alps, making it the deadliest mountain in the world for climbing.
Though it is half the height of Everest, Swiss mountain guides told the newspaper Tages-Anziger that climate change was to blame for so many recent deaths, with rising global temperatures causing permafrost thaws and dangerous crumbling rock.
However, while more climbers may have died on the Matterhorn than any other mountain, it's important to note that the first ascent o this peak took place back in 1865, almost a century before Edmund Hillary and Tenzing Norgay summited Everest. So once again, the numbers are all relative.
What is the most dangerous mountain to climb?
The conclusion seems to be that assessing the dangers of a mountain depends on how you measure danger and how you look at the numbers, and will change from year to year. Some mountains are increasing in popularity which will almost certainly lead to an increase in deaths, while measures such as permits have been introduced to control numbers on Everest, and there are discussions of prohibiting guided climbs on the Matterhorn due to growing dangers.
Needless to say, K2, Nanga Parbat, Annapurna and the Matterhorn are all among the most dangerous mountains to climb and require a great degree of education, training and skill. As we stated previously, climbing is an inherently dangerous sport, but its many merits make it worth pursuing, safely.
All the latest inspiration, tips and guides to help you plan your next Advnture!
Julia Clarke is a staff writer for Advnture.com and the author of the book Restorative Yoga for Beginners. She loves to explore mountains on foot, bike, skis and belay and then recover on the the yoga mat. Julia graduated with a degree in journalism in 2004 and spent eight years working as a radio presenter in Kansas City, Vermont, Boston and New York City before discovering the joys of the Rocky Mountains. She then detoured west to Colorado and enjoyed 11 years teaching yoga in Vail before returning to her hometown of Glasgow, Scotland in 2020 to focus on family and writing.