Expert tips for staying safe in – or on – open water
Emergency services advise caution after a series of tragedies at the coast and in lakes, lochs and rivers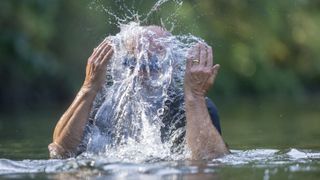 (Image credit: Getty Images)
Do you know how to safely swim in open water and stay safe around water when taking part in activities such as kayaking, stand-up paddleboarding and other watersports?
Following a recent spate of tragedies in water (opens in new tab), including the sea, lakes, lochs and rivers, in the UK, emergency services have issued potentially life-saving tips for open water safety.
The Scottish Fire and Rescue Service are among those who are advising outdoors fans to follow the expert advice from the RNLI's (opens in new tab) Float to Live campaign.
While going for a swim in cold, open water can be exhilarating and many people enjoy a host of water-based activities during the summer months, there are risks. Open water swimming safety and staying safe near water are vital especially during a spell of warmer weather.
Open water safety tips
To start with, anyone who plans to get into cold water should check with a medical professional if they are in any doubt about their good health.
Cold water shock causes the blood vessels in the skin to close, which increases the resistance of blood flow. This leads to increased heart rate, too.
As a result, the heart has to work harder and blood pressure goes up. Cold water shock can therefore cause heart attacks, even in relatively young and healthy people.
More tips for open water safety

Buddy up
Always go with another person if you plan to be in or on open water. Also make sure that someone else knows where you are going and how long you are likely to be. This means that if you are overdue to return, someone can make an emergency call.
Take care with kids
Children are more vulnerable to the effects of cold water and can get into difficulty in deeper water. Always be more cautious when heading to open water with youngsters.
Choose your spot
If you are heading to the coast, it is a good idea to pick a beach with a lifeguard. There will be red and yellow flags on these beaches that show you the safest area to swim. There are a number of lakes that have safety measures in place, too.
If there is no lifeguard there are other water safety tips:
Think carefully about where you can enter and exit the water
Look for obvious hazards, such as large rocks, boats and other moving water crafts
Check tides and currents
Find tide tables and surf reports for the UK on Admirality EasyTide (opens in new tab) and WillyWeather (opens in new tab), for example. Tide tables in the US can be found on the National Oceanic and Atmospheric Administration (opens in new tab) site.
Check information about tides and currents before entering the water and, in particular, you should know how to spot rip currents (opens in new tab).
You also need to learn what to do if caught in a rip current: Don't try to swim against it. If you can stand, try to wade rather than swim. Next, swim parallel to the shore until free of the rip and then head for shore. Raise your hand and shout for help.
Check the weather
There are plenty of useful websites and apps for weather checks – in the UK, they include the Met Office (opens in new tab). If in doubt, don't go. There will always be another day or a better location.
Have the right equipment
A wetsuit a good idea if you are worried about staying warm in open water and especially if you a new to spending time in cold water.
A wetsuit keeps you warm and aids buoyancy, which means you can stay in the water for longer.
Wear a bright swimming hat and use a tow float with you when swimming or going for a dip. The brighter these items are, the better because it means other people will be able to see you from further afield. A tow float is also useful for allowing you to rest and keep your head above the water.
Make sure you can call for help if needs be. A waterproof pouch with your mobile phone is the best idea, or you can take a whistle with you.
Another good idea for staying safe around water is to download the RYA SafeTrx (opens in new tab) app, which allows you to track your swim, or location if you are in a kayak or on a paddleboard. It can also be set to alert emergency contacts if you fail to return home on time.
When you get out of the water, ensure you have warm clothes and a warm drink. You need to warm up carefully to prevent hypothermia.
Open water swim safety acclimatisation

If you plan to swim in open water, there are further checks to make to ensure safety.
Assess the conditions carefully. If the water looks too rough, don't get in.
Know your limits and be realistic. If the open water looks choppy, stay closer to the shore. If the shore has choppy water, go home and return another day when the water is calmer.
The temperature difference between the air and water is also important. The colder the air and water temperature, the quicker you will get cold. Make sure you are sensible about how long you will be in the water.
When you enter the open water to swim, you should do so carefully and slowly. Allow your body to get used to the water rather than diving straight in. If you go in too quickly you may end up with cold water shock (opens in new tab).
The best way to acclimatise is to walk in slowly and when you are about waist deep, start to splash your upper body and face with the water.
Another water swimming safety tip is to avoid holding your breath for too long when you get into the water. Aim to breathe naturally so that you do not end up taking too many short breaths too quickly.
Be conservative about your aspirations for a swim. It is better to swim a short distance from the shore and return, then repeat this, than to end up too far out from a beach or banks of a lake and find yourself in difficulty. Cold water can affect you ability to swim as far as you might in an indoor pool.
Float to Live

Entering water that has a temperature of less than 15°C/59°F can seriously impact your ability to breathe and move.
If you get into the water too quickly or fall in unexpectedly, you may experience cold water shock.
If this happens, you should fight your instinct to swim. Instead, follow the guidance of the UK's Royal National Lifeboat Institution (RNLI) (opens in new tab)– relax and float on your back until you can control your breathing and the shock passes. Then call for help.
When open water swimming, you might get tired. Roll on to your back to rest and hold on to something that floats, like a tow float. Then you can signal for help if needed.
What to do in an open water safety emergency

In the UK, call 999 or 112 and ask for the coastguard. You should always carry a means of calling for help when open water swimming, cold water dipping or participating in any watersport activity.
All the latest inspiration, tips and guides to help you plan your next Advnture!
Fiona Russell is a widely published adventure journalist and blogger, who is better known as Fiona Outdoors. She is based in Scotland and is an all-round outdoors enthusiast with favourite activities including trail running, mountain walking, mountain biking, road cycling, triathlon and skiing, both downhill and back country. Her target for 2021 is to finish the final nine summits in her first round of all 282 Munros, the Scottish mountains of more than 3,000ft high. Aside from being outdoors, Fiona's biggest aim is to inspire others to enjoy the great outdoors, especially through her writing. She is also rarely seen without a running skort! Find out more at Fiona Outdoors (opens in new tab).