Running pronation vs supination explained
We go the distance on running pronation vs supination, the symptoms of each and what you can do to improve your running gait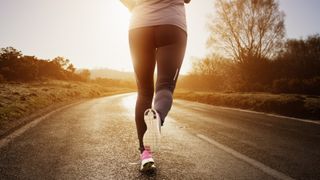 (Image credit: Robert Decelis Ltd)
Have you noticed that the soles of even your best trail running shoes tend to wear out unevenly? Or perhaps you always get calluses on only one side of your feet? If so, you might have some overpronation or supination, and if left unattended to, you could end up needing more than a new pair of shoes as these two gait imbalances can lead to pain and other running injuries. In this article, we define running pronation vs supination, how to find out if you overpronate or oversupinate, plus what you can do to correct your running gait.
Running pronation vs supination: what are they?
In anatomical terms, pronation and supination are given to describe natural movements of your feet, as well as your hands and arms. When applied to your hands, supination simply means that your hand is facing up while pronation means it's facing down. When referring to your feet, however, it's a little more complicated. These terms describe movements of your feet when you walk or run: pronation is when you walk with your weight rolling more toward the inner (big toe) edge of your feet, while supination occurs when you walk with more weight on the outside (pinkie toe) edge of your feet.
Both of these are natural movements of your feet – next time you're walking on an uneven, rocky trail, notice how much you do both movements to accommodate for the rough surface – and it's normal to walk or run with a little pronation because your big toe plays a bigger role in pushing your foot off the ground than the other toes. However, it can become an issue in terms of your body mechanics when you overpronate, or oversupinate, meaning the movement is more pronounced, and you do it most or all of the time.
How do I know if I pronate or supinate?
If you are concerned that you might be overpronating or oversupinating, here are a few diagnostic tools you can use to get more information about your running gait:
Inspect your shoes: The soles of your running shoes will often show obvious wearing down on the inner or outer heel.
Look at your feet: If you tend to develop bunions or calluses on only your inner or outer feet, that can tell you a lot about your gait.
Walk on the beach: If you live near the coast, take a barefoot walk in wet sand and look at your footprints – if your entire foot leaves a print, you probably overpronate, and if only the outer edge leaves a print, you oversupinate.
Get a gait analysis: Ultimately, the best approach is to get a gait analysis from a podiatrist or physical therapist to receive a proper diagnosis (and understand why you overpronate) and treatment recommendations.
What are the symptoms of overpronation?
Because a certain degree of pronation is normal, overpronation is more common than oversupination. If you overpronate, you're essentially flattening the soles of your feet on the ground when you walk or run. All of us actually start out life with flat feet, as our arches don't form until we're about six years old, however some of us never form arches and this can predispose you to overpronation when you're walking or running. According to the Cleveland Clinic, other causes of overpronation include running or walking on hard surfaces for long periods, pregnancy and obesity.
Most people who overpronate don't experience any pain or issues, but it does prevent your arches from absorbing the impact of your footsteps properly, and therefore it is associated with the following conditions:
Bunions
Heel pain
Hip pain
Knee pain
Back pain
If you're a runner experiencing any of these conditions, you'll want to check to see if you overpronate when you're on the trail so that you can take care of the issue at the root.
What is the treatment for overpronation?
If you are diagnosed with overpronation, you may be prescribed some or all of the following treatments to help lift or simulate arches to absorb the shock of your footfall:
Physical therapy exercises and stretches
Motion control running shoes (see our guide to types of running shoes)
Orthotics
What are the symptoms of oversupination?
Less common than overpronation, oversupination means you roll too far to the outside edges of your feet when you walk or run. If you already have high arches, you may be at more risk for oversupination in movement, according to Podiatry Group of Annapolis, which can also be the cause of pain and injuries in your feet and legs.
How do runners fix oversupination?
If you are experiencing symptoms related to oversupination, the most common treatment methods are physical therapy exercises to help loosen tendons and strengthen your feet, orthotic insoles and wearing more supportive cushioned running shoes that help with oversupination.
All the latest inspiration, tips and guides to help you plan your next Advnture!
Julia Clarke is a staff writer for Advnture.com and the author of the book Restorative Yoga for Beginners. She loves to explore mountains on foot, bike, skis and belay and then recover on the the yoga mat. Julia graduated with a degree in journalism in 2004 and spent eight years working as a radio presenter in Kansas City, Vermont, Boston and New York City before discovering the joys of the Rocky Mountains. She then detoured west to Colorado and enjoyed 11 years teaching yoga in Vail before returning to her hometown of Glasgow, Scotland in 2020 to focus on family and writing.