How to prevent shin splints when running: top tips for avoiding a common injury
Following this advice can help prevent shin splints when running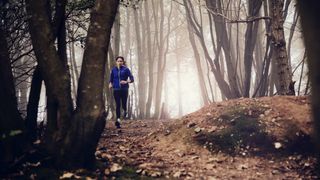 (Image credit: Getty Images)
Shin splints are a common issue for runners. Fortunately, there are plenty of tips for preventing shin splints when running.
Shin splints is medically described as medial tibial stress syndrome (MTSS). The symptoms include soreness at the front of the lower leg, alongside the shin bone.
The cause is usually too much stress on the shin bone, or the muscles next to the bone. There are other reason why you might end up with shin splints and we will be looking at some of these.
The good news is that shin splits can usually be remedied fairly quickly, although it is better to prevent shin splints before they actually occur.
Tips to prevent shin splints when running
New shoes
In many cases, wearing old or worn out running shoes causes shin splints. This is because running is a high impact sport and requires some cushioning, especially if you run on hard surfaces.
Some people naturally have more foot and joint cushioning, while others run more lightly on their feet, but many people need extra cushioning from their footwear to prevent muscle pain, including shin splints.
The advice is to buy a new pair of running shoes.
Gait analysis
An imbalance in your running gait or style may lead to some muscles being overworked, compared to others. Many running shops offer gait analysis and if you are suffering with shin splints it could be a good place to start to solve the problem.
Calf stretches
One of the most common cases of shin splints is tight calf muscles. A good tip is to make sure you stretch your calves before heading out for a run. Follow a warm up programme for running and include calf stretches.
Sports massage
A sports massage can help a great deal with easing the pain of shin splints. Regular massage will aid the prevention of shin splints and other muscular niggles and injuries.
Build up slowly
Doing too much running, too soon will lead to tight and sore muscles in general. This is particularly true for runners. Make sure you build up with incremental increases in speed and distance when you start to run.
It is also a good idea to alternate running with other exercises, such as walking and cycling, to prevent muscle overload.
Soft play
Running on hard surfaces, such as tarmac, is more likely to lead to shine splints, compared to when you choose to run on softer surfaces. Trail runners are far less likely to suffer with shin splints than road runners.
Foot and leg strength
Strength in the leg and foot area will prevent stresses and strains when running. Our feet need to be cared for especially as we age or if you are increasing your running mileage. The stronger the foot and leg the less chance you have of shin splints occurring.
A weighty problem
Being overweight will add strain to your muscles and joints, especially if you are running. While exercise is a good way to reduce your weight, especially if it is part of a calorie-controlled diet, it can lead to aches and pains.
Aim to build up slowly and include walking as well as running to prevent muscle overload. Choose a cushioned shoe for walking and running.
By following these tips you will hopefully prevent shin splints when running.
All the latest inspiration, tips and guides to help you plan your next Advnture!
Fiona Russell is a widely published adventure journalist and blogger, who is better known as Fiona Outdoors. She is based in Scotland and is an all-round outdoors enthusiast with favourite activities including trail running, mountain walking, mountain biking, road cycling, triathlon and skiing, both downhill and back country. Her target for 2021 is to finish the final nine summits in her first round of all 282 Munros, the Scottish mountains of more than 3,000ft high. Aside from being outdoors, Fiona's biggest aim is to inspire others to enjoy the great outdoors, especially through her writing. She is also rarely seen without a running skort! Find out more at Fiona Outdoors.