Here's why you need Reactive Lighting on your next night run
Trail running at night and tired of having to adjust your headlamp? Petzl's Reactive Lightning technology illuminates your nocturnal adventures better, for longer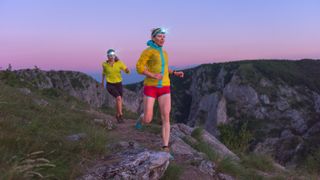 (Image credit: Getty Images)
The best running headlamps have revolutionized running for those of us that live in northern climes, do shift work or like to go out on epically long runs. Sun setting at 3 p.m.? Stuck at the office until 8pm? Racing in the Leadville 100? No problem. Just pull on your headlamp and you can light up the trail, avoid any tripping hazards and be visible to others at any hour – running at night has never been easier.
But as with any technology, headlamps have their limitations. First, they require either batteries or a solar charge to function in the first place, which means if you misjudge things, forget to charge it or leave your extra batteries in the car, you might be looking at a long walk home in the dark.
Secondly, headlamps come with a vast array of different ranges and beam strengths. It might seem like the obvious solution is to get the brightest lamp with the widest range so that you've always got the entire path ahead of you in your sights, but that usually drains the battery faster. And if you get a more economical one, the battery life will usually be much more robust, but on a really dark night and technical trail, you might just not be getting the illumination you need. That's not only a safety issue – it can mean you're running much more slowly and cautiously than usual, which is no good if you're training for a race.
Now of course, most headlamps these days come with at least two – and sometimes three – brightness settings, but when you've just found your rhythm, the last thing you want to do is interrupt your focus by adjusting the beam strength every time you switch between downhill and uphill. What would be really helpful is if you had a headlamp that adjusted to your needs. Kind of like photochromic lenses on eyeglasses that darken when you go out into the sun, what if you had a headlamp that adjusted according to how dark it was, and what you're looking at? Turns out it already exists. Meet Reactive Lighting.
What is Reactive Lighting?
Reactive Lighting, now called RL, was developed by French climbing company Petzl and doesn't just reflect light out and hope that it picks up every tree root, low hanging branch or snake on the trail. RL uses a sensor to analyze reflected light (the amount of light coming back to it) and automatically adjusts as needed. If it's finding that there's a lot of light coming back – say, there's a lot of light pollution or you're running in the summer months where it never gets fully dark – it dims a bit, saving you battery power. If it's hardly detecting any reflected light, it sends out more light so you don't have to slow down. Remember, this is all happening without you having to lift a finger, which means that you can focus on what you love – running.
Petzl has incorporated RL into its NAO, NAO+, SWIFT RL and DUO headlamps. A Pertzl headlamp with RL has three automatic settings:
Proximity lighting: this is for seeing objects at close range – this is great for when you need to stop to look at your map, or tie the laces on your best trail running shoes.
Movement lighting: a mixed beam for walking and running, wide to see your feet and focused to illuminate what's coming up ahead.
Distance visions: when you raise your head to look up the trail or road, the brightness increases which is great for when you're on a steep incline or looking for trail markers.
The result is a longer battery life, and customized light source tailored to suit your needs. Petzl's headlamps with RL technology also come with both manual and automatic settings, so you can turn the sensor off when you don't want it brightening and dimming on you. With RL technology, running with a headlamp has never been easier.
Do you need Reactive Lighting for running?
Petzl launched the technology back in 2010, and like all technologies it's been a bit of a work in progress. Since then, they've improved it with more lumens for better light quality and it's definitely improved. We recently took the Petzl Swift RL out on the trails, and we found it worked really well, with a couple of drawbacks.
The first was that we found that it dimmed whenever we got into the light of oncoming car headlights, which obviously isn't ideal if you're a road runner and you'll want to either switch it to manual mode or make sure you're well decked out in high viz gear. Clearly for trail running, this isn't an issue at all.
The other snag we experienced with it was that when we went out running with other people, the light from other runners' headlamps caused ours to dim. So again, if you're in a night race or just running with a partner, you might want to opt for the manual mode.
All of that said, we love Petzl's RL technology for solo trail running at night, as much for its ability to adapt to our surroundings as the extra long battery life. If you like to hit the trails after dusk, we think you'll love the versatility and longevity of this technology.
All the latest inspiration, tips and guides to help you plan your next Advnture!
Julia Clarke is a staff writer for Advnture.com and the author of the book Restorative Yoga for Beginners. She loves to explore mountains on foot, bike, skis and belay and then recover on the the yoga mat. Julia graduated with a degree in journalism in 2004 and spent eight years working as a radio presenter in Kansas City, Vermont, Boston and New York City before discovering the joys of the Rocky Mountains. She then detoured west to Colorado and enjoyed 11 years teaching yoga in Vail before returning to her hometown of Glasgow, Scotland in 2020 to focus on family and writing.