A guide to running safely at night – how to make after-dark a good time to run
Discover the top tips to carry on with your run sessions when summer turns into fall and winter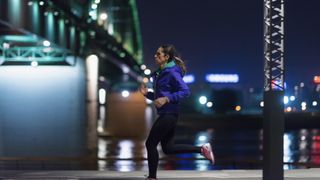 (Image credit: Getty Images)
The long days of summer make it much easier to schedule a run when it's light. Come the autumn and winter and you will need to be stricter with your timings for a run when the sun is up. For many people, this is difficult to do and so it's usually necessary to run at night.
There are obviously more potential dangers when running after dark or before the sun rises, compared to daytime running. It's worth checking out the best time to go running, too.
Here's our guide to running safely at night.
Be seen
Runners are vulnerable to being invisible after dark especially if they wear darker colours. Make sure you choose running clothes that are bright and light-coloured.
Look for items that have reflective details – and the more the better. These features will be picked up by the lights of vehicles, which is especially important if you are running near motorised traffic. Many of the best running jackets and the like are designed with reflective detailing in this day and age, though it's not a given.
Wearing lights and extra reflective gadgets can also make running safer at night. There are products, both red and white lights, that can be worn on the upper arm, around the head, on the ankle or attached to your running pack.
Run in lit areas
If you want to be seen and see where you are going at night or in the early morning, it might be that you need to stick to routes in streets where there are bright lights.
It is also likely to be safer to run on smoother surfaces, such as pavements and in lit streets.
Take extra care when crossing roads when it's dark because drivers might be slower to see you on winter nights or early mornings.
See where you are going
Many runners use a head torch – or a lamp held in the hand or attached to the chest – so they have a good view of the route ahead.
The best headlamp is one that also allows you to get away from the streets and venture on to trails. Discover why you should try running with a headlamp.
Don't wear headphones
It's safer when running to avoid using in-ear or noise cancelling headphones. Some of the best running headphones that play the sounds through the bones behind the ears and then allow you to hear the traffic and other things about you. But to be safe, why not have your wits about you when running at night?
More tips for running safely at night
Know your route
Winter running is likely to be colder and potentially wetter and more slippery. Sticking to running routes that you know best will enable you to judge whether it's a safe place to run in the dark.
If you know your route, you won't get lost and this is also going to ensure you run more safely at night.
Tell someone where you are going
If you plan to run solo at night it's safer to tell someone where you are going and how long you might be. If something does go wrong, they will know to raise the alarm.
Buddy up
If you are worried about running in different locations at night, you could arrange to meet someone else. It is usually said to be safer to run with another person or as part of a group.
If one of you has an accident, it's better to be with another person to raise a call, especially in winter when you will end up cold if you have to stay still for too long.
Join a club
The winter can be tough for motivation but if you are part of a running club you are more likely to keep up with your training. In addition, you'll be safer running with a group of like-minded people.
Let someone else choose the route and enjoy running as part of a group.
Wear the right kit
Running after dark or before the sun rises will mean it is much likely be colder. Stay safe by choosing clothing that can be layered. Several layers of thinner clothes, such as a base layer t-shirt, then a long-sleeved top and then a windproof or waterproof running jacket make sense for night running.
As it gets chillier, it's also worth thinking about running tights/leggings, running gloves/mittens and running headwear.
Carry extra kit
Take a running pack and carry spare items, such as a lightweight insulated jacket, gloves, a foil blanket, new batteries for your headlamp and mobile phone. It's a good idea to have an ICE (In Case ion Emergency) number in your phone, too, in case you or someone else needs to make a quick call.
Use your common-sense for running safely at night – and focus on the fact that the longer days of spring and summer won't be too far away.
All the latest inspiration, tips and guides to help you plan your next Advnture!
Fiona Russell is a widely published adventure journalist and blogger, who is better known as Fiona Outdoors. She is based in Scotland and is an all-round outdoors enthusiast with favourite activities including trail running, mountain walking, mountain biking, road cycling, triathlon and skiing, both downhill and back country. Her target for 2021 is to finish the final nine summits in her first round of all 282 Munros, the Scottish mountains of more than 3,000ft high. Aside from being outdoors, Fiona's biggest aim is to inspire others to enjoy the great outdoors, especially through her writing. She is also rarely seen without a running skort! Find out more at Fiona Outdoors.