The best running headlamps: for running trails and roads in the dusk or dark
For running at dusk, dawn or through the night, the best running headlamps offer lightweight comfort and plenty of battery life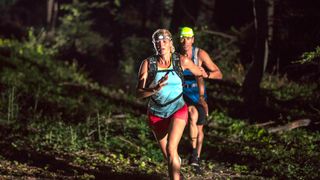 (Image credit: Getty Images)
The best running headlamps give you the freedom to spend more time out running. No longer do you need to be hemmed in by daylight hours – with a comfy, bright light beaming out from your forehead (when are they going to invent an app for that?) you can suddenly run your favorite daytime routes in the dark, and even explore new ones too if you're ready for a challenge.
The really fantastic thing about night-running is that it refreshes your old, tired routes like a sip of cool cider on a rose-tinted evening. That path you've trodden a million times becomes different, darker, unknown… more exciting. Climbing your favorite local hill by moonlight is magical; you'll want to stop for a moment to look at the stars or admire the city lights below.
These days the best headlamps are so light, compact and durable you can pop one in your running pack just in case you feel like exploring a little bit further on your evening jaunt, or watching the sun go down over a particularly gorgeous bit of mountainside (though always keep in mind these tips for running safely at night).
You might pick a super-light, just-in-case headlamp for running like the Black Diamond Sprint with 225 lumens of brightness, or you might plan to be out for hours and choose one with a longer battery life like the 400 lumen Silva Trail Runner Free Hybrid. Maybe you need a brighter boost output like the 950 lumens max power of the Petzl Swift RL on Reactive Lighting mode, or perhaps supporting ethical businesses is important to you via the BioLite Headlamp 750.
There are many, varied reasons why you should try running with a headlamp, and the night is waiting for you – so why not embrace the dark side with the best running headlamps.
How we tested the best running headlamps
All of the best running head torches were put to the test on dark trails and unlit roads and country lanes during winter training runs.
The best running headlamps available right now
Silva Trail Runner Free H
A fantastically versatile combination of light output, light weight and battery life for running and hiking
RRP: $120 (US) / £100 (UK) | Weight (incl battery): 113g / 4oz | Max light output: 400 lumens | Average run time: (Low) 12 hours / (High) 2.5 hours | Max beam distance: 80m / 262ft | Water resistance: IPX5 (waterproof)
Light yet durable
Waterproof to IPX5
Big, easy-to-use on / off button
Long battery life
Slightly uncomfortable
Quite a high price
The Silva Trail Runner Free H is one of our favorite head torches for running because, at 113g / 4oz, it's light enough to sling in your pack just in case things don't go to plan and you end up running into the night even when you didn't mean to; but it also kicks out enough light (max 400 lumens for max 2.5 hours) to be useful on testing mountain terrain.
The H stands for Hybrid – it has a rechargeable battery interchangeable with three AAAs, making it doubly useful if you want to take or buy spares on a long race or remote trip. The cable to the battery pack is cleverly encased within the headband so there are no wires to catch around the head. Plus, there's a neat red light or strobe in the back, button-accessed within the battery pack housing – great for staying visible on dark roads.
The Trail Runner Free H also benefits from Silva's Intelligent Lighting system: a floodlight combined with a longer, more diffused spotlight in one beam, which means you can see the terrain under your feet while at the same time also getting an impression of your surrounding features for navigation.
The only minor downside is that the padding behind the lamp is only on one side, so it's not quite as comfy as previous incarnations of this head torch. It's still hard to beat, though.
Petzl Swift RL
A bright headlamp with a nifty automatic lighting adjustment feature that you may or may not be a fan of
RRP: $125 (US) / £100 (UK) | Weight (incl. battery): 102g / 3.6oz | Max light output: 900 lumens (Boost) | Average run time: (Low) 50 hours / (High) 2 hours | Max beam distance: 150m / 492ft | Water resistance: IPX4 (water resistant)
Light
Long battery life
Rechargeable battery via micro-USB
Battery life indicator
Battery not removable
Doesn't take AAAs
No red light at rear
On / off button could be bigger
Petzl have made a great headlamp with the Swift RL, which is lightweight (just 102g / 3.6oz) but gives out 550 lumens of brightness on max power for two hours.
The maximum output is 900 lumens for 2-30 hours (but that is on Petzl's Reactive Lighting mode, hence RL in the name). Turn this mode on and suddenly the torch detects what brightness it thinks you need, which in some situations works perfectly, saving and prolonging your precious battery and allowing you to focus on your running, climbing or hiking without having to reach up and press a button. However, we found that running with other people who were wearing very bright head torches reduced the light coming from the Swift RL when we really did still need it to light up lumpy ground underfoot. Oncoming car headlights and even reflective roadsigns also confuse it into dropping the light level too, suddenly leaving you in the dark.
The lamp is light, but it's all up-front, which makes it seem a bit top heavy and there's no rear safety light unless you clip on a small additional light. However, the split headband at the back is the definitely the comfiest fit for those with ponytails.
Best lightweight headlamps for running
Black Diamond Sprint
An ultralight, rechargeable, water-resistant headlamp, great for roads and easy trails
RRP: $65 (US) / £50 (UK) | Weight (incl. battery:): 50g / 1.8oz | Max light output: 225 lumens | Average run time: (Low) 4 hours / (High) 1.5 hours | Max beam distance: 40m / 131ft | Water resistance: IPX4 (water-resistant)
Ultralight and comfy
Rain resistant IPX4
Rechargeable via micro-USB
Inexpensive
No red light at rear
Not hugely bright
Only lasts 1.5 hours on max
Doesn't take AAAs
A little complicated
Wow… the Black Diamond Sprint truly is ultralight. At almost half the weight of the other headlamps on test (50g / 1.8oz), this is definitely one to pop in your pack in case you're out longer than you expect to be, losing yourself in the beauty of a sunset.
For such a tiny, light headlamp the Sprint packs a serious punch with 225 lumens on max power for at least 1.5 hours, or 120 lumens for four hours on the medium setting. This is plenty bright enough to run happily at night on roads and easy trails, but for more technical terrain, faster off-road running and night navigation most people will want a brighter light.
It's comfy, very water resistant, has a rechargeable lithium battery and a battery life indicator on the side, but annoyingly you have to read the instructions (and even worse, remember them!) to be able to operate all the brightness modes: the dimmer function is a little tricky and the genius quick-power boost side-tap only works with tech-compatible gloves.
Best waterproof headlamps for running
Fenix HL60R
A submergible, shockproof, rechargeable headlamp for extreme sports with very good battery life and super-bright turbo mode
RRP: $75 (US) / £75 (UK) | Weight (incl. battery): 178g / 6.3oz | Max light output: 950 lumens | Average run time: (Low) 100 hours / (High) 48 mins | Max beam distance: 116m / 381ft | Water resistance: IPX8 (submersible to 2m)
Extremely waterproof and durable
Rechargeable via micro USB
Also takes 2 x CR123A lithium batteries
Battery charge indicator
Comfy, wide headband
A little heavy and bulky
All weight on the forehead
Doesn't take 3 x AAAs
No rear red light
Okay, so the Fenix HL60R headlamp may be slightly on the heavy side (178g / 6.3oz) for runners but the specs certainly explain why: this is the most bombproof head torch you'll ever meet, and it's fully waterproof down to 2m even with the micro-usb side-port housing open. One for the most gnarly scramblers or extreme butterfingers amongst us then!
The five levels of brightness and their corresponding battery levels are excellent too with a high of 950 lumens (that's impressively bright!) lasting 48 mins, while the one you're most likely to use for trail running – the 400 lumen mode – lasts an impressive three hours.
This combination of brightness, battery life and ruggedness and will see you for many mountain miles on tough multi-day ultra running. For road running you'll be content with 150 lumens no problems and that's ten hours of run time. It casts a neutral white beam which lights the way very clearly for running (116m / 381ft long in 150 lumen mode) and makes it easy to pick out navigational features quickly; and we love the large, textured side button – just one button to rule all the light settings, simple and easy.
If you like to run a long way in the dark and rain, this head torch is your perfect match.
LED Lenser HR7 Core
A fantastically robust, waterproof head torch for running with a unique swivel bezel on the lamp for scrolling from spotlight to floodlight
RRP: $130 (US) / £100 (UK) | Weight (incl. battery): 259g / 9oz | Max light output: 1,000 lumens (boost) | Average run time: (Low) 65 hours / (High) 4 hours | Max beam distance: 250m / 820ft | Water resistance: IP67 (waterproof for 30mins up to 1m submerged)
Completely waterproof for 30 mins
Rechargeable via own magnetic charging cable to USB
Comfy, wide headband
Bright 1000 lumen boost mode
Battery life indicator
Swivel focus for floodlight or spotlight
Heavy
Cable from lamp to battery
No red light at rear
Does not also take 3 x AAAs
The two unique selling points of this otherwise much heavier head torch is that: first, it's completely waterproof; and second, it boasts an innovative swiveling bezel around the lamp, so you can switch from floodlight to spotlight and everything in between – great for personalizing your illumination.
This is a wonderful touch and means that you can really quickly and easily tailor the beam to the road, path or trail you're running on. And yes, you can drop the HR7 Core headlamp into a lake, a puddle or even down a toilet, and it will survive for 30 minutes at up to a depth of one meter; fantastic news for clumsy runners!
As such, it has its own magnetic, waterproof charger connection to USB rather than the more common Micro USB seen in the others here.
The only real downside is that the HR7 is not sleek-looking and is a bit of a heavy beast, at over twice the weight of most of the others here (259g), hence the nice, wide, comfy headband and overhead strap. However this does also mean it should take a fair beating to break. A good one for children or teens, a little less so for running fast and light.
Best running headlamp for the environment
BioLite Headlamp 750
A neat-and-tidy rechargeable head torch with great battery life, interesting 'Regulated' or 'Constant Runtime' modes, and a bright booster beam when you need it
RRP: $100 (US) / £100 (UK) | Weight (incl. battery): 150g / 5.3oz | Max light output: 750 lumens (boost) | Average run time: (Low) 150 hours / (High) 7 hours | Max beam distance: 130m / 426ft | Water resistance: IPX4 (water-resistant)
BioLite funds renewable energy
Rechargeable via micro-USB
Battery charge indicator
Comfy, wide headband
Rear red light beam and flash
Fairly light but slightly heavier than most here
Doesn't take 3 x AAAs
A little complicated
The innovative BioLite Headlamp 750 is fab first and foremost for the environmental and societal ethics of the company itself. BioLite sells outdoor kit so the founders can help "families living in energy poverty across India and Africa." (Look up the BioLite HomeStove (opens in new tab), which reduces toxic emissions by 90% – it's fantastic.)
For that reason alone we love this product, but how is it for runners? Slim and sleek-looking, it's very comfy and the large lamp button is easy to use with gloves on. There are eight light settings in total including red, flood and spotlights up front, while at the back are two buttons, one for the rear red beam and strobe while the other controls the 30-second 750 lumen burst from the front of the headlamp. This is a great brightness boost but a button up front would be easier for runners to use.
The main high setting then is 500 lumens, which lasts for two hours on what they call Constant Runtime – aka, definitely 500 lumens the whole time, which is what every headlamp brand should really be quoting here. It then lasts seven hours in Regulated Runtime where it auto-dims gradually on the theory that your eyes adjust to the darkness. It's a nice battery-saving feature, and if you notice it's not bright enough, you can always switch back to Constant.
And here are a few more of the best eco-friendly outdoor brands.
Best budget headlamps
Alpkit Qark
An amazing-value head torch that ticks all the right boxes from weight to waterproofness, from light levels to battery life
RRP: $46 (US) / £35 (UK) | Weight (incl. battery): 108g / 3.8oz | Max light output: 580 lumens | Average run time: (Low) 18 hours / (High) 2.5 hours | Max beam distance: 150m / 492ft | Water resistance: IPX6 (waterproof but not submersible)
Lightweight and comfortable
Rechargeable via micro USB
Also takes 3 x AAAs
Battery life indicator inside battery when plugged into charger
Swivel focus for floodlight or spotlight
No red light at rear
Looks bulky, plasticky
Silicone grippers on the headband would be a nice touch
So the Alpkit Qark (no "u", we did check) must win the best value award of any running headlamp test. Astoundingly this light (108g / 3.8oz), bright headlamp is packed full with all the features a runner needs including three light settings plus a red beam as well, all-accessible via simple button clicks.
The light levels are pitched well for running: 580 lumens of bright, white oval-shaped light or a spotlit beam for 2.5 hours is great for navigating under cloudy skies while the medium setting of 270 lumens still delivers plenty of light over its 100m-length beam, which is fine as your main setting if the ground isn't too technical and you're not sprinting like a mad hare.
That middle light level lasts an impressive five hours and the rechargeable lithium battery makes sure it doesn't gradually fade out, but should you need to recharge it you can swap in three AAA's, which is nice and versatile. The 30 lumen minimum is good for 18 hours in an emergency or reading in your tent.
There is even a great swivel bezel on the lamp to give you full control of the flood or spotlight beam. The plastic lamp housing and design aren't as sleek or stylish and don't seem quite as durable as some of the others here, but who can argue with this price tag?
Proviz LED 360 Antares
A low-priced headlamp with three light settings, a strobe and a red beam that runs on three AAA batteries
RRP: $70 (US) / £40 (UK) | Weight (incl. battery): 98g / 3.45oz | Max light output: 500 lumens | Average run time: (Low) 73 hours / (High) 20 hours | Max beam distance: 100m / 328ft | Water resistance: IPX2 (Splash proof)
Light
Comfy on head
Inexpensive
Bright enough for running
Only splashproof
No red light at rear
Only takes 3 x AAAs
500 lumens for 20 hours is misleading
If you need to be careful with your cash, consider the Proviz LED 360 Antares headlamp. It's nice and bright at 500 lumens (when the three x AAA batteries are new), the headband is very easy to adjust, and it sits very comfortably on your head.
The button is large and easy to press, with a max spot beam, high-flood beam, low-flood beam, red beam and flashing modes. Beware the large figures claimed for burn time, however. As this torch only uses three AAA batteries, the light output drops off gradually over time, so you don't get 500 lumens on that highest setting the whole time, especially not towards the end of the battery life.
In contrast, a rechargeable lithium battery (as some of the other head torches in this test use) will kick out the same level of brightness until its very limit, at which point it will either conk out altogether or (as with the high quality brands) fall back to a safety reserve-mode lower light setting that usually lasts a few hours to get you out of a sticky situation. As long as you're okay with that, this is a fantastic piece of kit for a great price.
What to look for when buying the best running headlamps
The best headlamps for running can be expensive, so before you make an investment, consider the following important factors…
Brightness
It's all very well having a superbright head torch that whacks out 1,000 lumens on a boost setting, but what about its other lighting modes – are they useful too?
For technical trails and night navigation, 400-plus lumens fits the bill. But for easier, slower, less technical trail running, 200 lumens is fine. For road running, or a reserve mode, around the 100–150 mark works well, too.
Battery life
Battery weight is the limiting factor in beam life – the lighter you go, the less time and less bright you can expect your lamp to burn. And be aware that regular AAA and AA batteries drop off gradually in power soon after use, whereas rechargeable lithium batteries hold a more consistent level until almost exhausted.
Weight
As above, longer-lasting batteries are unfortunately heavier but there are different designs to offset heavier batteries, like placing the battery pack at the rear of the head for better balance, or even an extension cable so you can pop it in your running pack.
Size
Without compromising on the brightness and battery life that's right for you, the smaller the better in terms of both the lamp and the battery, so that you can easily stow it away in a running pack pocket.
Ease of use
One thing that is better off being larger is the on / off button, which needs to be nice and big so that you can find it easily in the dark and use it with running gloves on. Scrolling through the light settings needs to be intuitive too.
Headband
Make sure the headband is easy to adjust, even when you're running, so that if you do need to make on trail alterations, you can do so without stopping. An anti-slip silicone gripper inside is brilliant for preventing the headlamp travelling southwards towards your precious nose area!
Rear light
For road running especially, having a small red light on the back of the headband is an excellent safety feature, allowing cars to see you.
No darkness!
Ideally the head torch should cycle through all the brightness modes click-by-click and then repeat them rather than TURN OFF as the last option, so you're not left in the dark mid-stride. The best way of turning a headlamp on or off is a two-second hold-down of the main button, or similar.
Emergency lighting modes
When a headlamp's list of features boasts that it can last for 100-150 hours on its lowest setting, that can be a little misleading. What isn't mentioned is that the lumen output of the lowest setting is probably around five to seven for that length of time. To put that into context, a single candle measures in at 12 lumens; so you'll have half a candle come any emergency, albeit for a lot, lot longer than a candle would last for! A super-light backup headlamp (like the Black Diamond Sprint) can be a better option than faffing with spare batteries or a charger in the dark, too.
Flood and spotlights
It's handy to have more control over whether the headlamp emits a flood or spotlight beam so some head torches facilitate this with a swivel bezel or extra button clicking. However, it's just one more thing to think about and do, so going for a head torch you trust to combine both in one beam is also a good shout.
Water resistance
Most of the best headlamps for running are water resistant, because, for obvious reasons, you don't want to wear them under a hood. So check that it has an IPX4 rating or higher to make sure it's rain resistant or even better, waterproof.
Battery charging
The quicker the better, obviously, and many of the best running headlamps have micro-USB to USB connectors so you have a good chance of finding a spare if you've forgotten yours. It's super handy to know how much battery your head torch has left so look for lights that display its charge status. A low battery warning flash or red light is also useful.
Pass-through charging
This is when the headlamp stays on while you charge it – not common as of March 2022, but hopefully it will be one day as it's a super-useful feature and saves you money on buying a spare rechargeable battery and / or landfill from not using regular batteries.
Quality
The blurb for a lot of running headlamps leads with the high lumens of their boost mode, then boast about the longest burn time for their lowest mode next – this can be misleading. Some actually claim the impossible, like 500 lumens for 20 hours for example. Look at the leading brands' outputs as the most-trustworthy reporting on lumens output vs battery life and if cheaper versions seem to offer way more, grow suspicious. Do some digging, read some reviews (oh good, you're already doing that – sweet). We don't need to tell you that avoiding hypothermia and a possibly even a mountain rescue call-out on a cold, wet night is worth more than money can buy.
The co-founder and former editor of Trail Running magazine, Claire now runs the YouTube channel Wild Ginger Running, creating films packed with trail- and ultra-running content. An award-winning journalist, writing for outdoor and adventure sports magazines and websites, her first book The Ultimate Guide to Trail Running 5k to 50k is out in January 2021. Claire also speaks and presents at events and races.
All the latest inspiration, tips and guides to help you plan your next Advnture!
Thank you for signing up to Advnture. You will receive a verification email shortly.
There was a problem. Please refresh the page and try again.