Running to work: how to use your commute to improve your fitness
A guide of the pros and cons of incorporating your running sessions into your commute to work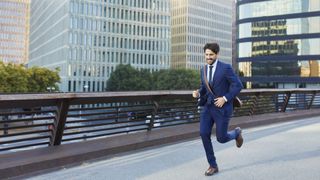 (Image credit: Getty )
When we say "running to work" we're not talking about sprinting to the office because you're late. This is more about the idea of transforming your commute into an excuse for a run.
Let's face it, if you need to travel to your place of work, it can often seem like a waste of valuable time. In addition, busy work and home lives frequently put barriers in the way of a much-wanted run for many people.
So, why not make use of your commute for running to work?
The double benefits are that you will have the time to run – and the usual journey to the office can be replaced by something healthy and more worthwhile.
How to run to work
Is your workplace within a reasonable running distance of your home? If so, this means you can easily swap a few commutes by car or public transport for a run each week.
If you live further from work than you can realistically run before or after work, why not run part of the commute?
You could drive closer to the office, park somewhere safe and then run the rest of the route.
Alternatively, using public transport makes it simpler because you can alight a bus or train a set distance from work and run that part of the journey.
Running to work: morning or evening?
If you like to get your exercise done early so you can focus on the rest of the day, it might be that a morning run to work is the best choice for you.
In addition, you will know to the nearest few minutes how long a run commute will take so this means you will arrive at the office on time. If you drive, you'll know how difficult it can be to judge the commute time due to traffic congestion.
It's a great feeling to know that you have done your running session before starting a day's work.
However, you will need to allow time for a shower at the office. Incorporating running sessions into your commute also requires organisation because you'll need to ensure you have your office clothes with you.
For other people, a running commute home could be the best bet. It's a great way to de-stress after a busy day at the office and it will help you to feel more relaxed and calm by the time you get home.
A run from work to home also has the advantage of allowing you to have a shower and then change into comfy clothes once you get home.
Again, it is a plus to be able to squeeze a run into your work day rather than having to find extra time in the evening for a training session.
Running to work: advantages
It can be far less stressful to run to work. If you run, you won't be held up by traffic and you will be able to more accurately predict the time it will take. Worrying less about the commuter stress, will allow you to arrive at your workplace feeling fresher and more relaxed.
For routes of up to about six miles, it may well be faster to run to work than travel by public transport or car.
You will save money by running to the office, because you'll reduce the amount you spend on petrol or public transport.
It is better for the environment to run, rather than drive or travel by bus or train. You are reducing carbon emissions if you incorporate your running sessions into your commute.
An A to B run – home to work or work to home – creates great motivation. If you know you need to be somewhere by a set time you are far more likely to run at the right pace.
Can you find trails for your running commute, or for some of the route? A trail run to, or from, work will bring you closer to nature and that has benefits for mental health, such as reducing stress and your chances of depression.
Many people suffer from a lack of fresh air and daylight because of long work hours and a commute by car or train. If you run to or from the office you'll benefit from being outdoors more.
If most of the commute run is on tarmac, why not use this as a time for concentrating on running stamina or pace? You could also do some faster running, by running faster between lamp-posts or similar.
And, more importantly, your fitness will improve if you use commuting time to run rather than sit in a vehicle. This is a great way to boost your running training plan.
Running to work: disadvantages
If you run to the office, you'll arrive feeling sweaty. If it is raining as you run, then you can add another disadvantage of arriving at work wet. You'll need to ensure you can get a hot shower and a change of clothes for work.
Running to work requires good organisational skills. You'll need to make sure you have all the right clothes with you, as well as a towel and toiletries.
This next point could be any advantage depending on your view but you will probably need to buy a new set of running gear and the best trail running shoes. The chances are you will want to leave some running kit at your place of work, so that means you will need to spend money on new running kit.
If you run to work, how will you get home again? The chances are your run will be too far to do it every morning and evening. So, you'll need to make sure you can get public transport from the office to home, or find a colleague to give you a lift.
Logistics could be tricky. For some people, it might be that they choose to run to work and then cycle home. The next day, you can swap this by cycling to the office and running home.
If you run to work, it could leave you feeling tired and drained by the middle of the afternoon. You'll need to make sure you have extra food to fuel you through the day.
Is running to work worth it?
Running to work is a great idea for many reasons and while it will take a bit of forethought and planning it should be easily possible for many office workers.
Then again, the Covid pandemic may have changed your work life such that you now work from home, but you could still create a "commute" by going for a run from home before you sit at your desk or straight after work.
All the latest inspiration, tips and guides to help you plan your next Advnture!
Fiona Russell is a widely published adventure journalist and blogger, who is better known as Fiona Outdoors. She is based in Scotland and is an all-round outdoors enthusiast with favourite activities including trail running, mountain walking, mountain biking, road cycling, triathlon and skiing, both downhill and back country. Her target for 2021 is to finish the final nine summits in her first round of all 282 Munros, the Scottish mountains of more than 3,000ft high. Aside from being outdoors, Fiona's biggest aim is to inspire others to enjoy the great outdoors, especially through her writing. She is also rarely seen without a running skort! Find out more at Fiona Outdoors.