Scree running: the dos and mainly don'ts of the controversial activity
We talk to an elite runner about scree running, why it's problematic, and how to approach running on scree safely when you can't avoid it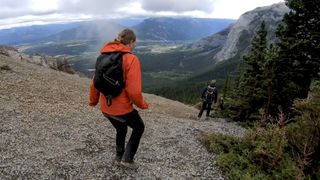 (Image credit: AscentXmedia)
On high peaks like Colorado's 14ers and the Scottish Highlands, as well as in areas such as the Lake District in England, scree fields can be a source of dread for hikers and runners, providing difficult, slow-going terrain. But for an undaunted few, they're just an opportunity to partake in some thrilling scree running. Scree is a term for small, loose rock debris formed by periodic rockfall that is often found at the bottom of cliffs and crags on mountains and running on it can be an exhilarating experience for the daredevils among us. But before you go hunting for a scree field to sprint down, it's important to know that it is also risky and controversial in the outdoor community.
"Scree running can be really, really fun, but there definitely are some considerations when you find yourself running on a bit of scree," warns elite trail runner and coach Brian Sharp of Mountain Wave Coaching, who talked us through the impact of scree running on our mountains, and how to approach it safely if you do find yourself unable to avoid a scree slope on a trail run.
What is scree running?
For some of us, trail running is simply a way to run on softer surfaces and enjoy the sights and sounds of nature, while for others, it can quickly evolve into a pretty extreme sport involving dizzying slopes, high altitude conditions, and unstable terrain like sand dunes and scree fields.
Scree running is very simply the activity of running down a scree slope. Scree running can make for a very rapid descent, as when the stones move under your feet you find yourself part running and part sliding, and you can get down a very long slope in a very short amount of time. There are some trail running races such as the Glamaig Hill Race on the Isle of Skye in Scotland that are famous for incorporating gnarly scree slopes, however, as Sharp explains, scree running isn't actually an activity in and of itself.
"I find it very hard to believe that people are making their route decisions based on where the scree will be. I think that if there's a bit of scree on your run you might enjoy doing it," explains Sharp, elaborating that many scree fields will take you down into a gully where the only way out is to climb back up, so scree running would typically only take place in an area where the existing path takes you through scree and would usually only last for a few seconds.
Is scree running dangerous?
A quick search and you can find some hair-raising videos online of runners flying down long, steep scree slopes in slow motion. These clips are certainly eye catching, but it's also hard to ignore how dangerous scree running appears. Trail running already exposes you to a slightly increased risk of injuries, such as rolled ankles and trips on uneven terrain, while scree running adds a lot of velocity on unstable ground covered in sharp rocks.
"The risks of personal injury while scree running can be anything from cuts by rocks and boulders being jarred into your ankles to falling over and breaking bones," says Sharp, adding that if you do get injured on a scree slope, it might be more difficult for rescuers to find you because you won't be on the path.
Does scree running cause erosion?
Arguably more importantly than the risk of personal injury, Sharp explains that scree running is contentious because of its potential impact on the mountain.
"Scree running is controversial because you're creating unnecessary erosion on a part of the hill that is not the path, so it's really good practice to be promoting that people stick to the path."
As you run down scree fields, you move the stones down with you and after a while, the scree will be gone, as evidenced in many parts of the Lake District. Of course, all hiking and trail running causes erosion, but this is why hiking trails are constructed – to limit that impact. By nature, scree running often takes you off the designated path and the high speed of it moves a lot of rocks.
"Scree running is quite a destructive form of movement on the mountain. You're displacing a lot of rocks at one time. If it became super popular, it really wouldn't take long for the mountain to change shape," says Sharp.
If you have to do it, here's how to approach scree running
According to Sharp, you can pretty much always avoid scree running if you want to, either by sticking to the path or by slowing down and walking if the path that you're on takes you through a scree slope. If however, you do find yourself with no other option and want to run on a bit of scree, here are Sharp's top tips and considerations for running on scree safely:
Have the right footwear: make sure you're wearing trail running shoes with really good grip and a carbon plate in the sole which will help absorb a lot of the impact.
Wear gaiters: small, sharp rocks getting lodged in your shoes are painful and can cause injury, so run with gaiters to keep rocks out.
Bring a buddy: scree running increases the risks of trail running, so make sure you don't do it alone in case you get injured.
Slow down: the sliding aspect of scree running plus gravity can have you moving very quickly on a steep slope, so take it slowly to reduce your chances of injury.
Focus on balance: hold your arms out for balance and run with your center of gravity slightly backwards.
Dig your heels in: this will help stabilize you with each step.
Watch the rock: stop running if the small rocks become larger boulders as these are more dangerous.
Study the terrain: do a bit for field research before you go out either by hiking the area first or using a route finding app and understand the terrain you're likely to encounter.
Leave untouched terrain alone: if the scree looks like it's never been touched, leave it that way.
Slate is best: scree made from slate is soft and rounded because it's more influenced by weather, so it's more forgiving underfoot.
All the latest inspiration, tips and guides to help you plan your next Advnture!
Julia Clarke is a staff writer for Advnture.com and the author of the book Restorative Yoga for Beginners. She loves to explore mountains on foot, bike, skis and belay and then recover on the the yoga mat. Julia graduated with a degree in journalism in 2004 and spent eight years working as a radio presenter in Kansas City, Vermont, Boston and New York City before discovering the joys of the Rocky Mountains. She then detoured west to Colorado and enjoyed 11 years teaching yoga in Vail before returning to her hometown of Glasgow, Scotland in 2020 to focus on family and writing.