Easiest 14ers in Colorado: 14 splendid peaks in the Rockies
Our guide to the easiest 14ers in Colorado gets you to the highest peaks without technical gear or long treks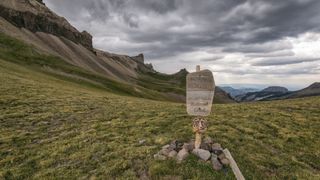 (Image credit: Patrick Lienin)
Asking which peaks are the easiest 14ers in Colorado is a bit of an oxymoron; mountains that rise to over 14,000ft tall are by nature difficult to climb.
Colorado is home to 53 14ers (or 58 depending on how you measure it) and every one of them boasts some pretty significant elevation gain which takes its toll on your physiology, and they all pose serious weather hazards like electrical storms, snow and ice.
All of that said, there's nothing quite like standing on the summit of one of the highest points in the Colorado Rockies and taking in panoramic views of the state's incredible alpine beauty. Bagging a 14er or two is a worthy challenge and if you're visiting the state or looking to get started with mountaineering, some of the easier climbs are where you should begin, so we've compiled a quick guide to the easiest 14ers in Colorado.
What makes a 14er easy?
If you really want the easiest route, you'll go with either Mount Evans or Pikes Peak, both of which you can drive to the top of, but if you're reading this you're probably looking for something involving a little more adventurous than a day in the car.
Colorado's 14ers range in difficulty from Class 1 day hikes, meaning you just walk up without using your hands or any special equipment, to Class 4 overnight climbs requiring the use of technical gear like ropes and harnesses. (Our guide to hiking trail difficulty tells you what you need to know about the difficulty of respective routes.) Needless to say, if you're new to mountaineering, you'll want to start with a Class 1 hike and steer well clear of any route that involves equipment.
The majority of Colorado 14ers fall into the Class 2 category, meaning they require a little scrambling and use of hands for balance. Most of these would be okay after you've tested yourself out on a Class 1 route and got a feel for how you respond to high altitude; some people experience headache, confusion, nausea and shortness of breath at high elevation, none of which you want when you're navigating tricky terrain.
The other factor that influences the difficulty of a 14er is the distance of the route. Some Class 1 hikes are incredibly long, such as Pikes Peak which involves a 24-mile round trip journey if you're going on foot. So to narrow things down, we've included only Class 1 and 2 hikes that come in an eight miles or less round trip, so even at a relatively slow pace, you could be off the hill in 4-6 hours. We also left off Culebra, which falls within our parameters but is privately owned, and requires a $100 fee and a permit that needs to be arranged in advance, which diminishes the ease factor considerably.
What's it like hiking a 14er?
You can expect a good physical challenge and awesome scenery on all Colorado 14ers. There can be snow on the trail at any time of year. Some 14ers start below the treeline, meaning you'll be in a forest at the beginning. Trees stop growing at 11,000ft in Colorado, so at this point in your hike you move into rockier, more exposed terrain. Some trails begin well above treeline which means you're more exposed but have amazing views the whole way.
Colorado is pretty great about having well-maintained and well-marked trails, but you'll often encounter boulder fields (they're exactly what they sound like) near the top, which can be difficult to navigate and require you to rely on rock cairns to follow the trail.
The climbs can alternate between mellow and very steep, but there will usually be switchbacks in the steepest sections to make the hiking a little easier. It's common to get warm and sweaty during your hike, even in cool weather, but will always be much colder at the top.
What gear do I need?
Dress in moisture wicking base layers, wear good walking shoes or boots and bring a waterproof jacket that is also windproof since these are lightweight but will keep you warm.
Trekking poles are not just for the elderly – it's a good idea to have a light pair that you can use for extra support on the downhill, which may be steep and rocky.
Finally, though you want to pack light, you must carry plenty of water (Colorado is known for a particularly dry climate), some lightweight snacks and sunscreen – Colorado is not known for its abundant cloud coverage and the sun here is intense.
Mountain safety
When it comes to hiking a 14er, preparation is key. You should really only be hiking these mountains between June and September. At any time of year, conditions can change rapidly at high altitude and you don't want to be above treeline when a thunderstorm rolls in.
Pick a clear day for your hike, you don't want to put in all that effort to sit in a cloud at the top after all, and check the weather forecast again before you leave the house.
Leave early – a good rule of thumb is to be on the trail by sunrise, and back below treeline by noon since Colorado's storms tend to roll in during the afternoon.
Don't hike alone and always tell someone where you are going and when you plan to be back. Read more in our article about mountain safety.
Class 1 Colorado 14ers
There are six Colorado 14ers rated as Class 1, but only three of them clock in under eight miles. Note that there are multiple approaches for every 14er, so be sure to click on the link provided to make sure you're taking the right route.
Handies Peak
Mountain range: San Juan
Distance: 5.75 miles
Elevation gain: 2,500ft
The southwest slope route on this 14er near Silverton makes for a very pleasant first 14er indeed. Depending on where you park you can summit this peak with only 2,500ft of elevation gain, combined with a relatively low mileage and you've got yourself an easy 14er. Best of all, it's located in the remote San Juan mountains and you can enjoy a solitude seldom found on Front Range trails.
Grays Peak
Mountain range: Front Range
Distance: 7.5 miles
Elevation gain: 3,000ft
Grays Peak is a little steeper and longer than Handies, but far easier to get to from Colorado's main population centers. The trailhead is just near the Bakerville exit off I-70, about one hour from Denver so expect crowds in peak season. The north slopes route is the easiest way up, but you can turn this hike into a bigger adventure by summiting nearby Torreys Peak at the same time and do two 14ers in one day.
Quandary Peak
Mountain range: Tenmile
Distance: 6.75 miles
Elevation gain: 3,450ft
Up in high country near Breckenridge Ski Resort, Quandary is a favorite among mountain folk as one of the closer, and easier 14ers to hike. You're certain to see lots of other people and get up close and personal with the mountain goats that live up here. If you want to park at the trailhead, you will need to reserve a parking spot but you can also use the free shuttle service from Breckenridge. The east ridge route starts almost at treeline so you will have spectacular views the entire way.
Class 2 Colorado 14ers
Most Colorado 14ers are rated as Class 2, but only 11 of these peaks have a trip length of under eight miles. Remember this means they'll involve using your hands for balance or even light scrambling.
Mount Sherman
Mountain range: Mosquito
Distance: 5.25 miles
Elevation gain: 2,100ft
At just over five miles roundtrip, you'll probably still have time to explore the nearby high altitude Victorian-era mining town of Leadville after your hike. With a low elevation gain and short mileage when you go via the southwest ridge, this makes for a superb first ascent.
Mount Bross
Mountain range: Mosquito
Distance: 3.25 miles
Elevation gain: 2,250ft
This mountain near the town of Alma might actually be the shortest and sweetest of them all, but there's a catch: Bross sits in a cluster of other 14ers, namely Lincoln and Democrat (and Cameron but not everyone counts that one), and like most people you might be tempted to knock a couple of them off the list in one day. That approach is known as the Decalibron route and is a surprisingly palatable 7.5 mile approach with 3,700ft of elevation gain.
If you're going for Bross and nothing else, take the west slopes route starting well above treeline and enjoy a nice, easy ascent through alpine tundra.
Mount Lincoln
Mountain range: Mosquito
Distance: 6 miles
Elevation gain: 2,600ft
Next to Bross is Mount Lincoln, which on its own is a bit more of a commitment underfoot via the west ridge, but makes for another manageable day hike with some interesting mining ruins from the silver boom to look at on the way. This one can be approached on its own, or along with Bross and Cameron for a bigger day.
Mount Democrat
Mountain range: Mosquito
Distance: 4 miles
Elevation gain: 2,150ft
If you're not combining Democrat with Bross and Lincoln, you're looking at an easy day in terms of distance and elevation. The east slope route starts high for a rocky but accessible ascent.
Mount Bierstadt
Mountain range: Front Range
Distance: 7 miles
Elevation gain: 2,850ft
At a little over an hour from Denver just south of Georgetown, Bierstadt is another popular and heavily trafficked trail. The gentle incline beginning in the beautiful willows via the west slopes makes it even more desirable.
Torreys Peak
Mountain range: Front Range
Distance: 7.75 miles
Elevation gain: 3,000ft
The easiest way to summit Torreys is actually to go via Grays Peak's north slopes. It's the same elevation gain over a slightly shorter distance, believe it or not, and you get two summits for the price of one. If you fancy trying Torreys on its own, you won't be disappointed though – just start from the Grays Peak trailhead and take the south slopes route.
Mount Huron
Mountain range: Sawatch
Distance: 6.5 miles
Elevation gain: 3,500ft
Mount Huron is a bit of a hidden gem a bit south of Twin Lakes and Leadville. It tends to be overlooked by people going for the nearby Collegiate Peaks or intent on bagging the state's highest peak, Mount Elbert, but it's a fantastic day hike and should not be missed. A good four-wheel drive vehicle with high clearance lets you get to a higher trailhead and shorten the day a little, then take the northwest slopes route and enjoy stunning views with less crowds.
Mount Princeton
Mountain range: Sawatch
Distance: 6.5 miles
Elevation gain: 3,200ft
Not far from Huron lies Mount Princeton, the easiest of the collegiate peaks which include Harvard and Yale. The gentle ascent via the east slopes make for an excellent introduction to 14ers – just make sure you start at the higher trailhead to knock off about five miles from your journey.
Mount Evans
Mountain range: Front Range
Distance: 5.5 miles
Elevation gain: 2,000ft
Yes, it's true that you can drive to the top of Mount Evans, which turns some people off and it's definitely disorienting to climb to the top of a mountain and find people there taking pictures from their cars. But, you can get to the top of Evans near Idaho Springs via a perfectly good trail on your own two feet if you take the west ridge route from Summit Lake and still have a beautiful alpine day. You can also get there from Bierstadt's west slopes in only 7 miles.
Mount Belford
Mountain range: Sawatch
Distance: 8 miles
Elevation gain: 4,500ft
Belford only just makes the cut at 8 miles and it involves some fairly impressive elevation gain, so don't let this one be your first 14er (though it would make an incredible first backpacking trip). Belford is another of many 14ers south of Twin Lakes and the northwest ridge approach is the easiest.
Uncompahgre Peak
Mountain range: San Juans
Distance: 8 miles
Elevation gain: 4,500ft
This rocky peak near Telluride offers one of the most distinctive silhouettes of all of Colorado's 14ers. The south ridge route covers 7.5 miles all above treeline and provides some of the most scenic views in the state the entire way up. Though the trail itself is well maintained, there is a risk of rock fall on this hike so you should wear a helmet.
All the latest inspiration, tips and guides to help you plan your next Advnture!
Julia Clarke is a staff writer for Advnture.com and the author of the book Restorative Yoga for Beginners. She loves to explore mountains on foot, bike, skis and belay and then recover on the the yoga mat. Julia graduated with a degree in journalism in 2004 and spent eight years working as a radio presenter in Kansas City, Vermont, Boston and New York City before discovering the joys of the Rocky Mountains. She then detoured west to Colorado and enjoyed 11 years teaching yoga in Vail before returning to her hometown of Glasgow, Scotland in 2020 to focus on family and writing.