What is solar cooking? Meet smoke-free, cost-free cooking
What is solar cooking, and how does it work? We take a look at this cost-saving and environmentally friendly approach to cooking outdoors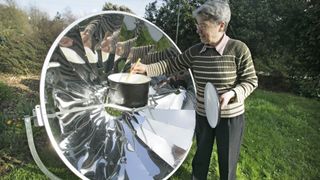 (Image credit: Andia / Contributor)
When you're trying to decide how to cook your sausages on your next camping trip, you probably boil it down to three possibilities: in a pan over your best camping stove, on the barbeque grill, or the old fashioned way – on a stick in the campfire. But what if there was an option that didn't require buying fuel, trying to protect the flame from the wind or smoke getting in your eyes?
With rising prices and more attention than ever before on climate change, some outdoorsy folks are quietly turning to another option – solar cooking. But what is solar cooking, exactly, and is it a viable option for you? We take a look at this cost-saving and environmentally friendly approach to cooking outdoors to help you make up your mind whether or not it's for you.
What is solar cooking?
Just as the name implies, solar cooking means using the energy of the sun to cook and heat your food. Of course, the sun was our original source of energy on the planet, so humans have no doubt been harnessing it for cooking since the dawn of time. In recent decades, it has become a vital tool for people in impoverished countries where access to fuel and electricity is scant, and in some developing countries, it has been a fringe method of cooking that is slowly gaining steam amongst those who want to cut costs or have less reliance on fuel.
How does solar cooking work?
OK, so is solar cooking just cracking an egg on a hot stone and watching it sizzle? Surely you can't bake a loaf of bread in the sun – if it were that hot, we'd have bigger things to worry about than what to eat, after all.
Well, technically frying an egg on a rock would be a form of solar cooking, but the type we're talking about here involves some apparatus to trap the sun's rays – and that actually does allow you to bake bread and cook whole meals, believe it or not.
All solar cooking involves trapping and magnifying the sun's UV rays to generate heat energy. There are a few different kinds of solar cooker for different types of cooking:
Solar box cooker
This involves placing food in a dark colored pot, placing the pot inside a sealed box with a clear lid, then using a reflective object like tin foil or a metal sheet to magnify the sun's rays. The dark color of the pot absorbs more heat, and the see-through lid allows the sun's UV rays to pass through, creating a greenhouse effect, just like when you leave your car out in the sun with the windows rolled up.
A Dutch oven will work for this method, but if you're using a different pan make sure it is cast iron and not painted with dark paint, which can become toxic when heated. Depending on the cooker and conditions, this type of cooker might reach temperatures of around 300F/150C and it can be used to cook soups, stews, casseroles and even bread.
Parabolic solar cooker
This uses a shiny, curved piece of reflective material that looks like a satellite dish to focus the sunlight on a specific point. When you place a pot or a pan on that point, you can cook. Some people make their own out of old satellite dishes. This method gets a lot hotter – potentially up over 600F/300C and means you can also grill and sauté foods.
Solar panel cooker
These are kind of a hybrid of the other two designs, where you place your dark colored pot or pan inside a curved sheet made of reflective material. They're easy to use, get up to about 280F/140C, usually a bit cheaper, and you can do almost any type of cooking with them, from stewing to grilling.
What are the benefits of solar cooking?
Needless to say, there are quite a few benefits to solar cooking which is why the people who do it are so passionate about it.
Solar cooking is free.
With solar cooking, you're not dependent on the availability of fuel and you don't have to know how to chop firewood.
Solar cooking doesn't create any toxic smoke for the environment or your lungs.
Solar cooking means no carcinogens from smoke going into your body through your food.
Solar cooking allows you to cook during a fire ban.
What are the disadvantages of solar cooking?
Although in theory, solar cooking is clearly advantageous for your health and the health of the planet, you might have guessed it comes with a few drawbacks too.
Solar cooking relies on the availability of sunlight – which isn't a given in many parts or seasons, like spring when you might be camping in the rain.
Solar cooking takes longer.
Using reflective material in bright sunlight can be harmful to your eyes and skin and spark wildfires.
Solar cooking can be labor intensive, because you often have to adjust the reflective panels as the sun moves.
So, what do you do if you really want to switch over to solar cooking, but you live in a place that doesn't see a whole lot of sunshine? A nice middle ground is to get a solar-powered camping stove, which has a solar-charged battery but operates just like a regular stove or grill. These often will still work in cloudy conditions and have backup options too. Though the battery itself may have a questionable impact on the planet, you will cut costs on fuel, and time spent looking for it, and reduce the amount of smoke pollution your camping trips create.
All the latest inspiration, tips and guides to help you plan your next Advnture!
Julia Clarke is a staff writer for Advnture.com and the author of the book Restorative Yoga for Beginners. She loves to explore mountains on foot, bike, skis and belay and then recover on the the yoga mat. Julia graduated with a degree in journalism in 2004 and spent eight years working as a radio presenter in Kansas City, Vermont, Boston and New York City before discovering the joys of the Rocky Mountains. She then detoured west to Colorado and enjoyed 11 years teaching yoga in Vail before returning to her hometown of Glasgow, Scotland in 2020 to focus on family and writing.