How to camp in the rain: 10 tips for wet weather expeditions
By Julia Clarke
Our guide to how to camp in the rain provides you with practical solutions to ensure you still enjoy your time sleeping in the wild during wet weather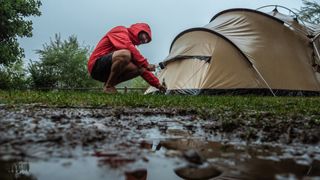 (Image credit: lncreativemedia)
Camping in the rain is never anyone's first choice for fun, but in certain climates and on longer backpacking trips, it can be unavoidable. Though it's certainly not as comfortable as fair weather camping and you won't easily be able to have a campfire, rain in the forecast doesn't have to be a dealbreaker. Our guide to how to camp in the rain provides you with some practical solutions to ensure you still enjoy your time sleeping in the wild.
You will also want to check out our handy guide on how to go hiking in the rain.
1. Check the weather forecast
The first rule of camping in the rain is not to get caught out unprepared. Use one of our recommended weather apps to check the forecast in the area where you'll be camping before you set out. If there's rain in the forecast, you don't have to cancel your plans but it will change what and how you pack for your trip.
2. Weatherproof your gear
If there's rain in the forecast, you can start by packing lots of your gear in separate plastic bags. This way if something gets wet, everything else in your backpack doesn't get wet. Make sure perishable items like your lighter, matches and battery-powered devices like GPS trackers and headlamps are safely in sealed plastic bags.
Your backpack is most likely not completely waterproof, so if you're hiking in, use a dry bag to cover it and keep your gear protected.
3. Dress for success
Needless to say, you'll want to pick your rainy day camping wardrobe carefully. Avoid cotton, which holds onto moisture and dress in moisture-wicking materials including a base layer, then layer a waterproof jacket and waterproof trousers on top for starters. If you're bringing a down jacket for warmth in the evening, synthetic down works better in damp conditions than natural down. If you're hiking in, bring a change of clothes for when you get back to camp so you're not shivering all night long.
4. Bring the right tent
Before you leave, make sure your tent is built to withstand rain. Ideally, you want a double-walled tent with a rain fly and groundsheet for rainy weather. You may also want to place a tarp under your tent for added protection from water seeping in, and follow our guide on how to waterproof your tent if you've owned yours a while. It's also recommended to use a tent with a vestibule so you have a separate area in which to change and leave wet, muddy items like hiking boots so as not to drag muck into your sleeping quarters.
5. Find a safe camping site
Find an area of higher group on which to set up camp. Avoid setting up in a drainage basin, on the banks of a river or the shore of a lake as these areas are more prone to flooding. Also avoid setting up under a tree. Though it might seem like it would provide some shelter from falling rain, falling limbs could be dangerous or damage your tent, while you're likely to have to listen to the constant dripping long after a shower has gone off.
6. Build a shelter
Once you find your campsite, set up a temporary shelter, either using natural materials or with a pop-up tent or tarp if you're able to carry one in. You can pitch your tent under it without getting soaked then leave the canopy where it is, or once your tent is up, move the shelter so you have a communal area to hang out under. After all, if you're camping with a group, it's a shame for everyone to spend the whole time hiding away in their tents so make a dry space in which to socialize, enjoy meals and play games to while away the evening hours.
7. Hang a clothes line
Pack a clothes line or rope, and once your shelter is erected, you can hang any wet clothes up to dry so they're ready for use again in the morning.
8. Light things up
Of course, you want a light source for any camping experience, but a camping lantern or three can add a nice warm ambiance to your camping experience and help make up for the absence of a campfire.
9. Cook with a camping stove
There's few things you'll want more than a hot meal on a rainy night and again, you shouldn't plan on being able to cook over a campfire or using a wood-burning stove. Bring a gas-powered camping stove and cook up a hearty meal to lift your spirits. Do not be tempted to cook inside your tent.
10. Sleep in a synthetic bag
Making sure you get a good night's sleep is half the battle when it comes to a successful camping trip. As we mentioned already, though we love natural down for its warmth, synthetic down is better in wet conditions because it will continue to provide insulation which you definitely want once you lie down to sleep. Pack a synthetic down sleeping bag and for extra protection against the damp, you can put your sleeping bag inside a bivy bag which will also add a little extra warmth,
Julia Clarke is a staff writer for Adventure.com. She is an author, mountain enthusiast and yoga teacher who loves heading uphill on foot, ski, bike and belay. She recently returned to her hometown of Glasgow, Scotland after 20 years living in the USA, 11 of which were spent in the rocky mountains of Vail, Colorado where she owned a boutique yoga studio and explored the west's famous peaks and rivers. She is a champion for enjoying the outdoors sustainably as well as maintaining balance through rest and meditation, which she explores in her book Restorative Yoga for Beginners, a beginner's path to healing with deep relaxation. She enjoys writing about the outdoors, yoga, wellness and travel. In her previous lives, she has also been a radio presenter, music promoter, university teacher and winemaker.
All the latest inspiration, tips and guides to help you plan your next Advnture!
Thank you for signing up to Advnture. You will receive a verification email shortly.
There was a problem. Please refresh the page and try again.