What is a fire ban? Plus hot tips for camping without a fire
We illuminate everything that's allowed when you're camping during a fire ban, what's prohibited, and how to have a great camping trip without a campfire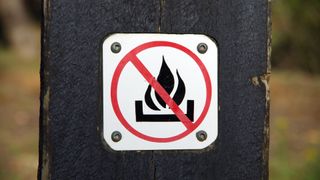 (Image credit: Simon McGill)
When the weather starts heating up, it's inevitable that you start daydreaming about nights spent out in the wild, gathered round the campfire with good friends. But these days, before setting off on any type of camping trip, you'll want to check if there's a fire ban in place as this can substantially alter your plans. So what is a fire ban, and why do you need to know about it? In this article, we cover everything that's allowed when you're camping during a fire ban, what's prohibited, and how to have a great camping trip without a fire.
What is a fire ban?
A fire ban is a temporary measure put in place, usually by local authorities, fire services and forest management departments, that prohibits fires outdoors when there is a high risk of dangerous wildfire conditions that could pose a threat to human life, property and wildlife. These bans vary a little from state to state and country to country, but typically in the US, the Forest Service will work with local fire fighting agencies to determine the need to enact a fire ban when the risk of starting a wildfire is high. Such a fire ban will typically be statewide but only apply to public lands (however it's a good idea to heed them on private land too).
There are usually two stages of fire ban in the US:
Stage 1 restrictions: you can still have a campfire in a National Forest approved fire ring in a campsite
Stage 2 restrictions: campfires and charcoal grills are prohibited entirely, however you can still use a propane gas stove.
Additionally, there may be bans on other activities likely to spark a fire, such as smoking, setting off fireworks and shooting guns.
The likelihood that a fire ban is being enforced is of course higher when the area where you are camping has been experiencing dry, drought-like conditions, however other factors are taken into account such as weather – high winds and lightning, for example – availability of fire-fighting resources and even whether there are likely to be crowds over a given period.
How do you know if there's a fire ban?
Fire restrictions and fire bans can change quickly and you'll want stay informed. Before packing up your tent and best sleeping bag, it's a good idea to check ahead with the local sheriff's office or forest service to find out if there's a fire ban in place. If you've forgotten to check in advance and are camping in a developed campground or backpacking on Forest Service land, always check at the trailhead for information about any fire restrictions in place. Of course, if you're camping in a State or National Park, you can ask the rangers for up-to-date information.
Finally, to be frank, there's a little common sense element too. If you're camping somewhere with typically dry conditions year-round, such as Colorado, Utah, Montana and California, fire bans are very often in place, sometimes for the entirety of the camping season.
How to go camping during a fire ban
It is imperative to heed any fire restrictions in place when you are camping. You might be an experienced camper and think that you know how to contain a fire, but with the right conditions, fire can spread quickly and endanger life and property. Further, wildfires are investigated by law enforcement and you can end up in serious trouble if it's discovered you had one, especially if it starts a wildfire. The two individuals found to be responsible for the 2018 Lake Christine fire near Carbondale, Colorado that burned for three months only narrowly avoided felony charges and had to pay $100,000 in restitution to the victims of the fire.
Now that that sticker warning is out of the way, a fire ban definitely doesn't mean you can't go camping, but you will have to alter your plans to make sure you have a good time and are safe and comfortable. Here are our top tips for camping during a fire ban:
1. Bring food you can enjoy cold
One obvious adjustment you can make is to prepare your meals ahead of time and plan meals meant to be enjoyed cold. Think cold cuts, sandwiches and salads rather than hot stews. This way you can skip the camp cooking entirely and still feast like kings and queens.
2. Pack a propane stove
As we mentioned, during a fire ban you can still cook using a propane stove because you can turn the flame off quickly. Though a small backpacking stove isn't great for a group, and is more limited in what you can cook, there are some great propane double burner stoves these days that perform a lot like a barbecue grill.
3. Consider a propane fire pit
As you know, campfires aren't just about cooking – they're where you gather after a long night to socialize, stay warm and keep the bugs away. These days, you can find portable propane fire pits that can come with you on a car camping trip and make a pretty good replacement for a campfire, giving you something warm and bright to huddle around.
4. Use lights and lanterns
A campfire also provides a valuable light source at night, so you'll want to bring along a replacement. Create a cozy glow and light up any obstacles by stringing up LED lights around your campsite, and place lots of camping lanterns around the area where you're camping.
5. Remember insect repellent
Campfires are a lifesaver for that hour or two around dusk when the mosquitos and other bugs come out to feast, so on trips where you can't have one, make sure you pack plenty of really good insect repellent so you don't have to hide out in your tent all evening.
6. Pack warmer clothes
The temperature always drops at night and in a lot of the areas where it's dry are often higher elevation or desert environments, which get really cold even in the middle of summer. Where you might usually just throw on a fleece jacket, you might want to consider a down jacket and even a hat and a pair of the best hiking gloves for hanging out at night.
7. Bring games
Something about a campfire draws everyone into an easy state where you can just hang out and chat, but without it, you might need an extra social spark. Bring games that you can play, or musical instruments for a jam session, to keep the mood light and lively.
8. Read up on wildfire safety
Finally, for responsible recreation in dangerous conditions, you'll want to read up on wildfire safety before you go to avoid making any mistakes, and learn how to respond appropriately if a fire does break out.
All the latest inspiration, tips and guides to help you plan your next Advnture!
Julia Clarke is a staff writer for Advnture.com and the author of the book Restorative Yoga for Beginners. She loves to explore mountains on foot, bike, skis and belay and then recover on the the yoga mat. Julia graduated with a degree in journalism in 2004 and spent eight years working as a radio presenter in Kansas City, Vermont, Boston and New York City before discovering the joys of the Rocky Mountains. She then detoured west to Colorado and enjoyed 11 years teaching yoga in Vail before returning to her hometown of Glasgow, Scotland in 2020 to focus on family and writing.