The joys of camping wild
A much-talked about subject at the moment, usually in disapproving tones, wild camping can be a liberating and edifying experience. When it's done right...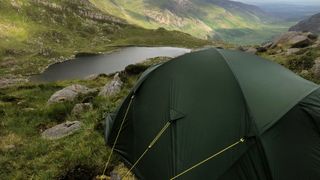 (Image credit: Phoebe Smith)
It's dark outside the window as I drive into the car park in the heart of Snowdonia National Park. Just an hour earlier getting a space here would have been near impossible, but by arriving after most people's dinner time – I find myself quite alone.
The echo from the sound of my car door slamming is loud in the empty manmade space, and I feel the coolness of the fresh, outdoor air filling my lungs and tickling my ears.
Grabbing my fleece jacket I am instantly warm. I shoulder my backpack, filled with minimal kit for a night spent under canvas, lock my vehicle and head off onto the mountain trail I know so well I don't even require a headtorch to locate it.
This is how most of my wild camps begin. Arriving late, walking in under the reassuring cloak of nightfall to a spot far from any road or household. My mission is to hike for at least two hours to a place that is not marked on any map.
Some friends think I'm crazy. And I get it – they are like how I used to be – a product of a childhood where we are read fariytales about wild aka scary places as somewhere to be feared and avoided. "Why on earth," they ask, a serious or concerned look on their well-meaning faces, "would you forgo the comfort of a plump mattress, sumptuous pillows and clean sheets to opt instead for a night in the outdoors in all weathers?"
Wild camping is the more adventurous cousin of 'normal camping'. When most people talk about sleeping under canvas they are referring to the designated pitches, shower blocks and modern conveniences of a traditional campsite. But with wild camping you give up all that – all the comforts and security of booking a space, the pleasure of a hot shower, and the kitchen facilities on tap.
However, what you gain in exchange for carrying all you need on your back, bathing in a stream and digging your own toilet, is the privileged opportunity to camp where you like – be it on the top of a mountain, alongside a mirror-calm lake, deep in a deciduous forest or hidden in a hillside cave.
This, to me, is freedom the like of which you can't get anywhere else. It eschews our modern day need to meticulously plan everything, it also gives you the opportunity to see the beauty of your chosen camp spot for the first time at dawn, as the sun rises. Our circadian clocks reset – we sleep easily in the darkness, and wake naturally at the coming of the light and song from the birds.
The first time I did it, nearly 14 years ago, I was scared. I took the wrong kit; people doubted my ability – as did I. But when I awoke to that 'dawn reveal' as I like to call it, the next morning, having relied on no one to tell me where to go or where to pitch, I felt a surge of confidence like no other. A self-belief, an appreciation for the beautiful places right on my doorstep and a realisation that the best things in life aren't things.
From that moment on I was a wild camping addict. Since then in addition to camping at all the extreme points of mainland Britain, sleeping on top of the highest mountains in England, Scotland and Wales, crossing and camping my way both the width and length of my country – I've pushed how I wild camp, bedding down while suspended from cliff faces, dangling in trees and under giant boulders. But no matter how 'wild' my sleeps get I never forget that the wilderness is never mine – I merely borrow it for a while.
My motto is not only 'enjoy not endure' but also, 'leave a place better than you find it'. I pack out all my rubbish with me as well as anyone else's I find en route. I've made it my mission to instil a love and respect in our glorious landscapes in as many people as possible.
Because even though I always arrive in the dark, I want to shed a light on the joys, wonders and passion that spending even a single night in the great outdoors can give us.
All the latest inspiration, tips and guides to help you plan your next Advnture!
Creator and host of the Wander Woman Podcast, extreme sleeper Phoebe Smith is an award-winning travel and adventure writer, photographer, broadcaster and author of 10 books about the outdoors. She's the first person to have slept at all the extreme points of mainland Britain, solo on consecutive nights. In 2021, Phoebe and Dwayne Fields will take a group of underprivileged young people to Antarctica through their #WeTwo Foundation. The strangest place she ever wakes up is in her own bed – as she's so rarely there…