How to pitch a tent: and sleep well when camping
A successful camping outing can rest on knowing how to pitch a tent – get that bit right and you'll enjoy all elements of the trip a lot more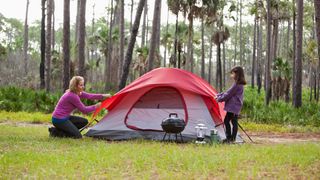 (Image credit: Getty)
Stressing over how to pitch a tent is counter-productive. Camping is a great way to escape the insomnia-producing worries of modern life after all. In fact, just a week under canvas has been found to reconnect us with our natural circadian rhythms, resulting in better sleep and improved feelings of wellbeing. But how to pitch a tent – and where, or where not to, camp – can make all the difference. We've learned a few good lessons over the years – often the hard way – about getting a decent night's sleep under canvas, particularly on our year-long camping trip around the UK. Here are some top tips on making sure your tent is perfectly pitched for a restful night.
Choose wisely
Long before you get to the pitching stage, when you're first considering buying a tent, think carefully about when and how you'll use it. For families, separate sleeping compartments work well, and these are a good way to keep bedding and daily life apart. Larger tents give you more space but it can be more difficult to find a flat piece of ground big enough for everyone to sleep in comfort. If you're troubled by light mornings (or evenings), some tents feature blackout inners to help you sleep.
Practice makes perfect
Trying to work out how to put together a brand-new tent with a strong wind and an audience isn't the most relaxing way to start a camping holiday. If you can, practice pitching somewhere quiet the first time – a garden works well – before braving it in public. This is also a good time to sort out any fiddly bits like attaching the guy ropes, and for checking you have everything you need, including the right number of poles and pegs. Without these, sleep will be the last thing on your mind. Just remember to put everything back in the bag before you head off…
Level pegging
Choosing a flat piece of ground on which to pitch your tent is really important, particularly if you're camping for more than a single night. It's amazing how even the slightest of slopes is enough to send your sleeping bag sliding into an uncomfortable corner of the tent in the early hours of the morning. If you have no choice but to camp on an incline, sleep with your head pointing uphill to minimise discomfort. Before you spread out your groundsheet, check the whole area carefully for sticks, stones and other objects that could cause damage to you and your tent.
Location, location, location
If you're keen to get a peaceful night, positioning is paramount. Pitch well away from potential disturbances such as busy roads, railway lines, generators, security lights and certain other groups of campers who may have other plans for the evening. Many larger campsites have separate areas for families, groups and quieter campers and it's worth choosing wisely. Avoid pitching under trees if you can, and steer clear of livestock and their trampling hooves (and midnight mooing and bahing).
Batten down the hatches
A good tent can withstand a surprising variety of weather, but only if it's pitched right. Set up your tent with the main entrance angled away from the prevailing wind and orientate it so that the smallest surface area is head on to the wind, so it doesn't act like a sail. Peg the tent out so everything's under equal tension. Baggy areas of fabric are a sign of a poorly pitched tent that may not withstand the weather and flap about noisily in the wind, neither of which will help you sleep. Use all the guy ropes and peg points, even if it feels like you don't need to – you never know when the weather might change.
All the latest inspiration, tips and guides to help you plan your next Advnture!
Thank you for signing up to Advnture. You will receive a verification email shortly.
There was a problem. Please refresh the page and try again.