Vail vs Verbier: two ritzy resorts face off
In the battle of Alps vs Rockies skiing experiences, we compare two of the ritziest ski resorts to see how they compare when it comes to terrain, snow, scenery and pricing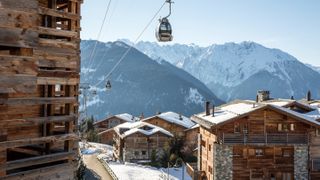 (Image credit: Margarita Almpanezou)
After living in Vail for 12 years, I thought I knew ritzy ski resorts like the back of my hand. The Colorado ski resort has heated streets so that, even during a blizzard, you never have to worry about slipping on icy ground while you're walking from the parking structure to the gondola in your ski boots. Homes that will be used for just a few weeks a year are listed well in excess of $10 million. But this winter I found myself five thousand miles away, in Verbier, Switzerland, on a press trip with Helly Hansen who outfit the ski pros and patrollers here, flying past ski poles emblazoned with ads for Prada. When I returned to my hotel and clumped into the boot room expecting a smelly, dank closet like I've experienced in Colorado, I was greeted instead with individual boot heaters for my ski boots so my delicate tootsies could start the following day nice and toasty.
Vail and Verbier are two of the most chic ski resorts around, one in the Rockies and the other in the Alps. But how do they compare against each other? I took one for the team and spent the week skiing Verbier to find the answer to this question – here's what I came up with.
Vail vs Verbier: getting there
To arrive at Verbier, you can fly into Geneva then, without leaving the airport, board a spacious, comfortable train that takes you on a scenic ride skirting the shores of Lac Léman, with views of the French Alps across the lake. Change trains in Martigny, and 20 minutes later hop on the gondola which will whisk you up the mountain and deliver you right into Verbier village center. It's heavenly.
Skiing Vail? There are no trains. To get there, you have to drive on the soul-destroying abyss that is I-70. If you're coming from Denver, that means 100 miles of sitting in bumper-to-bumper traffic along with other urbanites trying to escape their mundane existence. It is here that hopes come to die. If it's snowing, Vail Pass might close and then you basically live on I-70. An SUV with Texas plates or a snow plow might run you off the road, but after 16 hours, you might consider that a blessing. Expect your journey to take anywhere from two to 37 hours. And no, there won't be any powder left for you when you arrive.
Verbier wins this round
Vail vs Verbier: does anyone smell smoke?
We all go up to the mountains to breathe in that clean, fresh air, but in both resorts, you might be surprised to learn that you may come away at the end of the day with your ski jacket stinking of smoke.
Since weed was legalized in Colorado in 2014, Vail has seen a proliferation of pot shops opening up to meet the needs of glazed-eyed locals and the hordes of tourists that fly in mostly to get high. Though it's still technically illegal to smoke pot on Vail's lifts and gondolas, since they're on federally owned land, everyone does. So don't be surprised if you get a little high on more than just the altitude here.
In Verbier, on the other hand, cigars and cigarettes still seem to be much more common than out west, and it's not uncommon to find yourself loading a tiny gondola cabin that's reeking with cigar smoke.
This one comes down to whether you like your second hand smoke to be green, or Cuban.
Vail vs Verbier: getting around
While Vail's pot smokers might not be keeping the air there clean, their public transportation sure is. Vail has free eclectic buses that will take you between the main villages. And as we already mentioned, the streets are heated so if you prefer to get around on foot, every snowflake melts upon hitting the ground. This is terrible for the environment, but great for not looking like a gaper. The village is mostly for pedestrians only, but be careful for those stealthy silent buses creeping up behind you.
Over in Verbier, there are no heated streets and though snow plows certainly keep the roads gritted for the surprising number of cars zooming around here, the sidewalks remain snowy when a storm hits, which combined with the steep streets can make for a precarious walk home. Shopkeepers do their best to shovel outside their stores, but the sense of imminent danger is not helped by the free buses that race up and down at alarming speeds thanks to the chains on their tires. It's safest just to get on the bus.
Vail vs Verbier: terrain
Ok, let's talk about what really counts – the terrain.
Vail is the third largest single ski resort in the US, after Big Sky and Park City. With a front side, the back bowls and Blue Sky Basin, it covers over eight square miles of skiable terrain, more than eight times the size of Monaco, which is served by 39 lifts or gondolas. Skiers here have 193 runs to choose from (encompassing 236 km), the longest of which is Riva Run at four miles long, and can enjoy groomers, expert terrain and inbounds backcountry style conditions in the bowls.
Verbier is part of the Four Vallees area, and is the biggest resort of the four. Together, these resorts make up the biggest ski area in Switzerland, and the third largest in the world with 400 km of linked pistes accessed by 93 ski lifts. The whole area is so big that it's not really possible to ski the whole thing in one day. The off-piste skiing at Verbier is truly out of this world, for the powder hounds out there, and it is one of only a few resorts to contain a mountain with no pistes coming down it (Mont Gelé).
Honestly, you're not going to be disappointed by either resort.
Vail vs Verbier: snow
If you're looking for guaranteed snow, Vail is a pretty good shout. Their canons start blowing snow as soon as it gets cold out – usually in October – and don't stop till January. At 8,150ft at the base, overnights tend to be cold enough that snow stays put, so even during a terrible snow year, there will be skiable terrain. Average snowfall is 237 inches per year, which is about the height of a giraffe, but not all of it sticks around..
Verbier is considered one of the most snow sure resorts in the Swiss Alps, though at a mere 4,921ft above sea level, snow isn't exactly guaranteed. Compared to other resorts in the area, it does well, but Vail probably wins this round.
Vail vs Verbier: scenery
If you're going to drop a wad of cash at a ski resort, and you are at both of these, you obviously want to come away with some nice skiing snaps. In Vail, where blue skies prevail, it's hard to take a bad photo most days (and there are Epic Mix photographers everywhere who will take yours for free). On the front side of the mountain, you're always vaguely aware of the horrors of I-70 below you, but get to the top and see the incredible Gore Range and Mount of the Holy Cross and you'll cry every time. Drop into the back bowls and you'll forget that cars ever existed.
In Verbier, you have the feeling of being much closer to very steep, jagged alpine peaks that jut out of the snow and, when a cloud inversion isn't veiling the surrounding peaks atmospherically, you can see the top of Mont Blanc.
If you go to either resort and aren't blown away by the views every day, you're doing it wrong (or it's a whiteout).
Vail vs Verbier: altitude
Together with the other resorts in Four Valles, Verbier might dwarf Vail in terms of acreage, but when it comes to height, Vail towers over Verbier. Verbier is nearly a mile above sea level, while Vail looms another mile higher than that. The added altitude of Vail is definitely an advantage when it comes to snow, but of course you might also get altitude sickness and spend half your ski vacation in bed. That said, I've seen altitude sickness hit people all of all ages and at many altitudes, so don't assume you'll be safe from it at Verbier, and if you're suffering, buy some oxygen at the grocery store.
Vail vs Verbier: prices
Did I mention these resorts are ritzy? If you're looking to ski on a budget, you'd do well to give both resorts a wide berth. The prices in both places are absolutely insane. On the lift ticket front, Vail definitely takes the cake, as it is notorious for peddling its passes for whiplash-inducing prices – currently $245 to ski a Saturday or a Sunday, which might be more than the ski pants you bought to hit the mountain this season. At around $85 a day, Verbier does seem positively moderate n comparison, and in fairness that is in line with other major Swiss resorts such as St Moritz and Zermatt.
Another place where some serious price gouging goes on in Vail, is at ski school. The resort doesn't allow outside parties to instruct, which means they can charge whatever they want, and they famously charge over a grand for a private lesson. There goes that new house you were hoping to buy this year! Verbier has lots of ski school outfits that offer lessons at a range of prices that are substantially less than Vail, while some allow you to split the price between your group.
However, it's when you get off the hill that the extortion really kicks off. Hotel stays in both places typically cost upwards of $200 per night, while you can easily drop $50 on a plate of food. Nice enough food, sure, but once you start thinking of that rack of lamb in terms of what kind of ski goggles you could have just bought, it changes things a bit. In one notable case of daylight robbery, the Red Lion in Vail was demanding a scandalous $12 for chips of salsa, while in Verbier, you can scoop up a bacon roll with a coffee and orange juice at Lumi for just $22. A bargain! Just take your ski glove off and chew your own hand.
Vail vs Verbier: people
On a busy day in Vail (as in, every Saturday), the resort skis about 20,000 people and the lift lines can be a sloppy repeat of what you just went through on I-70. That's a gaggle for sure, but beginners tend to stick to easier terrain on the front of the mountain and you can usually escape the crowds in the back bowls. However, Pepi's Face at 4 p.m. on a Saturday is absolutely bedlam. If you ski during the week and outside of major holidays, the masses of terrain can make even 10,000 people feel quiet. The town of Vail itself has about 4,700 permanent residents, while tens of thousands more live in smaller nearby towns.
On a busy day in Verbier, you might encounter as many as 24,000 skiers, and it's hard to imagine where they all fit, but many Swiss people come on the train just for the day, while the town itself has only 2,700 permanent residents with no geographical opportunities for expansion.
But those are just numbers. If we're talking about the quality of the skiers, I've yet to set eyes on a single Jerry or Gaper in Verbier, a breed of skier that seems to be live in a permanent colony in Vail. In fact, I fear I might have been the Jerry here. Both resorts are enjoyed by brilliant skiers, but shall we say Vail has a more colorful selection overall. That said, wherever you, there will always be annoying skiers on their phones who cut in between you and your ski partner when you're getting on the chairlift, but you'll also meet some of the most fascinating people of your life at a resort.
Vail vs Verbier: the verdict
If you've made it this far, you might be wondering how I'm going to vote, but I'm not going to. There's a reason these two resorts are considered world-class. The skiing is out of this world and some of my favorite memories have been made in both of them. Any time I have the opportunity to ski either Vail or Verbier, I'll take it.
If you're actually in a position to be trying to decide between the two, you're living the dream and you can't make a bad choice. Even better, Vail Resorts has added Verbier to the Epic Pass, so if you're a current pass holder, what are you waiting for? Get yourself to Verbier.
All the latest inspiration, tips and guides to help you plan your next Advnture!
Julia Clarke is a staff writer for Advnture.com and the author of the book Restorative Yoga for Beginners. She loves to explore mountains on foot, bike, skis and belay and then recover on the the yoga mat. Julia graduated with a degree in journalism in 2004 and spent eight years working as a radio presenter in Kansas City, Vermont, Boston and New York City before discovering the joys of the Rocky Mountains. She then detoured west to Colorado and enjoyed 11 years teaching yoga in Vail before returning to her hometown of Glasgow, Scotland in 2020 to focus on family and writing.