Best ski goggles for downhill and backcountry skiers and boarders
See clearly on the slopes this winter in the best ski goggles around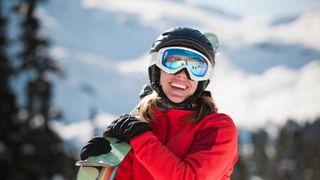 (Image credit: Getty Images)

If you're heading into the mountains for some skiing or snowboarding, the best ski goggles will make a big difference to the experience.
The best ski goggles will shield your eyes from sleet, snow and wind on the slopes, and provide protection from the sun on those perfect bluebird days, helping you to see clearly. They're every bit as vital a part of your kit as the best ski jackets and the best ski gloves.
Ski goggles are designed to reduce glare and not fog up, so they're a cut above regular sunglasses, and usually feature a comfortable wide frame lined with foam for a panoramic field of vision. Some are also compatible with glasses.
The main factor when buying the best ski goggles is picking the right lens to suit the conditions you'll be skiing in. But if you don't know your CAT from your VLT, don't worry, our buyers' guide at the bottom of this round-up explains exactly what to look for in snow sports goggles, plus how to pick the right comfortable fit.
The best ski goggles for men and women
Vallon Freebirds
Retro looks meet modern technology and a great field of vision in these smart goggles, which also support plastic clean-up
RRP: $157 (US) / £116 (UK) / €139 (EU) | Frame colors: Blue / Black / Off-white | Sizes: Medium-to-large | Lens : CAT 3, 15% VLT | Lens colors: Brown tint with mirror coating (Smoke and Orange colored lenses available separately) | Compatibility: Good performance and looks make these crowd-pleasing goggles
Good quality lens
Good field of vision
Spare lenses available
Spare lens not included
Vallon do a fine line in retro-inspired and rather handsome mountaineering sunglasses, and their ski goggle offerings are equally good. The Freebirds may have a retro feel but their technology is bang up-to-date, with a wide spherical lens for a wide, unimpeded field of vision and ZEISS lenses which provide great clear quality.
The included CAT 3, 15% VLT lens is ideal for sunny to cloudy conditions. A spare lens isn't included, but two interchangeable hues are available (Smoke, a 13% VLT suitable for bright and sunny conditions, and Orange, a 36% VLT for poor conditions). We reckon it's worth investing in both, and then you'll be covered for most ski days.
It is worth noting here that there's a new Freebirds goggle available for 2022, but only one spare lens is available for this model this winter, so we reckon it's worth picking the classic Freebirds goggle for now. We also like that Vallon commit to a 1kg plastic clean-up for each pair of Freebirds sold.
Sungod Vanguards
Get creative customising your Sungod Vanguards – they offer a great field of vision and should last ages thanks to a lifetime guarantee
RRP: $149 (US) / £110 (UK) | Frame colors: Five frame colors and 25 strap designs available | Sizes: Medium | Lens: Eight lenses available: VLT 9% / 11% / 17% / 21% / 23% / 38% | Lens colors: Multiple | Compatibility: A great all-rounder for all levels, designed to last
Customizable to suit your needs
Good field of vision
Can be repaired and includes lifetime guarantee
Comfy stay-put strap
Spare lens not included
Sungod Vanguards are fully customizable when you order them online, allowing you to pick a lens tint from eight options (ranging from 9% to 38% VLT), and then play around to find your favorite frame and strap colors. The customization process is easy and good fun, and Sungods have a handy online guide to different lens hues in case you aren't sure what you need.
Once they arrive, the custom Vanguards are comfy to wear, and changing lenses is also pleasingly easy – lenses clip in and out of the frame quickly (although a spare lens isn't included). The lens of the Vanguards is on the large side, and offers a great, unimpeded field of vision.
Wide vents avoid any fog build up. The strap is comfortable and stays put over both a helmet and a bobble hat. The Vanguards are here for a long time, too – they're covered by a lifetime guarantee against breakage, and can be returned for repair from anywhere in the world. You can also buy spare straps and frames as well as lenses, so you can easily keep them good as new for decades of ski trips.
BLOC Mask MK3
These durable goggles stand out for their anti-fog performance – and their reasonable price tag
RRP: $66 (US) / £49 (UK) | Frame colors: Black | Sizes: Medium | Lens: Four available: CAT 2-3, VLT 8-43% | Lens colors: Multiple | Compatibility: Affordable, solid and fuss-free first pair of goggles
Glasses compatible
Good anti-fog
Not designed for small faces
No extra lens included
The plastic frames of goggles at the more affordable end of the market tend to look and feel rather flimsy and cheap – not so with the BLOC Mask MK3, which are solid, sturdy and will survive being chucked in a pocket when they aren't protecting your peepers.
These goggles are also better at reducing fog build-up than other designs at this price point, with wide vents, double lenses and an anti-fog coating. Okay, so you might not go battling up hills on a ski tour in them, but for most on-piste adventures they'll do you proud.
Five lens hues are available, ranging from CAT 2 to CAT 3, and they all sit nicely over glasses. While the insulating fleece that lines the frame is comfy against the skin, it doesn't hold the goggles in place as well as we'd like with all helmets; you might end up with the dreaded helmet gap that leads to an interesting sun tan, so it's worth checking these goggles work with your helmet before you head to the slopes. All in all, great for the price.
Oakley Line Miner Snow (Jamie Anderson Series)
Style meets substance in these playful baby blue goggles designed by pro boarder Jamie Anderson, with Oakley adding crystal vision and a comfy wide strap
RRP: $185 (US) / £137 (UK) | Frame colors: Blue patterned | Sizes: Large | Lens: 13% VLT, CAT 3 | Lens colors: Sapphire Iridium | Compatibility: Ideal for style-conscious keen snowboarders
Crisp clear vision thanks to Prizm lens
Comfortable wide strap
Eye-catching pattern
No extra lens included
Oakley have collaborated with a clutch of pro snow athletes for their new collection of Line Miner goggles. We like this baby blue number designed by American snowboarder and two-time Olympic gold medallist Jamie Anderson.
Style isn't the first factor we look for in goggles, but if you like to make a bit of a statement on the slopes, this fun design is the one to pick, sporting a pastel strap that mashes up geometric patterns and cheetah print. The strap performs well too – it's wide, lined with sticky silicone and stays put all day. A cylindrical lens and an oversized design offer a decent field of vision on and off the pistes.
Oakley claim their Prizm lens technology boosts both color and contrast – we definitely agree here. They offer crisp, clear vision that performs really well on snow. This version comes with a 13% VLT sapphire lens that works well for bright sun through to some cloud cover – good for grabbing any morning when the mountain weather is looking promising.
TOG24 Chamonix Cat 2 Goggles
Both pocket-friendly and piste-friendly, TOG24's Chamonix are affordable first goggles
RRP: £80 | Frame colors: Matt White & Orange | Sizes: Medium-large | Lens: CAT 2 | Lens colors: Blue | Compatibility: Beginners off to ski school should snap up these good-quality goggles
Comfy strap
Fleece-lined frame
Decent field of vision
No extra lens included
Flimsier than some models
Too large for small faces
Shopping on a budget for your next winter sports holiday? Our top pick for affordability is TOG24's Chamonix goggles, which are available with a rosy-tinted CAT 2 lens designed for use in low light.
On test, they proved decent enough to get you through most of the weather conditions you'd encounter on a first holiday. The Chamonix punch above their price point, with a comfortable fleece lining around the eyes, a stretchy, comfy strap and an adequate range of vision. We also found them less likely to fog up than other budget buys, thanks to a double lens treated with an anti-fog coating.
There's no second lens included, but these would still make great goggles for your first ski trip, or to have in your pack as a handy spare if you already own a lens intended for use in bright sunlight. The frame of this unisex model is on the generously wide side – great for men and for women with wider faces, but possibly too roomy for petite faces.
IZIPIZI Snow All Weather
IZIPIZI's affordable Cat 2 lens is ideal for most conditions, and two sizes make it easy to get the right fit
RRP: $91 (US) / £60 (UK) | Frame colors: Black / White / Kaki Green / Navy Blue / Orange / Pink | Sizes: Small / Large | Lens: CAT 2, 20% VLT | Lens colors: Standard | Compatibility: A good go-anywhere lens if you just want one simple design
Good all-rounder lens color
Two sizes available
Glasses-compatible
Good price point
No extra lens included
Limited field of vision
Simply named the "All Weather", these minimalist styled goggles are IZIPIZI's all-rounder choice, fitted with a grey category 2, 20% VLT lens that aims to offer good visibility in most weather conditions.
If you don't like massive bubble-shaped goggles that take up half your face you'll love this more subtle style. A foam lining moulds nicely to the face with no gaps, and there's enough room for glasses to fit beneath the All Weathers despite their slim frame.
Seven frame colorways are available, as well as Cat 1 and Cat 3 lens versions from IZIPIZI, but we rate this as a fuss-free all-rounder, and we like that you can order small or large sizes from the range, rather than having to choose from male or female offerings in order to find the perfect fit.
The downside to this lens design is that it doesn't offer as wide a field of vision as a big spherical lens would, and you can see some of the frame in the corners of your eyes, but it's absolutely fine for beginner-intermediate skiers planning on sticking to the pistes and after something affordable for most weather
BLOC Fifty Five G553
Well-priced goggles with a handy magnetic design for swapping between two included lenses – great for changeable conditions
RRP: $115 (US) / £85 (UK) | Frame colors: Matt Pink | Sizes: Medium | Lens: CAT 1, 43% VLT | Lens colors: Clear / Silver Mirror | Compatibility: Perfect for anyone after swappable lenses at a pocket-friendly price
Two handy lenses cover most conditions
Easy to swap lenses
Four lens pairings available
Stiff strap
BLOC's Fifty Five goggles come with two swappable lenses and in four combinations, so you can pick the double act that best suits you and the skiing conditions you're looking at.
We tested out the G553, which comes with one clear, slightly pink-tinted CAT 1 lens ideal for low light and one silver mirror CAT 3 lens designed for bright sun, together making this goggle ready to tackle most mountain weather, ideal for changeable days in the mountains.
A well-designed magnetic system lets you clip off the lenses in seconds – and it's a doddle to swap between them even if you're wearing thick gloves and standing halfway down a ski slope. A wide foam lining on the frame does a good job of keeping the goggles in place on your face, but we were less impressed with the fabric band, which is surprisingly stiff, and a pain to adjust on the fly. Still, good value for money for two-lens goggles.
Dragon Alliance NFX
Two good lenses will have you covered for most conditions, and an oversized lens offers great range of view for skiers with larger faces
RRP: $156 (US) / £115 (UK) | Frame colors: Black | Sizes: Medium | Lens: 23% VLT | Lens colors: Multiple | Compatibility: A solid two-lens system for skiers and boarders with larger faces
Wide field of vision
Two good lenses included
Comfortable foam lining
Won't suit small faces
You can tell just by looking at the oversized, frameless cylindrical lens on these Dragon Alliance NFX goggles that they're going to be easy on the eye, literally – they offer a great wide field of vision.
These are large goggles, mind – anyone with a smaller facial structure should try out the smaller and scaled-down NFXs instead. Vents and an anti-fog coating keep the lenses clear even if you're working up a sweat on the slopes, and a generous amount of foam feels comfortable against the face and helps the goggles fit nicely under a helmet.
There are lots of incarnations of the NFX available but we recommend the Ebony Spyder because we rate the two included lenses Dragon Alliance have plumped for here – the 23% VLT is perfect for bright conditions, and the Light Rose 66% VLT works well to help you see your way in low light, snowfall for both, so you should be covered from first to last lift. There are two catches for swapping lenses – it's simple to do, but does require stopping and shedding gloves if you're mid-ski.
What to look for when buying the best ski goggles
Here, we've rounded up the best ski goggles on the market to suit most budgets and weather conditions. But what makes the best ski goggles for you? Below are some considerations you should think about before making a purchase.
Lenses
Different lens colors aren't just a fashion choice – they work for different winter weather conditions. You may see goggles sold according to their lens category:
CAT 1 lenses are best for bad weather, and are usually transparent or lightly tinted
CAT 2 goggles are intended for use in medium to bright conditions, with lightly tinted lenses
CAT 3 goggles are great for sunny weather, and are more heavily tinted
Lenses usually also come with a VLT rating (for Visual Lens Transmission), and the lower the number, the better the lens is suited to bright sunshine. For example, a lens with a VLT of 40% will be effective for low light, while one with 9% VLT is ideal for bright bluebird days, and a 21% would make a good all-rounder.
To deal with fast-changing weather conditions, skiers usually either carry two pairs of goggles or one pair with a removable lens, so you can pop a differently tinted lens in quickly if needed. If you're only investing in one pair of ski goggles, it's definitely worth choosing a pair with changeable lenses, and that comes with two different lenses included.
A problem with cheaper goggles is that they can easily fog up, immediately clouding your vision. Look for goggles with double lenses and that are treated with anti-fog and anti-scratch technology to keep them clear and scratch-free. Good lenses usually offer 100% protection from UVA and UVB light as standard, but do make sure that the pair you pick protects your peepers from both.
Shape
Most ski goggles on the market feature either spherical or cylindrical lenses. You may have noticed there's a trend for sporting big, wraparound goggles that offer uninterrupted peripheral vision – these spherical lenses tend to be more expensive but offer improved vision, so they're worth spending more on if you're planning long days on the piste. Cylindrical lenses offer less of a peripheral view, but also tend to be more affordable.
Fit
Try your new goggles on before you head to the mountains, to check they fit your face well. Many of the best ski goggles are unisex, but smaller or female-specific goggles are a good choice if you have a narrow face, or when buying goggles for teenagers.
Some goggles come in different sizes, which makes shopping easier. Check the goggles you buy sit flush with your face, and that the foam between the goggle frame and your skin feels comfy and does not impede your vision. Check that the strap on the model you buy is easy to adjust, and fits snugly over both a beanie hat and your helmet (some helmets have clips you can pop a goggle strap into), and doesn't slip down when you move. If you wear glasses, look for goggles that are labelled as glasses-compatible (sometimes labelled OTG, for "over the glasses").
Maintenance
The best ski goggles tend to be expensive, so make sure you care for yours so that they last for many winter seasons to come. It's easy to scratch lenses – only clean them with a lens cloth, and keep your goggles in a soft goggle bag (usually included) when you aren't wearing them, rather than just chucking them in a backpack or a ski jacket pocket. Never wipe the inside of your lens, as this can remove the anti-fog coating.
An award-winning travel and outdoors journalist, presenter and blogger, Sian regularly writes for The Independent, Evening Standard, BBC Countryfile, Coast, Outdoor Enthusiast and Sunday Times Travel. Life as a hiking, camping, wild-swimming adventure-writer has taken her around the world, exploring Bolivian jungles, kayaking in Greenland, diving with turtles in Australia, climbing mountains in Africa and, in Thailand, learning the hard way that peeing on a jellyfish sting doesn't help. Her blog, thegirloutdoors.co.uk, champions accessible adventures.
All the latest inspiration, tips and guides to help you plan your next Advnture!
Thank you for signing up to Advnture. You will receive a verification email shortly.
There was a problem. Please refresh the page and try again.