How thick should ice be to walk on? Plus tips for walking on ice
How thick should ice be to walk on? We suggest some basics for safely crossing a frozen lake or pond as well as general tips for walking on ice this winter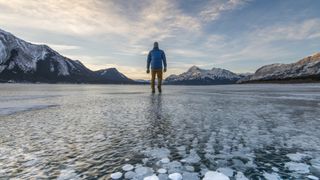 (Image credit: Ascent/PKS Media Inc.)
How thick should ice be to walk on? If you love winter hiking, you may well have asked yourself this question as the lakes and ponds in your favorite hiking areas freeze over. After all, there's no way you let a little cold weather get in the way of spending time on the trails. You simply dress for winter hiking and maybe switch to snowshoeing or cross country skiing when there's lots of snow. In fact, you probably even relish the glistening magic of frozen landscapes and the opportunity to traverse snow-covered areas that are impassable in the summertime due to low scrub.
But frozen ponds and lakes can be a different kettle of fish altogether. Sure, the sight of people walking or skating on a lake that in warmer months is filled with boats is romantic and exciting, and from a practical standpoint, a frozen surface might permit you to cut miles off your hike, but the dangers of falling through ice are also widely known. So how do you know when ice is safe to walk on? In this article, we provide some general guidelines to help you make good decisions about crossing frozen bodies or water as well as some other tips for walking on ice safely.
What is the thinnest ice you can walk on?
First and foremost, you should always exercise extreme caution when walking on ice. Just because a pond or lake is frozen at the surface does not mean it's frozen all the way through. In fact, it's usually not. The thinner the ice is at the surface, the higher the chances of it breaking under your weight and sending you on an icy dip you definitely don't want to take.
So what is the thinnest ice you can walk on? We consulted the Farmer's Almanac and for a single person hiking alone, three inches of solid, clear, blue/black ice on a pond or lake is the absolute minimum thickness you should attempt to walk on. If you are hiking with someone else, or if there are other hikers on the ice, then four inches is the minimum, and you should walk in single file.
Then there's the obvious question of how do you know how thick the ice at the surface of a pond or lake is? Experts agree that the safest approach is to drill a hole with an auger in the ice and send a measuring tape down to gauge it, and regularly checking the thickness as you cross since it's never uniform. So, crossing a frozen lake requires a bit of equipment and commitment. Another option is to talk to locals and business owners in the area who may be familiar with the ice thickness and will advise you on whether or not it's accessible.
In general, you should avoid non-solid, slushy ice, ice with cracks on it and ice near moving water such as rivers and inlets.
Finally, if you are crossing a frozen lake or pond, you'll want to wear a life jacket and carry an ice pick in case you do fall through the surface.
Tips for walking on ice
Whether you're planning on crossing a frozen lake or simply just trying to walk down an icy hiking trail and want to stay upright and avoid nasty falls, we gathered the following tips for walking on ice safely:
Wear winter hiking boots with rubber soles and good traction
For moderately icy conditions, wear Yaktrax or Microspikes over your boots to help dig in
For seriously icy hikes, consider using crampons
Take shorter steps, more like a shuffle or waddle
Walk slower than you do on dry land
Try to keep your feet underneath you, rather than taking big steps forward
Keep your hands out your pockets
Use hiking poles to help with balance
Avoid melting ice which is more slippery
All the latest inspiration, tips and guides to help you plan your next Advnture!
Julia Clarke is a staff writer for Advnture.com and the author of the book Restorative Yoga for Beginners. She loves to explore mountains on foot, bike, skis and belay and then recover on the the yoga mat. Julia graduated with a degree in journalism in 2004 and spent eight years working as a radio presenter in Kansas City, Vermont, Boston and New York City before discovering the joys of the Rocky Mountains. She then detoured west to Colorado and enjoyed 11 years teaching yoga in Vail before returning to her hometown of Glasgow, Scotland in 2020 to focus on family and writing.