What is forest bathing – and why is it good for us?
"Forest bathing" is on the rise, and advocates say it brings many benefits for mental and physical health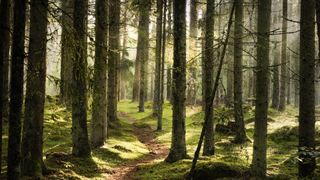 (Image credit: Getty Images)
A fast-growing outdoors trend claims impressive physical and mental benefits – and it's called Forest Bathing.
Shinrin-yoku – the Japanese term for "forest bathing" or "taking in the forest atmosphere" – first emerged as a recognised form of green exercise in the early 1980s.
While a walk in woodlands was obviously not new, research at the time showed that "forest bathing" could reduce blood pressure, lower cortisol levels and improve concentration and memory.
Dr Qing Li, from the Nippon Medical School in Tokyo, is a famous advocate of forest bathing. He believes the chemical phytoncide, which is released by trees and plants, provides a boost to the immune system and has the power to counter illnesses such as cancer, strokes, gastric ulcers, depression, anxiety and stress.
Over the decades, forest bathing has increased as a hobby across the world. There are also forest bathing leaders and practitioners.
In the UK, Caitlin Keddie became so convinced of the benefits of forest bathing that she set up a Glasgow-based company, Forest Therapy Scotland to guide people in the natural therapy.
She says: "When I first heard about forest bathing, I couldn't find a group or a teacher to show me what to do. I wanted to learn how to gain the most from forest bathing.
"I did a course to learn a bout forest bathing and then I decided I wanted to teach others about the benefits."
Forest bathing: how to get started
"Bathing" does not refer to the need to get into water, but rather to soak up the atmosphere of your natural environment.
First, you need to find a woodland or a forest and start by turning off all your gadgets and devices, such as mobile phone and smart watch.
Stand still in a quiet location and think about what you can hear and smell.
Touch the bark or a tree, or, perhaps, even hug the trunk.
Take a moment to enjoy some long breaths in and out so that you relax.
Move slowly, enjoying a stroll but without purpose.
Walking barefoot – also called "earthing" – is said to enhance the forest bathing experience.
Continue to take in the forest, looking and hearing what is around you and nearby and focusing on the small details.
If your mind wanders and you start to think about your daily life or things you have to do, try to bring your thoughts back to your immediate surroundings.
Keep your eyes open because the colours of nature are said to be soothing.
Stay as long as you can and for up to two hours if you can.
What kit do I need for forest bathing?
The aim is to enjoy the experience of spending time outdoors, so comfort is important. Make sure you have warm and waterproof outdoor clothing, much the same as you would wear for hiking (see what to wear hiking).
Footwear that is suitable for the weather and terrain is another consideration. It could be a pair of the best hiking shoes or hiking boots.
You could take a camping blanket with you so that if you choose to sit or rest for a while in the forest, you will have something to sit on or wrap around you if it's cold out.
'Forest bathing is more than a walk in the woods'
Caitlin believes there is a difference between being active in a forest and forest bathing. She says: "Most people who head to a forest or woodlands are intent on doing something. such as to walk a dog or to go for a run. These activities have benefits in themselves but forest bathing is different from this.
"Through our different senses, sight, hearing, smell and touch, we can enhance the connections to nature, wildlife and the natural world in general.
"When forest bathing people should think closely about what their senses are telling them.
"Forest bathing is rather like a meditation and it can be done while being still or while walking mindfully."
All the latest inspiration, tips and guides to help you plan your next Advnture!
Fiona Russell is a widely published adventure journalist and blogger, who is better known as Fiona Outdoors. She is based in Scotland and is an all-round outdoors enthusiast with favourite activities including trail running, mountain walking, mountain biking, road cycling, triathlon and skiing, both downhill and back country. Her target for 2021 is to finish the final nine summits in her first round of all 282 Munros, the Scottish mountains of more than 3,000ft high. Aside from being outdoors, Fiona's biggest aim is to inspire others to enjoy the great outdoors, especially through her writing. She is also rarely seen without a running skort! Find out more at Fiona Outdoors.