What to wear hiking: how to layer up and pick the right clothing and boots
By Sian Lewis
Get geared up for hiking adventures with our 'what to wear hiking' guide to help you pick the perfect clothing and kit for your next walking trip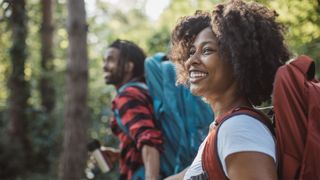 (Image credit: Getty)
Choosing what to wear hiking is much more important than just looking good. With a greater number of people than ever before exploring the outdoors for the first time, it's not unusual to spot groups out and about in entirely inappropriate gear for the terrain they are playing around in. But it's not always obvious what the best adventure attire is, or what fabrics you should absolutely avoid. Fortunately, we're here to help you avoid the worst wardrobe malfunctions of all – the ones that might put you in peril in the wilderness.
1. Hiking footwear
Great boots are arguably the most important bit of your hiking wardrobe, so it's worth investing in sturdy pair that will last. Leather hiking boots are warm in winter, while fabric boots are more breathable and better suited to spring and summer. Pick boots that suit your planned activities – there's no point go for a super technical pair (which will be heavier and stiffer) if you're intending to do mostly short walks on easy trails in the summer months – in fact, hiking shoes might be better if this is you, or even hiking sandals, but make sure you choose a pair designed specifically for hiking, with grippy rubber soles, wide adjustable straps and good heel support. If you're walking on rocky ground, choose a 'shandal' (we like Keen's versions), which have closed toes for extra protection. But if you're heading into the hills and you're likely to encounter rainy weather, snow, rocks and stream crossings, then choose boots with thick, grippy, robust rubber soles (look out for Vibram soles) and that are fully waterproof. Try footwear on in-person and check they fit perfectly, with no rubbing or pinching.
2. Hiking socks
Comfortable, well-padded hiking-specific socks will stop any blisters and keep toes toasty in cold weather. Look for wool or merino wool socks (for example Smartwool or 1000-Mile), which are breathable and are naturally antimicrobial, and check the pair you pick have reinforced heels. In summer, swap thicker hiking socks for a lighter, breathable cotton pair such as Mountain Warehouse's IsoCool range.
3. Base layers
Why is layering important? Choosing the right clothing is essential for any hiking trip, and that starts with the base layer.
It may sound like something your granny would advise, but it really is worth investing in a great set of thermals to wear as a base layer on cold weather hikes. Look for inner layers made with merino wool, which is sweat-wicking and naturally antibacterial – we recommend Icebreaker's excellent base layer range for men and women. On summer hikes, swap your base layers for lightweight synthetic t-shirts and shorts.
4. Mid-layer
Heading out in chilly conditions? Pop an insulated mid-layer over your base layers to trap in body heat. A mid-layer can range from a technical T-shirt, or a shirt (handy for using the collar to protect your neck against sunburn) through to a warm fleece, a gilet, a thick hoody-style layer or an insulated jacket stuffed with down or synthetic insulation (some of the latter are also water-resistant enough to work alone in a light shower). Pack a spare mid-layer if you can, to swap over if the other one gets damp through sweat or rain.
5. Waterproof jacket
Don't let rain stop play – pack a reliable waterproof jacket for your hikes. Jackets designed with a Gore-Tex membrane tend to be expensive but are definitely worth the splurge – this technical layer keeps rain out but still lets the jacket breathe, so you stay dry and don't overheat. Otherwise, pick a model with a waterproof rating of at least 2,000mm-5,000mm. Look for a jacket with a well-fitting hood, zipped pockets and ventilation zips under the armpits.
6. Walking trousers or trekking tights
Wondering what to wear on your lower half when walking? We recommend breathable classic-cut walking trousers for men and more form-fitting trekking tights for women (the latter tend to be better designed to women's bodies, with higher waists). Fjallraven's range of walking trousers and tights are expensive but worth every penny for function and fit. Some trousers also sport reinforced sections on the rear and knees, which are ideal for sitting around your tent on overnight treks, and other brands – for example Berghaus – have a dedicated map pockets, which we have found hugely useful on the trail. Consider trousers with removable legs too, which make switching to shorts on a warm day a breeze.
7. Backpack
Carry your kit in comfort with a great hiking backpack. If you're out for a short walk, look for a lightweight daysack with up to 35 litre capacity. For longer treks and multi-day journeys, pick a bigger backpacking pack of 35–70 litres in size. Osprey do a great selection of bags ranging from tiny 9l backs to massive 105 expedition packs. Don't forget to check your pack has a rain cover and plenty of pockets.
8. Accessories
If you're venturing into the hills in the shoulder months of spring and autumn and, of course, during winter, it's a very good idea to have gloves and a beanie hat somewhere you can access them quickly and easily. (Often, by the time you've conceded you need them, you're often already cold and a bit fumbly, so choose a pocket in your pack where you know you can locate them.) A buff can also be a useful thing to have, for keeping your face warm or protecting it from wind, sun and sand. In warmer weather, carry a cap or sun hat.
9. Sun cream
Keep your skin safe from the elements with a decent sunblock, and remember that it's easy to burn on cloudy days, too. For intrepid adventures we always rely on P20, which goes on as a clear liquid and offers protection all day. If you're going to remember to apply sunscreen, you might as well make sure it's factor 50 - reapply if you sweat or if you stop for a wild swim.
10. Sunglasses
You don't need to splash loads of cash on expensive sunglasses if you aren't going on a mountaineering trip, but make sure you do pack a pair of sunnies that block 100% of UV rays (polarised lenses are also good but are designed to cut glare, not UV light). If you want a pair that can double up for more ambitious treks, choose a wraparound model, which offer more protection for your peepers, from a brand such as Julbo.
What NOT to wear hiking
If you kit yourself out with our list of essentials above, you're likely to be comfy in fair or foul weather. On more casual short walks, it's fine to wear non hiking-specific clothing, but if you're venturing further afield or if the weather looks mixed, it's a bad idea to rely on clothes that aren't designed for the elements. Avoid cotton, including jeans – once cotton gets wet, it takes ages to dry, which can reduce your body temperature fast as well as being uncomfortable. Casual plimsolls or trainers won't give you enough protection underfoot and probably won't be weatherproof, and it sounds obvious, but any shoe or boot with a heel is a terrible idea if you don't want a broken ankle on the trail.
All the latest inspiration, tips and guides to help you plan your next Advnture!
Thank you for signing up to Advnture. You will receive a verification email shortly.
There was a problem. Please refresh the page and try again.