What is slow adventuring? How to experience the outdoors at a lower pace
After a year of runners setting speed records, we explore the concept of slow adventuring – explained by someone who is in the outdoors for a good time, not to live in the fast lane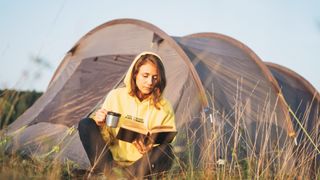 (Image credit: Getty)
In the mid-1980s, Italian Carlo Petrini created the Slow Food movement (opens in new tab). His manifesto was simple: use local foods, traditional recipes and relaxed meals with friends and family to fight back against fast foods, processed meals and the unthinking rush of modern life. His idea of 'slow' was to take time to enjoy life to the full rather than speeding through days and experiences to find the next sensation. The 'slow' concept spread beyond the art of eating and was applied to everything from travel to sex, urban design and parenting. All good stuff and highly commendable.
You might think that slow adventuring would be a harder sell. A lot of adventuring is thought of in terms of energy, competition and speed. Faster, stronger, higher, longer defines many outdoor pursuits. And record breaking and extreme endurance feats can be genuinely inspiring – for a huge happiness hit watch the video of the Nepali Sherpa mountaineering team singing and almost dancing (opens in new tab) as they complete the first winter ascent of K2. There will, of course, always be a very valid interest in Fastest Known Times (FKTs), finish lines and first ascents, but there are many other ways of experiencing the outdoors, and slow adventuring is one of the most rewarding for lots of people.
Not so fast
Simply put, slow adventuring is about working your own unique interests and skills into your outdoor activities to create an individual way of connecting with the world. So far, so woo-woo, but it really works and at every level.
For some people – friends of mine among them – that connection might well come from immersing themselves in running the South West Coast Path against the clock, climbing a particularly testing sea-stack, or placing in the Devizes Westminster non-stop canoe race. For them, the training, the planning, the focus and the right equipment all lead to a binary outcome: success or failure. And for them that's the point. That's their interest. But for others of us, maybe not so much.
For example, I enjoy running, but I'm interested in birds too; yesterday I ground to a halt towards the end of an eight-mile outing to spend ten minutes watching a cormorant battling a huge mullet that it had caught but couldn't swallow. Earlier I'd stopped to climb high up into a beech tree for a view of the woods far below me. And I'd paused to chat with a hiker who was knocking off a stretch of the South West Coast Path. That, in my view, was a run improved hugely by quite a lot of not-running, and it defined the pluses of a slow adventure mentality – layering my own unique interests onto an activity to create a deeper, richer and more fun experience.
Serendipity versus planning
Famously, polar explorer Roald Amundsen (opens in new tab) one quipped that 'adventure is just bad planning'. In his case, the 'adventures' he was trying to avoid were failure or even death during his race to the South Pole. He was all about planned speed and a single outcome. For us lesser mortals, a slow adventurer's more flexible attitude to time and planning can provide the kind of happy surprises that teach us excitingly random things about the world, and about ourselves.
I 'discovered' slow adventuring by chance. By my early twenties I'd already spent several years as a restless, energetic, curious and – to be honest – pretty aimless traveller. On a whim I'd hitchhiked a thousand miles south into the Sahara to Tamanrasset where I joined tens of West Africa bound westerners who were camped out in a hot, dusty compound. The border between Algeria and Niger had closed for a fortnight and none of us were going anywhere until it reopened.
People – me included – were frustrated, angry, worried and impatient. But one guy was none of those things. A Norwegian anthropology student, he was on his way to Togo to research traditional textiles. Fabrics were his overriding interest, and when chance had given him two weeks in Tamanrasset he'd happily turned his attention to the indigo dyes, goat-hair tent skins, camel trappings and the women's weavings of the local Tuareg clans. Whilst everyone else was desperate to be somewhere else, he was having a uniquely rewarding time being where he was.
His attitude made a huge impression on me. What if I followed my own real interests, I wondered, rather than speeding from one place to the next, trapsing along well worn traveller's trails? I enjoyed music, wildlife, cycling, the outdoors and sailing. Within a few weeks of emerging from the Sahara I was playing harmonica with a dance band in Ouagadougou, a month later I'd bought a second-hand, single-speed Chinese bicycle and was pedalling across West Africa, sleeping out in the bush, to reach the coast, where i found work on a sailing boat on the Gambia River.
Those five months in Africa gave me the basics of a slow adventure manifesto: follow your interests to make what you do uniquely your own. Find ways to enjoy life even when things don't seem totally enjoyable. Talk to people who live in a place and learn about their world rather than racing across the planet as if it was some huge games zone.
A slow adventurer's attitude made it easy to set off on long trips with little planning. I cycled across the Sahara, and around Iceland, and across Morocco and, on a twenty quid Hero Jet, through India. Paddling the length of the Danube, took me behind the Iron Curtain for a summer. There were horses to borrow or buy so I could ride across whole countries in Africa, South America and Central Asia. I learnt that having good kit was nice, but not having it shouldn't stop one from improvising or making do and going anyway.
Go slow community
Crucially I realised that there was a whole community of other slow adventurers, linked by the uniqueness – and sometimes the wonderful eccentricities – of the journeys they made and the way they responded to the outdoors. Lindsey Cole (opens in new tab) walked the length of Australia's rabbit-proof fence, and then swam for days down the Thames wearing a mermaid's tail. (Why not check out Lindsey's most inspirational walking films?) Ursula Martin (opens in new tab) spent 2020 travelling on foot from the Ukraine across Europe. She's following a looping route decided by whim and dictated by lockdowns and closed borders, that will eventually bring her back to the UK though via a detour through Spain.
Being open to change is every slow adventurer's strength. Jonas Deichman (opens in new tab) is currently on a solo, human-powered, around-the-world triathlon which has already seen him cycle across Europe and swim 456 kms down the Adriatic coast, on a world-record-setting unsupported swim. But, having pedalled east across Turkey he's hit closed borders, barring him from Russia or going any further into Asia. "It's time to stay flexible," he writes, cheerfully moving to "plan C", which means reversing his trip and cycling back westwards, in the hope that in the coming months he can get a lift on a yacht across the Atlantic, run across America and return to Asia from the other side when it might be open again.
Planning trips, and altering those plans if necessary, becomes far easier and clearer when you ask yourself the slow adventurer's key questions: why you really want to do something, and what's needed to make it happen in a way that will work for you?
A friend decided on the spur of the moment to buy a bicycle in Havana and a few weeks later had cycled the length of Cuba. Another got up on a Saturday morning, left her flat in London with only a Pac-a-Mac and a toothbrush and kept walking until she'd reached Chesil Beach in Dorset. A third hiked the Black Sea coast of Turkey because he was 'curious', before disappearing into Central Asia for several years and starting a bookshop in Kyrgyzstan.
Suit yourself
By concentrating on the widest array of your own interests and skills, any slow adventure – even a morning's walk – becomes stamped with your own personality. If, on a few days out in the hills, I walk a fair bit, spend a couple of nights in a hammock, whittle whatever camp utensils i need, forage nettles or fungi or berries to add to my supplies, play some harmonica or read a book around a campfire, detour however far is necessary to find a pub one evening, see some interesting wildlife and, overall, not get too wet, then I've had a good trip. For me that multi-layering of interests has created a far richer experience than speeding between A and B as fast as I can tab.
And maybe that's the real point of slow adventuring, learning to appreciate where you are whilst you're still there. Think about it. If you're walking across Lapland, or kayaking the Ardeche or cycling the length of Britain, it's very likely that you won't be back to do the same thing again in this lifetime. So why wouldn't you want to go slowly enough to take it all in? Why wouldn't you stop long enough to sketch the view, or divert to find a place that looks good on the map for a swim, or take the time to talk with someone you've met along the way?
Even if you're walking or running a route you do every day, you're never going to be there in exactly the same way again; the weather will be different, next time. And the light. And, above all, the next time, if there is a next time, you'll be different too. Slow adventuring, then, is really about enjoying where you are and what you're doing right now.
After a wild childhood in west Cork, Jasper Winn began embarking on long cycles, walks, horse journeys and kayak trips across five continents – adventures he's decanted into books, magazine articles, radio and television documentaries. Keen on low-tech but good gear, Jasper is an advocate of slow adventures by paddle, pedal, saddle, boot and sail. He has circumnavigated Ireland by kayak and cycled across the Sahara. Twice. Having ridden north-to-south across Algeria he discovered the only way to get back was to turn round and pedal north again.
All the latest inspiration, tips and guides to help you plan your next Advnture!
Thank you for signing up to Advnture. You will receive a verification email shortly.
There was a problem. Please refresh the page and try again.