What is SwimRun? We explain the basics of this endurance event
Swim running, or SwimRun, has become an increasingly popular pursuit in recent years. But what is it?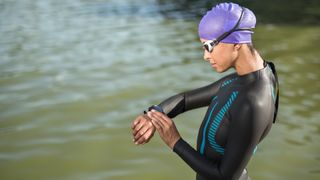 (Image credit: Getty)
What is SwimRun? Put simply, it's where trail running meets open-water swimming. When done competitively, during a swim running event, it's both a challenge and an experience. We like to think of it as two parts art, and one-part endurance.
An off-piste alternative to an aquathlon or triathlon, SwimRun is a godsend for anyone who enjoys the concept of multisport, but who gets tired of planning each transition station to the nth degree and obsessing over timing splits. With SwimRun, you can carry all your own kit in a tow float, and you're good to go.
How did SwimRun start?
The concept of SwimRun originated in 2002 with the ÖtillÖ in Utö, Sweden. This event began as a drunken bet between friends, who challenged one another to swim and run a 75km (47-mile) course across 26 islands within Stockholm's archipelago islands. They competed in teams of two, and the last pair back had to pay for dinner for the others.
The wager became an annual challenge, and then a commercial event, which evolved and eventually spread to the U.S. the U.K. and elsewhere. Usually there are multiple stages, alternating between land and water, with swim stages being between 100 meters and 1800 meters. There are usually cut-off points and an element of navigation, which means you are not simply sent off round a brain-numbing multiple-lap course.
There are now 10 races that form an ÖtillÖ World Series, with events taking place from California to Croatia, via Malta, Germany, France, Switzerland, the Isles of Scilly and, of course, Sweden – plus a World Championship. It's so popular these days you sometimes still have to qualify to get an entry. Which is perhaps how it should be. Or sometimes you can 'get lucky', as the organisers say, rather cryptically.
There are other series, such as the Breca and the Odyssey, plus many other less high-profile SwimRun events around the world too, which are much easier to enter. Check the calendars on websites that cover events in your region, such as Swim Run Advice in the U.S. (which features international events too) and Loveswimrun in the UK.
What's the appeal of SwimRun?
For me, it's more about the journey than the race – or to put it another way, the experience of swimming and running in some stunningly remote locations, often on wild coastlines or between islands, is truly sensational. These events offer participants a real sense of connection with the environment. And they're a serious challenge. An off-road marathon-plus.
The kit required can be kept to a minimum. No spare wheels, no hydraulic pumps are needed, just a buoyancy bag with some spare socks or shoes, and a buddy who will look out for you when you're turning blue. Some people, especially those at the pointy end of the sport, wear hand paddles – but it's entirely optional. SwimRun remains a pairs' event, at least in the main, adding an element of teamwork to the undiluted individualism of triathlon.
The spread of SwimRun
Recognising the appeal of a sport that seemed to offer the best elements of a wild triathlon, with an off-piste route map, the group of triathletes behind the Celtman (an extreme triathlon in the Scottish Highlands), staged the first Breca Loch Gu Loch event several years ago. Sixty-five teams signed up for it, not all of them from the UK. The following year they were hoping to reach 100.
Paul McGreal, one of the organisers with Durty Events, says, "SwimRun is very adventurous because you can hold a race in places you cannot hold triathlons. You don't need a big transition afterwards either.
"There is still a rulebook, but SwimRun is much more free and easy, so you can come up with your own formula. It's more like adventure racing, but there are deliberate gaps, where you can choose a strategy – for example, whether to tie yourself to your partner. This is part of the creative process."
He stresses, however, that their events do not encourage turn-up-and-have-a-go heroes. This is at the extreme end of endurance sport, and Paul advises first timers to "train in open water and make it as cold as possible… Then you'll be prepared for Scotland."
They have had competitors who have only ever swum in a pool, and they've had to pull the out halfway through, because of the cold. This is not uncommon in SwimRun. You don't need to be Wim Hof (a Dutch zen guru of cold-water therapy, also known as the iceman, who exposes himself to extreme low temperatures in an effort to prove that nature can teach us something about self-mastery), but you do need to train in cold water, so it's not a complete shock when you encounter it during an event.
Why do a SwimRun?
Wim Hof might take things to extremes (and some of his methods are controversial), but spending several hours intermittently giving yourself cold-shock treatment can definitely endow you with serious mental and physical resilience. And doing it surrounded by inspiring terrain should only enhance the effect.
Swimming and running combine to produce perfect upper-body, lower-body pump priming, because your muscles and organs are forced to deal with a surge of blood to the shoulder and arm muscles for swimming and then to your hamstrings and calves in quick succession when you are running. The physiological outcome should be a huge anaerobic boost, which keeps your metabolism on a high for some time afterwards (which is why it is also good for losing weight, in case that is a motivating factor).
It is also a great excuse to visit some of your country's more remote places, such as Santa Catalina in California and parts of the Maryland estuaries. In the UK, three of the biggest events happen in Snowdonia, western Scotland and the Lake District.
How do you train for a SwimRun to get the best results?
Training for a SwimRun event can be whatever you want it to be, but you have to know a bit about tides and currents, so some kind of exposure to openwater swimming is a must.
Your training method will likely depend on the weather and your proximity to the sea and/or a lake or river, but here are some tips:
Plot your route carefully before you head out, so that you are not swimming into a rising tide or against the flow (or across a busy boat or shipping lane… use a bright swim float to make sure people in boats can see you).
Practise swimming with a float and while wearing a wetsuit, even if you don't think you need either for training sessions.
Do your swim training with a buddy, for safety and because many SwimRuns are contested by pairs.
If you're training in the sea, swim out beyond the chop, being careful to avoid rip tides, and swim parallel to the shore for anything between four to six minutes. Then run back to where you started and do it all again – over and over until you've had enough.
The same formula applies to a river (swim downstream, then run back along the bank and repeat). Or, in the case of a lake, you could do a circular swim, then run a lap. Just remember where you left your shoes on the bank or shore.
If you're city bound, choose a gym with a pool and a treadmill and try some slightly longer intervals of up to 20 minutes on each, keeping the transition to a minimum. Just remember that the real thing is unlikely to be heated and you will need to do some coldwater training.
Don't neglect your running.
Get the right gear – a wetsuit, goggles and hat you're comfortable in, a bright swimfloat, hand paddles if you want to use them, and shoes you can swim in – and then train in them.
Classic SwimRuns
All the latest inspiration, tips and guides to help you plan your next Advnture!
Founder of Wild Running and Wild Running Events, and a regular podium-placer at trail running events around the South West, Ceri has a background in journalism. He started and edited an outdoors supplement for a daily newspaper, has written for several national outdoors magazines and newspapers, and produces his own podcast. He can trace his interest in adventure back to when, as a slightly precocious six-year-old, he convinced his cousins and older sister to walk through the night into the centre of Newcastle in their pyjamas for a dare – an escapade that ended in a lift home in a police car. More recently, he became the de facto UK Snowshoe Running Champion when he was the first Brit to cross the finish line at the 2019 World Snowshoe Championships in Fondo, Trentino.