What size cooler do you need for camping?
What size cooler do you need for camping? Coolers range from little lunch pails to grizzly-sized so we break down what you need for each camping trip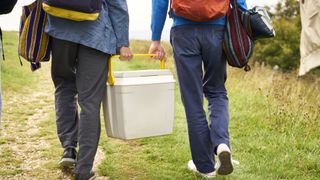 (Image credit: Lambert And Young)
For car camping trips where it's all about enjoying hot meals and cold drinks around the campfire, it's not so much a case of asking whether you need a cooler so much as what size cooler do you need. The best camping coolers come in a vast array of sizes, from individual lunch pail types that you can carry to work all the way up to grizzly coolers you can use for group catering. In between those two ends of the spectrum, there are a multitude of sizes and it can be tricky to know which one is best.
After all, if your cooler is too small, you might have to sacrifice some food and that simply won't do, whereas if it's too big, you'll have to pay for extra ice each time you use it or risk the ice melting too quickly and your good food spoiling. In this article, we offer a rough guide to what the different sizes of cooler will deliver to help you find the best choice. You'll also want to read our article on how to pack a cooler for camping before you set off.
How many coolers do I need for camping?
Before we get into the different sizes of coolers, it's helpful to know that the best approach to car camping is to travel with two coolers: one for food and one for drinks. As we explain in our article on how to keep food cold while camping, your food will keep longer if you're not constantly opening and closing the cooler. Since you'll likely be reaching for a cold one more often than you will a snack, it's best to pack all your drinks in a separate cooler. Instead of getting yourself a mammoth cooler big enough to fit everything, think about getting two, smaller coolers.
What size cooler do you need for camping?
Coolers are typically measured in gallons or liters, and sometimes will helpfully let you know how many cans of beer you can fit in them. This is useful if you just plan on filling your cooler up with liquid and bringing a bunch of long straws, or if you're only traveling cans of beer, but otherwise it can just look like a lot of numbers on a label. To help apply the size of your cooler practically, we've divided the common cooler sizes up from small to extra large here and included some details on what kind of group size and trip length you might use it for. Of course, you'll need to adjust for how much good eating you want to do, and always remember that at least 30% of your cooler capacity will be taken up with ice, so you'll need more space than just the food and drinks you want to carry.
Small cooler: 0-30 quarts/0-28 liters
These can obviously range from tiny handheld affairs good for your packed lunch on a day of bird watching to coolers that will hold enough food for a couple of people on a boat trip. These will typically have carrying handles, rather than wheels and even on the larger end they'll be well under than two feet long or tall so they'll easily fit in the back of the smallest hatchback next to your tent and best sleeping bag. Generally speaking, a small cooler is plenty of room for two people taking a day trip, or one person camping for two nights. If you're camping in a group, it may be best for each person to bring their own small cooler so you can keep your food organized and you each have a cooler that can double as a seat.
Medium cooler: 30-45 quarts/28-42 liters
This size range includes some of the most popular sizes of cooler (35-55 quarts) and though a bit bigger, these will also typically come with carrying handles so be aware that if you have a 45-quart cooler and it's packed to the brim, it's going to be heavy. You might want a partner to help you unload it or a campsite where you can drive all the way in. On the larger end, these will probably be a little over two feet long and just over a foot tall, so they'll still be more than viable in a smaller car, but if you are following our advice and bringing two coolers, that might take up about half your trunk space. Generally speaking, this cooler will hold enough food for 2-4 people on a day trip, or two people camping for two nights. It's one of the more versatile sizes and you can always have two or three for when you go camping with a bigger group.
Large cooler: 45-60 quarts/42-57 liters
Now we're starting to move into the family-sized range of coolers and at this stage, you definitely want to make sure yours has either two carrying handles so two people can easily split the load when it's full, or get one on wheels that you can trundle into camp. A 60-liter cooler won't actually be massively bigger than a 45-quart cooler – it will hold roughly two more six-packs – but again if you're travelling with two of these in a small car, they will take up most of your trunk, plus you might have passengers taking up the back seat. This cooler will probably carry enough food for 4-6 people on a day trip, or three people camping for two nights so it can work for a small family.
Extra large cooler: 60+ quarts/57+ liters
Now it should be clarified that an extra large cooler can stretch from a reasonable family-sized cooler that you can lug by yourself in a pinch to a massive fishing chest where you can keep your prize caught 100lb groupers on ice. For camping, if you're going for an extra large cooler and you don't have someone that can reasonably help you carry it, look for one with wheels. If you're going big, make sure it will fit in the trunk of your car or fit through the back door to get it onto the rear passenger seats. If you're camping with your family or in a group and trying to minimize the cooler situation, you'll want to be looking at an extra large cooler like this, however, if it's just a one-off event, consider getting a couple of medium or large coolers instead which will offer you more versatility.
All the latest inspiration, tips and guides to help you plan your next Advnture!
Julia Clarke is a staff writer for Advnture.com and the author of the book Restorative Yoga for Beginners. She loves to explore mountains on foot, bike, skis and belay and then recover on the the yoga mat. Julia graduated with a degree in journalism in 2004 and spent eight years working as a radio presenter in Kansas City, Vermont, Boston and New York City before discovering the joys of the Rocky Mountains. She then detoured west to Colorado and enjoyed 11 years teaching yoga in Vail before returning to her hometown of Glasgow, Scotland in 2020 to focus on family and writing.