Mount Everest has just got (a little) taller
Nepalese and Chinese surveyors agree on new height of Mount Everest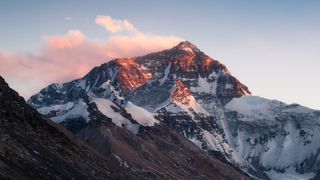 (Image credit: Getty Images)
Mount Everest, the tallest mountain in the world, has just got taller. But don't worry, it's not something that most climbers will notice on their way to the top. Although every metre counts when you're in the death zone. And it's not like the mountain suddenly shot up in height overnight.
As of today, Mount Everest is officially 8848.86 metres above sea level. This new reading is agreed upon by surveyors from both China and Nepal. Previously, Nepal based its 8848 metre reading off the estimate made by the Survey of India in 1954. China recorded its 8,844.43 metres as the height of the rock summit (under the snow) in 2005. Although each country sent a survey team to the summit, they both agree on the result. Everest is officially 86 centimetres higher.
Why the remeasure? Firstly for consistency. Although, the second highest mountain in the world, K2, is unlikely to take the top of the podium after a recount unless something dramatic happens – never say never, it's 2020 after all – K2 is several hundred metres shorter than Everest. But, many people speculated that the huge earthquake of 2015 might have impacted Everest's total height. Nearby peaks in the Langtang Himal have been found by scientists to be one metre shorter since the earthquake.
This new survey of Everest's height suggests it hasn't been affected and is taller than ever, growing at an average of a centimetre per year with the whole of the Himalayas.
All the latest inspiration, tips and guides to help you plan your next Advnture!
An adventure writer based on Dartmoor, England, Emily is an active member of Mountain Rescue and a summer Mountain Leader, but loves all things adventure – before her third birthday she had lived on three continents. Founder of Intrepid magazine, she works to help break stereotypes about women in the outdoors. Her expeditions have included walking all Dartmoor's 119 tors in a single two-week outing, cycling to Switzerland and back, and riding the Rhine from source to sea.