What to do if you see a wild boar while hiking
Wild boar are becoming increasingly common and knowing what to do if you see a wild boar can help keep you and your hiking companions safe on the trail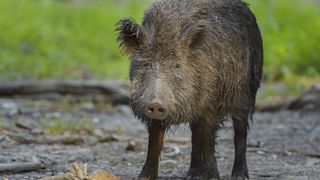 (Image credit: Raimund Linke)
Though wild boar attacks on humans are rare, their numbers are rapidly multiplying, and with that, your chances of encountering one on the trail are increasing. Wild boar are becoming one of the most common mammals in the world, and knowing what to do if you see a wild boar can help keep safe on the trail. After all, we don't want you to lose your enthusiasm for lacing up your hiking boots and getting outside.
What is a wild boar?
Wild boar is a suid, or wild pig. They have stocky, muscular bodies and the larger males can grow up to about five feet long and stand about 30 inches tall at shoulder height. They have short, coarse grey-brown hair and canine teeth which are larger and appear like tusks on males. Males also have a pronounced mane running along their spine.
Wild boar are nocturnal and the female wild boar live in groups known as sounders with their young, while males tend to be solitary outside of mating season. Wild boar are omnivores and eat a wide range of foods such as roots, leaves, nuts, berries, small mammals, insects and fish.
Where do you find wild boar?
Wild boar can be found almost everywhere. They are common to Europe, Asia and North Africa where they are native, and they are increasingly present across the UK, Canada and the US, mostly in the southern states, where they have been introduced for hunting and have become an invasive species. There are so many wild boar across the world now that they are considered animals of least concern on the Red List for Endangered Species.
One of the reasons wild boar are so widespread is that they thrive in diverse habitats, from coniferous forests to deserts and from high alpine zones to beaches. Of more concern is their movement into suburban and even urban areas of late. They do particularly like forested areas however, and as a hiker this is a place where you'll want to be alert.
Do wild boar attack humans?
Like almost all wildlife that you might encounter on a hiking trail, wild boar are quite unlikely to attack you. In fact, though there's not a lot of research on the topic, one 2013 study found evidence of only 412 attacks globally across a 182-year period.
That said, there is evidence that attacks are increasing in urban areas. Wild boar may attack you if they feel threatened or are wounded, and they also can be provoked by dogs.
Attacks tend to result in injury or infection rather than death, in fact according to Wildlife Damage Management, there have only been four recorded deaths in the US since the 1800s.
There is one other reason why wild boar are dangerous to humans, however, and that is because they are known to carry diseases that can be transmitted to humans, such as tuberculosis, influenza A and hepatitis E.
What should you do if you encounter a wild boar?
Boar attacks may be rare and not often deadly, but you still don't want to test this theory out. Wild boar are more likely to give you a wide berth if you cross paths on the trail, however there are some good practices that will help keep you and your hiking companions safe.
1. Keep your distance
The best thing you can do if you spot a wild boar is simply to steer clear of it. If it doesn't move out of the area, you should detour or turn back to give it plenty of space.
2. Secure your pets
Wild boar don't particularly love dogs and may feel threatened by your dog, so keep your dog on a leash and close to you.
3. Do not attempt to feed them
It's surprisingly common for people to attempt to feed wild boar, but remember, you should not approach them. Also, humans feeding wildlife is what draws them into urban areas and we want them to stay in the wild.
4. Back away slowly
If you mistakenly find yourself quite close to a wild boar, stay calm, stay facing it and slowly back away.
5. Do not run
As with so many wildlife encounters, though you may want to run with every cell in your body, this can trigger a chase response where only moments ago the boar wasn't all that interested in you.
6. Find higher ground
If a wild boar charges at you, you won't have much time – these stocky beasts can move at 25 miles per hour. If possible, climb up a tree, a boulder or onto the roof of the car where their short legs won't be able to reach you.
7. Fight back
If you are attacked by a wild boar, you should fight back using anything you can for self defense such as a stick or hiking pole. Try to stay on your feet and keep fighting until they give up. Most boar attacks are short, lasting less than a minute and you should immediately seek medical attention afterwards.
All the latest inspiration, tips and guides to help you plan your next Advnture!
Julia Clarke is a staff writer for Advnture.com and the author of the book Restorative Yoga for Beginners. She loves to explore mountains on foot, bike, skis and belay and then recover on the the yoga mat. Julia graduated with a degree in journalism in 2004 and spent eight years working as a radio presenter in Kansas City, Vermont, Boston and New York City before discovering the joys of the Rocky Mountains. She then detoured west to Colorado and enjoyed 11 years teaching yoga in Vail before returning to her hometown of Glasgow, Scotland in 2020 to focus on family and writing.