How to avoid being gored by a bison
People keep being attacked by bison in Yellowstone – here's how to avoid being gored on your next vacation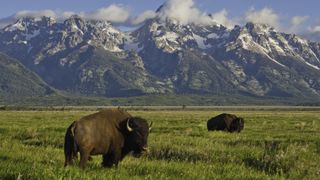 (Image credit: Danny Lehman)
Here at Advnture, we've devoted plenty of column space to helping you stay safe from wildlife attacks, which do occasionally happen when your idea of fun involves donning hiking boots for escapades in the wilderness. Up until now, we've mostly focused on animals that you might reasonably expect to encounter on the trail, such as a bear in places like Colorado and California, or a wild boar, well, pretty much anywhere.
Though you're not likely to meet a bison on any old hiking trail, a recent spate of high-profile bison attacks in Yellowstone National Park has us thinking that we all need to brush up on our bison safety, too. In the month of June alone, three people were attacked by bison in Yellowstone, so many that the National Parks Service circulated a special "Don't Pet the Furry Cows" advert to try and stem the bloodshed. So if you're one of the millions flocking out to Yellowstone – or to any other bison conservation area in North America – you're going to want to know how to avoid being gored by a bison. We're here to help.
What is a bison?
The American bison is the largest mammal in North America, where the species is native. Though often colloquially referred to as a "buffalo", this grazing bovid is actually distinct from the buffalo. Bison have a broad, heavy head that they carry low, and short, curved horns, a pronounced hump at the shoulders and a dark brown, shaggy coat. An average bull can stand up to 6.5ft tall at the shoulder and weighs more than 1,980lbs. Though slighter than her male counterpart, a cow still stands at 5ft tall and weighs a hefty 700lbs. Despite their massive bulk and tendency to plod, when they want to get moving, bison can stampede at speeds of up to 40mph – faster than Usain Bolt or a grizzly bear.
Bison neared extinction in North America around the turn of the 19th century due to hunting and white settlers' rampant destruction of the herds to weaken the native Americans who relied upon them. As a result, around 1900, bison were placed under protection by the US and Canadian governments, and today there are some 430,000 bison in North America.
Where are bison found?
The majority of bison in the US and Canada are found in commercial herds, which account for about 400,000 of the total population, so as long as you're not hiking on bison farms, you should be quite safe. The remaining 30,000 wild bison are found in conservation herds, the largest of which is in Yellowstone. As we reported in fascinating facts about Yellowstone, the park is the only place in the country where bison have continuously lived since prehistoric times. Yellowstone's bison herd is the oldest and largest public bison herd in the country. In 2021, there were estimated to be 5,450 bison in the herd.
Some other significant bison herds can be found in the following locations:
Antelope Island State Park, Utah
Badlands National Park, South Dakota
Custer State Park, South Dakota
Fort Peck Indian Reservation, Montana
Grand Teton National Park, Wyoming
Joseph H. Williams Tallgrass Prairie Preserve, Oklahoma
Theodore Roosevelt National Park, North Dakota
Wind Cave National Park, South Dakota
Wood Buffalo National Park, Alberta
Are bison aggressive?
Bison don't exactly lust for human blood and they're certainly not predators, but they're known as unpredictable beasts that can stampede without provocation and charge at people, gore them and toss them up into the air. Like many animals, they attack when they feel threatened, so under certain circumstances, they do pose a danger to humans.
According to a 2019 study by Utah State University, American bison injure more people than any other wildlife in Yellowstone National Park, including the much-feared grizzly bear. The report says that bison injured 56 people and killed two in Yellowstone between 1978 and 1992 and injured a further 25 people between 2000 and 2015 – of those, 10 were thrown into the air, nine were headbutted, six were gored and almost half required hospitalization as a result.
The victims in the study were an average of 11.1 feet away from the bison when they were attacked, despite park regulations requiring people not to approach within 75ft of a bison. Furthermore, 80% of victims were approaching the bison when it attacked, and half were trying to take a photograph of it.
In 2022 so far, the BBC reported that a 71-year-old woman was charged by a bison while returning to her car, a 34-year-old man was gored as he walked along a boardwalk near Old Faithful with his family, and a 25-year-old woman was tossed 10ft into the air by a bison.
How to avoid being gored by a bison
Bison may be unpredictable, but it's actually quite easy to avoid being gored by one. Here are a few tips from the rangers at Elk Island National Park and Yellowstone to help keep you from becoming the next headline.
Never approach bison: The best place to view bison is from your car, and you should never get closer than 75ft from bison when you're on foot, even for a selfie.
Detour: If you find yourself in the vicinity of a bison accidentally, wait for it to move on or turn around and go in the other direction to avoid it. Don't take a selfie.
Never move through a herd on the road: If you're driving, biking or on foot, don't try to travel through a herd on the road – wait for the herd to move on or turn back.
Don't try to scare bison away: This may backfire and provoke them to attack.
Remove your headphones: Stay aware of your surroundings by keeping your ears open when you're hiking.
All the latest inspiration, tips and guides to help you plan your next Advnture!
Julia Clarke is a staff writer for Advnture.com and the author of the book Restorative Yoga for Beginners. She loves to explore mountains on foot, bike, skis and belay and then recover on the the yoga mat. Julia graduated with a degree in journalism in 2004 and spent eight years working as a radio presenter in Kansas City, Vermont, Boston and New York City before discovering the joys of the Rocky Mountains. She then detoured west to Colorado and enjoyed 11 years teaching yoga in Vail before returning to her hometown of Glasgow, Scotland in 2020 to focus on family and writing.