18 fascinating facts about Yellowstone National Park
Watch out – these amazing facts about Yellowstone National Park will have you loading up the car and heading west for some serious adventure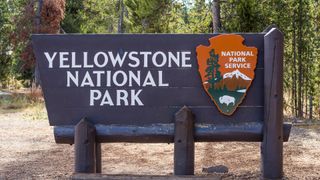 (Image credit: Daniel Viñé Garcia)
Yellowstone National Park is one of the best-known National Parks in the world. Situated largely in the western state of Wyoming, this vast and beautiful park boasts millions of acres of pristine wilderness and rugged Rocky Mountain terrain. Whether you're heading there with your family this year and are looking for interesting trivia to spice up the road trip, or you just love learning about America's wonderful National Parks, our 18 fascinating facts about Yellowstone National Park have got you covered.
1. It was America's first National Park
Established on March 1, 1872, Yellowstone was the first National Park in the US and is widely considered to be the first in the world. Its famous geysers are rumored to have inspired the very idea of preserving areas natural beauty for the enjoyment of future generations. Today there are 63 National Parks in the US as a result of this vision.
2. It's huge
Protecting 2.2 million acres of land (3,472 square miles), Yellowstone is the eighth largest National Park in the US. Yellowstone is bigger than Rhode Island and Delaware combined.
3. It's wild
Along with Grand Teton National Park and other surrounding National Forests, Yellowstone lies within the largest continuous stretch of predominantly undeveloped land in the contiguous US.
4. It's high
Most of the park lies about 7,500ft above sea level, so make sure to do some high altitude training before you go.
5. Humans have roamed here for millennia
Archeological discoveries show that humans have lived in and used Yellowstone for more than 11,000 years. Today, 27 indigenous tribes have ties to the area.
6. Yellowstone is a volcano
Beneath the park lies the Yellowstone Supervolcano which has had eruptions thousands of times larger than Mount Saint Helens. Its eruption 2.1 million years ago was one of the largest to ever occur on the planet. Seismologists don't know when the next eruption will be.
7. It's overflowing
Thanks to that supervolcano beneath the surface, Yellowstone is home to some 500 geysers (erupting hot springs). The most famous geyser in Yellowstone is called Old Faithful, which has erupted every 44 minutes to two hours since 2000. In the early days of the park, Old Faithful was often used as a laundry, according to Henry J Winser's book, Yellowstone National Park, a Manual for Tourists. To date, over one million eruptions have been recorded at Old Faithful.
8. It has the tallest geyser in the world
The tallest and largest geyser in the park is actually Steamboat Geyser. Steamboat is currently the tallest geyser in the world, with its major eruptions ejecting water more than 300ft up into the air and lasting up to 40 minutes.
10. It houses the largest high elevation lake in the continent
Aside from its famous geysers, Yellowstone is also home to more than 10,000 other hydrothermal features including 290 waterfalls and the largest high elevation lake in North America, Yellowstone Lake. which covers 87,040 acres and is up to 40ft deep in parts.
11. It has its own Grand Canyon
Yellowstone has its own mini Grand Canyon, 24 miles long and 1200ft deep, on the Yellowstone River.
12. It's home to 67 different mammals
Yellowstone houses the largest population of megafauna (large mammals) in the lower 48 states, including grizzly bears, black bears, mountain lions, wolverines, Canada lynx, mountain goats, bighorn sheep, bison, elk and wolves, which were reintroduced to the park in the 1990s. As of 2016, approximately 700 grizzly bears and 100 wolves were estimated to live in the greater area of Yellowstone.
13. It has the biggest herd of bison in the country
Yellowstone is the only place in the country where bison have continuously lived since prehistoric times. Yellowstone's bison herd is the oldest and largest public bison herd in the country. In 2021, there were estimated to be 5,450 bison in the herd.
14. It's amazing for hiking
Grab your best hiking boots! There are some 1,000 miles of spectacular hiking trails in park and the best hikes in Yellowstone National Park take you on an unforgettable tour of remarkable hydrothermal and geologic wonders, wildlife viewing and waterfall gazing.
15. It gets smoky
Like much of the northwest, wildfires burn every year in Yellowstone. The largest in living memory was the 1988 fire which burned nearly one third of the park.
16. It's home to a massive petrified forest
Yellowstone is home to one of the largest petrified forests in the world which covers an extensive portion of the northern part of the park. These trees were long ago buried by the ash of the Yellowstone Supervolcano.
17. It's on shaky ground
The park lies on the Teton Fault and as a result experiences thousands of earthquakes each year. Most of these are imperceptible tremors, but a magnitude 7.3 quake in 1959 dammed a river and created Earthquake Lake.
18. It's a land of weather extremes
The coldest temperature ever recorded in Yellowstone was -66°F (-54°C) back in 1933, and the warmest was 99°F (37°C). The most snowfall ever recorded in Yellowstone was 355" (29ft) back in 1996. The storm closed the park for two days. It's also seen the odd tornado in its time. When you're preparing to visit Yellowstone National Park, expect anything and bring your best fleece jacket as well as your hiking shorts!
All the latest inspiration, tips and guides to help you plan your next Advnture!
Julia Clarke is a staff writer for Advnture.com and the author of the book Restorative Yoga for Beginners. She loves to explore mountains on foot, bike, skis and belay and then recover on the the yoga mat. Julia graduated with a degree in journalism in 2004 and spent eight years working as a radio presenter in Kansas City, Vermont, Boston and New York City before discovering the joys of the Rocky Mountains. She then detoured west to Colorado and enjoyed 11 years teaching yoga in Vail before returning to her hometown of Glasgow, Scotland in 2020 to focus on family and writing.