How to clean a waxed cotton jacket (and how to reproof it)
Learn how to clean a waxed cotton jacket with our step-by-step guide, plus how to reproof it to keep it performing against driving rain and wind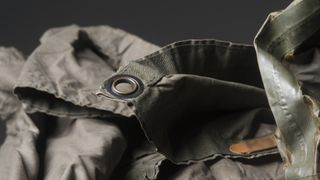 (Image credit: Kypros)
So you're a heritage hiking hero and you love hitting the hills in your waxed cotton jacket. Sure, it's a little heavy and can't just be stuffed away in your backpack like a lightweight waterproof jacket, but you just love the reliable wet weather shelter it affords and how the sturdy fabric holds up against every scuff and snag. We get it, but in return for that long lasting protection, your waxed cotton needs a little TLC from time to time.
If it's a regular companion on your hikes, your waxed jacket will no doubt pick up some grime along the way, and you don't just want to keep it spruced up for aesthetic reasons – keeping it clean ensures its performance too. Further, that amazing wax coating that keeps the wind and driving rain at bay actually needs to be restored annually, so we guide you through how to clean a waxed cotton jacket and how to reproof it before your next adventure.
Can you machine wash a waxed cotton jacket?
Just before we get started, it's really important to note that you cannot put your waxed cotton jacket in the washing machine when you get home from your next muddy adventure. Though there are some items that we strongly advise not machine washing even though the manufacturers say it's ok on a gentle cycle (like cleaning your climbing harness), machine washing a waxed jacket is really a big no, even on the gentlest, coldest cycle on the dial. Same goes for the tumble dryer. This will strip your jacket of its wax coating beyond the point where you can reproof it, rendering it basically just a really heavy, expensive jacket that offers no weather protection. Step away from the washing machine!
How to clean a wax cotton jacket
Fortunately, cleaning a waxed cotton jacket is super easy, and it mostly involves regular, simple maintenance to keep abrasive dirt off your jacket. If you get home from a hike and there's some dirt on your waxed jacket, here's all you need to do:
Using a soft brush (or even an old toothbrush), gently remove any caked on mud and sand – these substances are abrasive and can wear down the wax and the fabric over time.
Moisten a clean sponge or cloth in cold water and wipe your waxed jacket down. Do not use soap or any type of detergent. If your jacket is really muddy, you can also spray it down in the shower or with a hose.
Hang your jacket up in a well-ventilated, low-humidity area and allow it to dry completely overnight. Never place it in the tumble dryer or on a heat source to speed up the drying process.
How to reproof a waxed cotton jacket
Keeping your waxed jacket clean in addition to regular usage and the passage of time means that the wax will slowly wear off. Proper waxed jacket maintenance does require you to reproof it (AKA reapply wax) once a year so that it can continue to provide you with its excellent water and soundproofing capabilities.
It's important to note that you should always clean your waxed jacket using the steps above first, and allow it to completely dry before waxing it. Realistically then, you won't be reproofing your jacket until at least the following day.
For reproofing, you'll need a couple of soft (non abrasive) cloths, an hour or two, and of course, wax. The best wax to use is the one made by the same company that manufactured your jacket, however if that's not available you can find lots of good quality cotton waxes at your local gear store or online. Once you've gathered the cleaning gear, follow these steps:
Lay your clean, dry jacket out on a clean, flat surface that you don't mind getting a little waxy (not your antique dining table).
Melt the wax using a hairdryer or by placing it in hot water.
Dip a cloth into the wax and start to apply it to the wax jacket. Rub it in using a circular motion as evenly as you can, working on a small area at a time until you've covered the entire jacket. Make sure you wax the seams, too. You may want to use a hairdryer on the warm setting to help keep the wax pliable as you rub it in.
Use the second cloth to wipe off any excess wax.
Hang your jacket up in a well-ventilated, low-humidity area and allow it to dry completely overnight.
All the latest inspiration, tips and guides to help you plan your next Advnture!
Julia Clarke is a staff writer for Advnture.com and the author of the book Restorative Yoga for Beginners. She loves to explore mountains on foot, bike, skis and belay and then recover on the the yoga mat. Julia graduated with a degree in journalism in 2004 and spent eight years working as a radio presenter in Kansas City, Vermont, Boston and New York City before discovering the joys of the Rocky Mountains. She then detoured west to Colorado and enjoyed 11 years teaching yoga in Vail before returning to her hometown of Glasgow, Scotland in 2020 to focus on family and writing.