How to pronounce Welsh place names
How do you say Bannau Brycheiniog, Yr Wyddfa, Eryri and other Welsh place names? Here's our short guide to help them roll off the tongue next time you visit Wales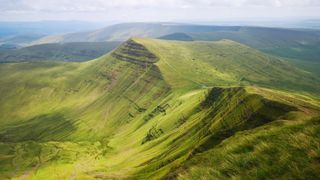 (Image credit: Matthew Jones)
In April 2023, the Brecon Beacons National Park announced that it was changing its name, and that going forward the it would be officially known only by its Welsh name – Bannau Brycheiniog. The change was part of a wide-ranging rebranding exercise that coincided with the 66th anniversary of the park's creation.
The change came in the wake of another Welsh national park's decision to revert to its Welsh name. Back in November 2022, the Snowdonia National Park Authority voted to adopt the Welsh word Eryri instead of Snowdonia, and to use Yr Wyddfa rather than Snowdon when referring to Wales' highest mountain.
These changes caused some consternation. But in historical and cultural terms, they make sense. After all, as actor Michael Sheen has pointed out in an evocative campaign video for Y Bannau Brycheiniog, these Welsh names often pre-date the English alternatives by several centuries.
What's in a name?
Some Welsh place names date back over 800 years. The fact that they are still in use today represents a remarkable unbroken link through the ages. Let's also remember that historically, an older form of Welsh was spoken throughout Britain, long before the arrival of Anglo-Saxon invaders in the sixth century. In fact, apart from Latin and Greek, the Welsh language has the oldest literature in Europe.
Today, there are still lots of lazy stereotypes about Welsh: that it's utterly incomprehensible, that it seems to have lost most of its vowels, or that it reads like somebody has sat on a keyboard. But the Welsh language – Cymraeg – remains a vital part of the nation's culture and identity. So, it's respectful to use Welsh place names when visiting Wales. This is easier than you might think. Though some names may seem like tongue-twisters at first, if you learn a few important sounds, they become relatively straightforward. And a little goes a long way – even if you don't get them 100% correct, locals are generally appreciative if tourists and visitors at least make an effort.
In addition, learning some basic Welsh words can really enrich your outdoor adventures across Wales, whether you're heading for Eryri, Y Bannau or other hiking hotspots. Why? Because many features of the landscape are often descriptively named in Welsh. Look on a map, and you'll see words like carnedd, crib, llechwedd, moel and pen crop up time and time again. Learning their meanings not only brings the landscape alive but might stop you from getting lost too.
Welsh letters and sounds
There are 29 letters in the modern Welsh language, compared to 26 in English. Welsh lacks the letters K, Q, V, X and Z (while J is only used occasionally, usually for words borrowed from English). It also adds the digraphs, or double letter pairings of Ch, Dd, Ff, Ng, Ll, Ph, Rh and Th. Here's how some of the main Welsh sounds are pronounced:
c is always a hard "c" in Welsh, like "cat", never a soft "c" as in the English "city"
ch is like the "ch" in the German composer's name "Bach" or the Scottish word "loch"
dd is "th" as in the English words "the", "then" and "this"
f is the same as "v" in the English words "video" or "of"
ff is the same as "f" in the English word "fun"
ng is like the "ng" in "sing"
ll has no real English equivalent but is a sort of "lth" sound said quickly, as in "stealth" or "wealth". It's the one that Welsh learners tend to find tricky! Tip: lightly place the tip of your tongue behind your top front teeth, and then blow out gently
ph as in the English "phrase" or "phobia"
r should be rolled, like a purring cat
rh is similar to the English "rhino" but with more emphasis on the second letter
s+i are two separate letters, but when they appear together, they are pronounced like the "sh" in "sheep"
th as in the English "thin" or "thick"
u is like the "i" in "pit''
w is "oo", as in "mood" and "food"
y is another tricky one. It is pronounced in three different ways, depending on where it is in the word. But when it appears on its own, a prefix that means "the" in Welsh, it is pronounced "uh". In place names, you'll also find the prefix "yr", which is pronounced "uhr"
Welsh place names
Here's a rundown of several popular Welsh place names along with their meanings and approximate phonetic pronunciations. When it comes to saying Welsh words, a good rule of thumb is that the stress is almost always on the second-last syllable.
Bannau Brycheiniog
The traditional Welsh name for the Brecon Beacons, Bannau means "peaks", while Brycheiniog refers to the ancient kingdom of Brychan, a Welsh ruler from the fifth century. It's pronounced "ban-eye brych-EIN-iog".
The Welsh name for Snowdonia, Eryri may derive from the Welsh word for eagle, Eryr – though sadly, eagles became locally extinct in North Wales in the late 1800s. Alternatively, it may be a corruption of the Latin "Oriri", to rise. Both seem fitting for such a mountainous region. Either way, Eryri is pronounced "Er-RUH-re".
Famously, Yr Wyddfa, or Snowdon, is the highest mountain in Wales. It is a place closely linked with the legend of King Arthur, and the name Yr Wyddfa translates as "the burial mound" – supposedly, the resting place of a giant called Rhita Gawr, whom Arthur is said to have slain. Yr is pronounced "uhr'", and Wyddfa is pronounced "WITH-va".
A bustling seaside resort and university town on the coast of west Wales, Aberystwyth is known for its sweeping promenade and impressive pier. "Aber" is a river mouth, in this case the Afon Ystwyth (River Ysywyth). The town's name is pronounced "a-bear-UH-stwith".
Often dubbed the gateway to Snowdonia, this Alpine-esque village in Conwy, North Wales, is a hotspot for climbers, hikers and hillwalkers. Its name, which has been recorded as early as 1254 AD, translates as "prayer house in the wood". It is pronounced "Betus-UH-coyd" (not "Betsy co-ed", as many tourists mangle it!).
This historic North Wales town is one of the country's most popular tourist attractions, largely thanks to its impressive castle. A UNESCO World Heritage Site, it has served as fortress, palace and prison down the centuries, playing a key part in Welsh history. It derives its name from the ancient province of Arvon, while "Caer" meant stronghold or fort. Over time, Caer-yn-Arvon became Caernarfon (pronounced "Cair-NAR-von").
The largest seaside resort in Wales, Llandudno boasts numerous fine examples of mid-Victorian architecture. It is a peninsula town close to the Great Orme, a limestone headland with a large population of feral goats. Llan is a common Welsh place name prefix that originally meant a settlement or enclosure around a church. But the town's name is usually translated as "Church of Saint Tudno" and is roughly pronounced "Thlan-DID-no".
Another of Wales' most popular tourist attractions, this Italianate village on the Dwyryd estuary was built by architect Sir Clough Williams-Ellis. Famously, it was the setting for cult '60s TV show The Prisoner, featuring Patrick McGoohan. The name "Port" comes from its coastal location, while "meirion" derives from the county of Meirionnydd ("Meyri-ON-eth"). The approximate Welsh pronunciation is "Port-MEY-rion".
Pontcysyllte carries the Llangollen Canal across the broad valley of the River Dee. It is the longest navigable aqueduct in Britain and the highest in the world. It can be crossed on foot or by canal boat. Pontcysyllte is pronounced "Pont-ker-SULTH-teh" and roughly translates as "the bridge that connects". Lllangollen, meanwhile, takes its name from the common Welsh prefix of Llan, which was a settlement or enclosure around a church. Gollen ("gothlen") is a mutation of Collen, a 7th century monk.
Though it's actually a fairly nondescript village on the island of Ynys Môn, or Anglesey, Llanfair has become famous for having the longest official place name in Britain. It is admittedly challenging to say but can be nailed with some practice – break it down phonetically and eventually you'll get there (in which case even fluent Welsh speakers will be quietly impressed). The name, incidentally, is a relatively modern creation designed to attract tourists, but it does have a real meaning: "Church of St Mary in the hollow of white hazel near a rapid whirlpool and the Church of St Tysilio near the red cave".
All the latest inspiration, tips and guides to help you plan your next Advnture!
An outdoors writer and editor, Matt Jones has been testing kit in the field for nearly a decade. Having worked for both the Ramblers and the Scouts, he knows one or two things about walking and camping, and loves all things adventure, particularly long-distance backpacking, wild camping and climbing mountains – especially in Wales. He's based in Snowdonia and last year thru-hiked the Cambrian Way, which runs for 298 miles from Cardiff to Conwy, with a total ascent of 73,700 feet – that's nearly 2½ times the height of Everest. Follow Matt on Instagram and Twitter.