How to shower while camping: 6 quick, refreshing solutions
We walk you through how to shower while camping from what to expect from campground showers to how to sneak in a sponge bath or use a nearby lake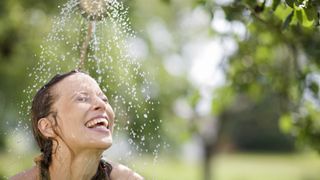 (Image credit: Zero Creatives)
No matter what type of camping you're doing, it's all about escaping the daily grind and not feeling like you have to adhere to the conventions of modern life, like using a knife and fork and daily bathing. That said, for some of us, the idea of going days without a shower is a bit daunting. Whether you're worried about getting a little too fragrant or just planning on getting really grimy during your adventures and want to keep your best sleeping bag in good shape, there are several solutions to staying a little fresher at camp.
We walk you through how to shower while camping from what to expect from campground showers to how to take a sponge bath or use a nearby lake. When you're done reading this article, you may also want to read our piece on how to go camping on your period for more hygiene tips for your outdoor adventures.
1. Book a campsite with showers
The easiest option of course is to just book yourself into a campsite that has showers. Yes, they exist, and no, it won't quite be a spa-like experience. Usually, campground showers are basic but provide some privacy in the form of individual cubicles – kind of like at the gym – and are available to guests on a pay-per-use basis. Often, you'll be limited to a certain amount of time so you'll want to be prepared. You'll need to bring your own towel and toiletries, including soap, and definitely wear shower shoes. At popular campgrounds, there might be a long line at peak times like morning and early evening, so if you don't want to wait, bring your headlamp and plan to take your shower later in the evening when everyone else is focused on dinner.
2. Use truck stop showers
If you're on a road trip, you can skip the long shower line at the campsite and stop off at a service station or gas station that has showers. These definitely sound a little scary, but they're usually pretty clean and well-maintained. They might even have a hairdryer, though you'll need to bring your own soap, shampoo and towel and again, shower shoes are highly recommended. Just go to the counter and let the attendant know you'd like to take a shower and they'll talk you through it all – typically once you pay, they'll give you a code that you'll use to access the shower and then when it's available, you can head on in.
3. Bring your own portable camping shower
Portable camping showers range from really basic pocket-sized affairs to free standing units, but essentially involve a bag that you fill with water that is usually solar-heated and a hose and spray. Pick a spot at least 200ft away from any bodies of water if you're using soap, hang yours from a tree, let the sun warm the water up during the day then rinse off when you get back from your adventures.
4. Take a sponge bath
The good old fashioned sponge bath is basic, but still a great option and all you need is a good camping bucket, a sponge and some soap and water. Find a private spot that's not close to other campers and is at least 200ft away from any bodies of water. You can stand in the bucket if it's big enough and splash some water to the ripest areas like your feet, crotch and underarms. Apply a little soap, then use the sponge to wipe the soap off. When you're finished, dump the remaining water over your head for a one-second shower.
5. Use a lake or river
If there is a safe body of water like a lake or river nearby and the water isn't too icy and doesn't have a strong current, you can simply take a quick dip to wash off some of the grime from the day. You might want to bring a pair of the best water shoes if the bottom is slick or rocky. Don't use soap or shampoo of course, since these substances will harm the fish and other creatures that live here. If the water is nice, take your time and enjoy some wild swimming.
6. Use wet wipes
Ok, it's not a shower or even a bath, but the easiest option – and one of the best for backpackers – is to bring a packet of wet wipes and just spot clean when the stench becomes too much. Brands like REI sell all sorts of wipes meant for staying clean in the wild, and these are pretty lightweight and packable. Just make sure to bag the wipes when you're done and pack your rubbish out with you when you're finished.
Other tips for maintaining personal hygiene in the wild
No matter which kind of camping shower you're going for, use these tips to help keep the stink down and support the local wildlife.
Only use biodegradable soap like Campsuds which is kinder to the environment
When using soap or shampoo, stay at least 200ft away from any bodies of water to avoid contamination
If you have a bucket of soapy water to dump out, dig a hole at least 200ft from any bodies of water and pour it in
Rub talcum powder or dry shampoo into your scalp instead of using liquid shampoo
Try using hand sanitizer on your armpits – it kills the germs which cause the stench!
Dress in natural materials like wool and avoid synthetic fabrics as these get stinky faster
Bring two sets of clothes and keep one for hiking in, and the other lounging in so you always have a fresh set of clothes
All the latest inspiration, tips and guides to help you plan your next Advnture!
Julia Clarke is a staff writer for Advnture.com and the author of the book Restorative Yoga for Beginners. She loves to explore mountains on foot, bike, skis and belay and then recover on the the yoga mat. Julia graduated with a degree in journalism in 2004 and spent eight years working as a radio presenter in Kansas City, Vermont, Boston and New York City before discovering the joys of the Rocky Mountains. She then detoured west to Colorado and enjoyed 11 years teaching yoga in Vail before returning to her hometown of Glasgow, Scotland in 2020 to focus on family and writing.