Best camping buckets, bowls and sinks 2023: for campsite chores
Having the best camping buckets, bowls and water carriers on your trip can make the all the difference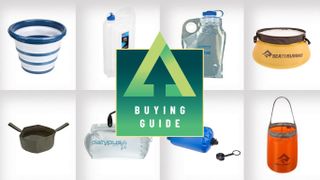 (Image credit: Future)
The best camping buckets and bowls can be lifesavers. Literally sometimes. Rain aside, you can never have too much water on a trip into the outdoors. You may have addressed basic drinking needs with a hydration pack or water bottle, but once you've made camp for the night the best water carriers, buckets and bowls can give you 'just-like-home' amounts of water for all your kitchen and washing needs.
Hikers will find that lightweight folding camping buckets and bowls like those made by Sea to Summit, or Nalgene's range of tough, wide-mouth canteens, work well in camp kitchens, whilst the Ortlieb Water Bag has an add-on shower head which can make ablutions an actual pleasure. Those sailors, van campers, cyclists and kayakers who are less constrained by weight have even sturdier and bigger capacity options for camp sinks and water portaging, many of which can multi-task.
The Decathlon collapsible bucket, for instance, is as useful for throwing wild swimming kit or muddy running shoes into (keeping them separate from dry stuff) as it is for scrubbing dishes, and Alpkit's slimline Kamel has reimagined the classic jerry can shape by using expanding sides that only concertina out when filled to its huge 13L capacity. The Platypus Tank is another clever design, with a full length Big Zip top for quick filling and sealing, making it practical for both carrying and dispensing water.
The best camping buckets, bowls, and sinks
Best camping buckets
1. Sea to Summit Ultra-Sil Folding Bucket
A capacious folding bucket you can carry in your pocket
Specifications
Style:
Traditional canvas bucket design in modern light materials
Weight (empty):
28g / 1oz
Capacity:
10L / 338 fl oz
Materials:
Standard; 3-D Ultra-Sil, Cordura
Reasons to buy
+
Super lightweight
+
Easy to carry
Reasons to avoid
-
Not reliably spill-proof when free standing
Weighing the same as a single AA battery, folding down to near-nothing and still able to comfortably carry 10 liters of water, even the most gram-counting camper could surely justify carrying a Sea to Summit Ultra-Sil Folding Bucket. In camp that amount of water makes the difference between miserable sip-counting and care-free splashing out. The bucket is essentially a well-designed waterproof bag with a comfortable carry handle. It depends on the pressure of liquid inside it to keep its integrity; stand it only on flat surfaces to avoid the sides collapsing and spilling the contents or, better still, hang it from a tree branch. Though not designed for use as a bowl or for storing water in, the canny lightweighter will find ways of doing both, whether its suspending the handles from sticks to make a washing sink or putting a cloth over the bucket's mouth when keeping water over night so it doesn't become a spa-pool for insects.
2. Decathlon 10L Foldable Fishing Bucket
A standard bucket shape that collapses down into an easily stored flat disk
Specifications
Style:
Semi-rigid collapsible bucket
Height (folded):
5cm / 2in
Dimensions unfolded (height x diameter):
26 x 31cm / 10 x 12in
Weight (empty):
750g / 26oz
Capacity:
10L / 338 fl oz
Variations available:
3L / 96 fl oz
Materials:
TPR and PP plastics
It's a bucket. And it folds flat. Ostensibly (and nominally) it's designed for fishing folk, but there are plenty of other uses for this easily transportable bucket. This is not a lightweight option, so it's not going to suit hikers and backpackers, but for kayakers, sailors, wild swimmers and car / van campers a bucket that takes up less space is always useful. Better still, the bucket is rigid when concertina-ed open making it robust for rinsing and washing items like trail shoes in.
It's saltwater resistant, so perfect for dumping wet gear in after sea swims or surfing, and it's practical for carrying water over distances and using as a camp sink. Handily, it can also be part opened, forming a shallow bowl which works better for washing-up small items, or giving a dog a drink. The rigidity makes it stable and it should be easy to improvise a lid if storing water overnight.
Best camping sinks and bowls
3. Sea to Summit Ultra-Sil 10L Kitchen Sink
A feather-light 20Lfolding bowl for all your washing tasks
Specifications
Style:
Bowl with carry handles
Weight (empty):
49g / 1.7oz
Capacity:
10L / 17½ pints
Variations available:
5L / 8¾ pints; 20L / 35 pints
Materials:
Ultra-Sil 30D siliconized Cordura, Hypalon Handles
Closure:
Open mouth with wired rim
Reasons to buy
+
Lightweight
+
Strong
+
Easy to pack when empty
Reasons to avoid
-
No lid, so shouldn't be used to store water for long periods
-
Requires flat surface
A camp sink that's small and light enough to slip into a backpack's or hiking pants' pocket, but which holds enough water to wash up a night's cooking and eating utensils, rinse out a shirt or use for a quick 'truck stop shower'. Short loop handles on the rim are good for carrying water away from streams or shorelines to avoid food waste, detergent or and grey water contamination. Other uses include storage of wet clothes for cleaning and drying later, or as a dog bowl.
Once filled the sink swells out under its wired rim making a relatively stable, bottom-heavy shape, though it needs to be placed on a flat surface to avoid spillage, and it's easier to dip water out of it than pour from it. Pack the bowl away into its pouch by twisting the metal rim hoop into a 'figure of eight' and then back onto itself to form a double circle, halving its diameter, while the ultralight fabric flattens to almost nothing – there's a knack to this, which some get straight away while others struggle like a macaque working out a Rubik's cube.
4. Highlander PVC Collapsible Water Bowl
Classic retro styling for a simple and tough PVC washing up bowl
Specifications
Style:
Free-standing folding bowl
Weight (empty):
110g / 3.8oz
Dimensions (height x diameter):
13 x 23cm / 5 x 9in
Reasons to buy
+
Cheap
+
Lightweight
+
Tough fabric
Reasons to avoid
-
Spillage is always a possibility
The Highlander foldable bowl harks back to the days of canvas buckets and bowls in safari camps, though its retro simplicity has been given greater practicality through the use of fully waterproof and easy-to-clean PVC. Though it crushes down flat when stuffed into a pack or pocket the olive green material is stiff enough to hold its shape and avoid spillage when filled with water, though you still need to be careful when using it for washing up. The two short loop handles on opposing sides of the rim are fine for moving the bowl from one place to another but not for long hikes to fetch water. It's toughness and size, both filled and when folded down, also make it a good carry for a hiking dog's drinking bowl.
Kitchen sink practicality in a fold-down design
Specifications
Style:
Folding sink with reinforced rim
Weight (empty):
200g / 7oz
Dimensions (H x W x D):
12 x 24 x 24cm / 4.7 x 9.4 x 9.4in
Variations available:
10L / 340 fl oz; 20L / 680 fl oz; 50L / 1,700 fl oz
Materials:
Polyester fabric, PVC-coated, PFC-free, BPA-free
Colors:
Asphalt / Olive Green
Reasons to buy
+
Reinforced rim gives rigidity when filled
+
Easy clean fabric
Reasons to avoid
-
Heaviest of the folding bowls
Ortlieb make four sizes of square and oblong folding sinks ranging from 5L, through 10L ($36 / £25) and 20L ($42 / £30), to a whopping 50L ($100 / £67.50) in volume. For a lightweight camp kitchen the 5L is ample for washing vegetables, cleaning pots or doing small items of laundry, whilst the biggest can take a sodden wetsuit or other bulky kit either for transport or for rinsing saltwater out.
When unfolded the flat, squared-off base and the straight edges of the reinforced rim give the Ortlieb the rigid feel of a solid sink, which makes washing clothes or kitchenware easy. The two handles are long enough for a one-hand carry, bucket-fashion, making moving water around and pouring from one of the corners – to put a campfire out, for example – straightforward for the smallest of the bowls; no-one's likely to be lifting the 40 or more kilos of the largest one when it's filled with water.
Best camping water carriers
6. Platypus Platy Water Tank 6L
A tough, light, flat-base water bag with practical carry handles and a wide mouth for easy filling, which also seals
Specifications
Style:
Carry handle tank with fully sealing, large top opening
Weight (empty):
120g / 4.16oz
Dimensions (width x length):
24 x 45.5cm / 9.5 x 18in
Variations available:
2L / 70 fl oz; 4L / 140 fl oz
Materials:
Clear Polyurethane / polyethylene, nylon fabric handles
Closure:
Pinch-close 'zip seal' fastener
Reasons to buy
+
Wide filling opening can be fully sealed
+
Comfortable carry in the hand
+
Easy to pack when empty
Reasons to avoid
-
Closing the 'zip' seal effectively can take effort
Platypus are a long-established manufacturer of water bottles, bladders and storage for the outdoors, and their 6-liter Tank, (there are also 2- and 4- liter versions), holds enough water for a night's cooking and drinking. With comfortable fabric carry handles and its full-length Big Zip opening the Tank is like a bucket that can be sealed shut against spillage and contamination.
The Big Zip allows quick filling, and cleaning, though it does take considerable effort to push the two lips together to ensure correct closure; a tip is to wet the 'zip' channels to make pushing them into each other easier. For controlled pouring there's a separate screw top, with a diameter and thread size which fits many water filters and drinking tubes.
The body of the Tank is marked in liters, useful for calculating amounts of water purifying chemicals, while the plastic itself is BPA-, BPS- and Phthalate-free, impregnated with silver-ion to deter mould and bacterial growth and flagged up as 'taste free'. The Tank sits squarely on the ground when full, and the flexible body rolls up to make a small package when empty.
7. Ortlieb Water Sack and Shower-Valve
A well-designed water bag with added functionality delivered by an add-on shower head
Specifications
Style:
Water sack with shower attachment
Weight (water sack empty):
190g / 6.7oz
Weight (shower valve):
5g / 0.2oz
Dimensions (height x circumference):
35 x 35cm / 13 x 13in
Capacity:
10L / 340 fl oz
Materials:
PS17; Nylon fabric, PU coated, PVC-free PFC-free BPA-free
Closure:
Roll closure with snap lock
Reasons to buy
+
Big volume for minimal weight
+
Roll top for easy filling and cleaning
Reasons to avoid
-
Not free-standing and needs to be hung up to stop leaking
Ortlieb's water sack builds on the proven design and materials of the company's excellent water bags which have been lightweight expedition essentials for decades. The fully opening roll-top mouth makes filling easy, especially if dipping from standing water, and also offers full access for cleaning. Once closed the clip and strap closure makes a handle (perhaps not comfortable for miles of carrying, but fully practical) and also a suspension point.
For use in camp there's a screw-top at the other end of the bag, with a twist open-close valve which is handy for controlled filling of pots or your favorite camping mug while you're cooking. Even better, the same screw thread is compatible with various water filters and also takes Ortlieb's own shower valve. The latter works well; nothing makes camp showering easier than having a hands-free source of water raining down on you, especially as it can be filled with water heated up to comfortable shower temperature – choose the black sack if you want it to heat naturally in the sun. The roll-top closure isn't reliable enough for water transport in any position but vertically, but that's possible if strapped to the outside of a pack, and you can reduce any chance of leakage if you under fill and add a few more rolls to the top.
A large-volume, lightweight container with a wide mouth and leak-proof lid
Specifications
Style:
Wide-mouth high-volume soft-sided water bottle
Weight (empty):
78g / 7.5oz
Variations available:
1L / 32 fl oz; 1.5L / 48 fl oz
Material:
BPA / BPS-free food grade polyethylene
Closure:
Wide mouth, screw-top
Reasons to buy
+
Holds enough water for one-person's cooking and washing needs
+
Guaranteed leak-proof screw-top lid
+
Tolerates a range of temperatures
Reasons to avoid
-
Tall shape makes it susceptible to knocking over
The three-liter Nalgene Cantene earns its keep when carried in a pack side-pocket ready to fill in those last hours before making camp, or tied onto a day pack to carry water for a lunch stop on a hot weather hike. Empty, it rolls down to minimal size and weighs almost nothing (there are smaller volume Cantenes but the weight saving is so negligible it's hard to argue the case for choosing those over the largest of the trio).
The bottle has a guaranteed leak-proof screw-top lid, though user error being what it is, I wouldn't actually put one inside a pack. The wide mouth is a useful feature; not just aiding dip filling, and making the Cantene easier to clean, but also allowing you to soak grains, pasta or oats either in cold or hot water to cut cooking time and save on fuel. There is a 'hole' handle moulded into the Cantene, good for securing under or from a pack's straps, but less comfortable on the fingers over long carries. The Cantene's BPA- and BPS-free food-grade materials tolerate a wide temperature range – from -29°C (-20°F) to 104°C (220°F) – so it can be used as a hot water bottle or a chill pack.
9. Alpkit Kamel Water Carrier
A slimmed-down jerry can that expands to take a lot of water
Specifications
Style:
Collapsible jerry can
Dimensions:
41 x 26 x 8cm / 16 x 8 x 3in
Capacity:
13L / 439 fl oz
Material:
BPA-free high density PE plastic
Closure:
Cap and spigot tap
Reasons to buy
+
Sides fold in to take up less room
+
Large capacity
+
Sealed top with spigot tap
Reasons to avoid
-
Top needs to be closed securely
Thirteen liters is a lot of water and the Alpkit Kamel expands from its flatter empty profile to full capacity with sides that open out like bellows. Because of its size it's going to be most practical for vehicle campers, but I've done long bike trips in India and the Sahara with rigid jerry cans tied from my crossbar and the Kamel would have carried the necessary amounts of water for far less bulk and more versatility.
Fully filled it's heavy (use as a kettle weight for on-the-move exercises!), but the handle gives a comfortable and balanced carry. Even opened to its max the spigot in the screw-on top has a tiny flow, useful for drawing off small amounts of water or if hooked upside down to wash under, but when you need to fill something faster from the Kamel it's far easier to open the whole top. It is critical to ensure that the top is screwed on very firmly every time used otherwise it will leak if laid on its side. If carrying water in a moving vehicle or on a boat tie the handle off to something to keep the Kamel upright.
How to choose a camping bucket or bowl
There is plenty to think about when you're looking to buy the best camping bucket or camping bowl for your adventure. Carrying, storing and using water have different requirements, meaning that there isn't a single piece of camp kit that will do all three jobs well.
Priorities
Lightweight hikers will want to go for equipment based primarily on their weight saving and basic function. Those criteria make Sea to Summit's featherweight folding bowls and buckets good choices for fetching water and doing essential washing, while Nalgene's Cantene and Ortlieb's Water Sack are more than light enough for walkers, cyclists and paddlers to carry and so be able to collect, store and dispense water when camp has been set up.
For van or car-based campers, as well as surfers and wild swimmers who spend time on or by the water, weight might be less of an issue, but space will undoubtedly still be at a premium. Decathlon's bucket that concertinas flat and Ortlieb's folding bowls are good for most outdoor chores involving H2O, offering a good mix of hide-away size and full sink functionality, whilst the Platypus Tank and Alpkit's Kamel do the same pack-away trick for bulk water carrying. Use some imaginative mixing and matching of kit options and you can come up with the portable plumbing that can make your outdoor home nearly as easy to live in as your indoor house.
Our list of camping bucket ideas explains plenty of potential uses for your water carrier.
Features
Many of the tested camping buckets and bowls here are fairly specific in their design aims, making sacrifices in versatility to deliver a particular benefit. Thus the lightweight materials of some of the folding utensils means less stiffness and stability when filled with water, while the strength to carry large and heavy volumes of water means beefier and heavier construction for other items.
All water carrying equipment, though, requires appropriate handles for lifting and moving them even when filled and heavy. Some of the water carriers have wide Big Zip or roll-top mouths to make filling easier, and to allow efficient cleaning (denture tablets and a good rinse work well to keep water bags, bottles or jerry cans reasonably hygienic). Look for food grade materials, and for plastics free from harmful chemicals for drinking and food preparation containers; manufacturers who use them flag these up as pluses, and quite rightly so. Some brands go further and include silver-ion embedded in the materials to stop mould and bacteria taking over.
Price and value
Even a generation ago having sufficient water in camp depended on heavy cans, leaky canvas water bags or far-from-food-grade plastic bottles. But that's all changed. Modern materials mean lighter, more hygienic and better-designed kit. Being able to bring in abundant water to camp in the evening, and having a way to hold it whilst doing splashy things like washing up or rinsing vegetables, makes the difference between counting every drop just to be able to cook and drink, and having the full 'running-water kitchen in the outdoors' experience. Buckets and bowls might be unglamorous when up against other outdoors equipment but that's entirely because being able to carry, store and hold water is such a basic need for everyday life. Just like water itself.
All the latest inspiration, tips and guides to help you plan your next Advnture!
After a wild childhood in west Cork, Jasper Winn began embarking on long cycles, walks, horse journeys and kayak trips across five continents – adventures he's decanted into books, magazine articles, radio and television documentaries. Keen on low-tech but good gear, Jasper is an advocate of slow adventures by paddle, pedal, saddle, boot and sail. He has circumnavigated Ireland by kayak and cycled across the Sahara. Twice. Having ridden north-to-south across Algeria he discovered the only way to get back was to turn round and pedal north again.