How to go camping on your period: top tips for trips to the backcountry
By Julia Clarke published
Camping on your period really doesn't have to be a big deal, just follow our simple guide to staying comfortable and making sure you don't negatively impact your environment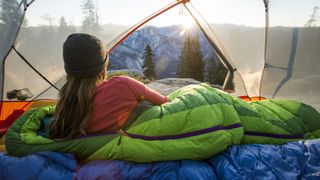 (Image credit: Jordan Siemens)
Whether you planned a camping trip then realized you'd be starting your period around that time, or you unexpectedly start your period once you pitch your tent, camping on your period really doesn't have to be a big deal. There are, however, some things you can do to make sure you're comfortable and to ensure you don't negatively impact your environment.
Are bears attracted to menstrual blood?
Let's just start by getting this one out of the way. No, there's no evidence that bears and other animals are attracted to the smell of menstrual blood. This is an old wives tale that may have started after two women were killed by a grizzly bear in Glacier National Park, one of whom was on her period, and was probably proliferated by people who want to keep others from using the backcountry. If you have your period, you can still safely go camping.
That said, you definitely want to use unscented tampons when camping in bear country as those types of toiletries definitely do unwanted attract critters, and remember that all toiletries should be kept in a bear canister.
But please, don't be worried about animals being attracted to the scent of blood – the real concern is making sure you don't leave waste in the wild.
How do you deal with your period while camping?
Whether you know your period is likely to start during your camping trip, or just want to be cautious, the best thing you can do is come prepared. The biggest problem with having your period while camping is what to do with your used sanitary products. The principle of leave no trace clearly states that you should dispose of your waste properly, in this case that means pack it out and don't bury it in the wild.
Yes, it can be a little bit of a drag to have to carry your used tampons on sanitary towels, but the good news is that these items don't weigh much, and we've devised a simple camping period kit that you can prepare and take with you on all your overnight adventures.
How to make a camping period kit
For your camping period kit, you will need the following:
Enough unscented, non-applicator tampons/sanitary towels to last the duration of your trip
Two sealable ziploc bags
One brown paper bag (only if you're concerned about privacy)
Wet wipes
Hand sanitizer
Pack all of the items into one of the ziploc bags and stash it in your backpack. When it's time to change your tampon or sanitary towel, it's important to do so with clean hands so use your hand sanitizer. Place the used tampon/sanitary towel inside the brown paper bag if you're using it, then place that bag inside the second, empty ziploc back. Use a wet wipe to clean up, then place that in the bag with the used tampon/sanitary towel. Seal both bags, place them in your backpack and get on with your adventure. Dispose of the waste when you get home.
Consider options other than tampons
Another possibility is to avoid hauling all of these sanitary products into the backcountry altogether and using a different option.
Period pants
Period pants such as the Wuka Perform Period Pants that made our list of best running underwear make a hassle-free, waste-free option with a gusset area designed to replace your usual sanitary wear. The Wuka's come in three classes: light, medium and heavy flow. The heavy flow holds at least 20ml period flow or light leaks, which is roughly four tampons' worth and they're comfortable enough for running in which means they'll be more than ample for camping.
If you go with this option, just bring enough pairs to get you through your trip (about one per 24-hour period), one ziploc bag to store your used underwear in and wet wipes to clean up.
Menstrual cup
There's also the menstrual cup, which is a small silicone cup that you insert into your vagina to catch menstrual blood. The advantage of the menstrual cup over tampons is no waste, and you can wear it for up to 12 hours.
The downside is there's still a bit of maintenance. You'll need to empty the cup into the hole you dig to go to the bathroom in, then rinse it with clean water before reinserting it. You do want to sterilize the cup regularly, so for a longer trip you can boil it when you get to camp. For this option, you'll still want to apply hand sanitizer before handling the cup and wet wipes for clean up afterwards.
Julia Clarke is a staff writer for Adventure.com. She is an author, mountain enthusiast and yoga teacher who loves heading uphill on foot, ski, bike and belay. She recently returned to her hometown of Glasgow, Scotland after 20 years living in the USA, 11 of which were spent in the rocky mountains of Vail, Colorado where she owned a boutique yoga studio and explored the west's famous peaks and rivers. She is a champion for enjoying the outdoors sustainably as well as maintaining balance through rest and meditation, which she explores in her book Restorative Yoga for Beginners, a beginner's path to healing with deep relaxation. She enjoys writing about the outdoors, yoga, wellness and travel. In her previous lives, she has also been a radio presenter, music promoter, university teacher and winemaker.
All the latest inspiration, tips and guides to help you plan your next Advnture!
Thank you for signing up to Advnture. You will receive a verification email shortly.
There was a problem. Please refresh the page and try again.